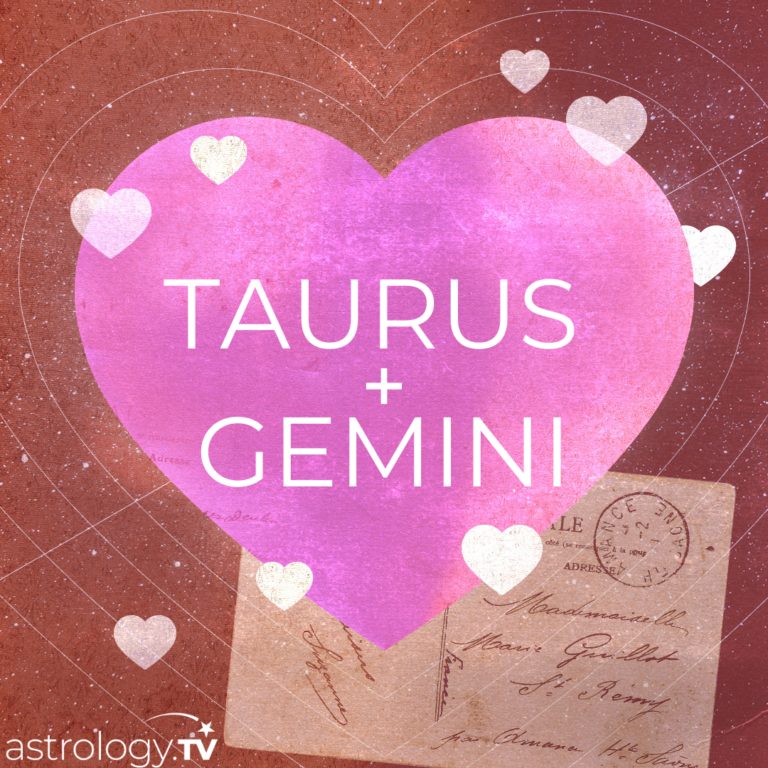 Taurus and Gemini Compatibility (Taurus Dates April 20 - May 20; Gemini dates: May 21- June 20):
Do Taurus and Gemini have compatibility in relationships? In Astrology, when two star signs lie just next to each other on the wheel of the zodiac, it's said that they have much to learn from each other – and it's usually the sun sign ahead that "teaches" the sign behind certain lessons. That's not going to sit easy with you, Taurus, knowing the Gemini has lessons to show you! Most of the time, it feels the other way around, with their incorrigible childlike energy, and your more grounded vibes. You definitely lend the airy Gemini a greater sense of security, but at the end of the day, your Gemini sweetheart will show you how to be a whole lot more flexible, adaptable, and willing to move out of your comfort zone instead of getting stuck in a rut. In this way, you can be very good for each other, even though you'll drive each other crazy sometimes! Your differences are exactly what make the two of you work so well together!
Dating & Romance Compatibility:
Taurus and Gemini Dating Compatibility:
In the zodiac, are Taurus and Gemini compatible as Soulmates? In your particular case, the feeling of Soulmates might come a little later in your relationship as you navigate the ins and outs of your bond. An earthy Taurus and an airy Gemini are sometimes not on the same page, but this does trigger a feeling of excitement when you come together, perhaps knowing all you're going to learn and experience through each other. Taurus, you'll just love how funny and easy-going your Gemini is – they're willing to work with your stubborn nature, and although they'll challenge you, they get your brain working and mouth talking! In turn, you help them to settle a little, and the dating phase will be an eclectic mix of variety and grounded romance! Gemini likes change, Taurus, so you'd be aware that they're not going to enjoy your Friday night ritual as much as you – be open to what they're showing you, and explain how much you also need that routine from time to time!
Taurus-Gemini Marriage Compatibility:
In astrology, are Taurus and Gemini a good love match for marriage? Well, Taurus, as you well know, you're the type that is looking to settle down, and seldom do you even enter a relationship that doesn't have the potential for the long-term. You're cautious like that, and you don't just give away your heart that easily. Your Gemini love, on the other hand, will instantly jump in, eager to experience all of you as fast as possible – however, they're less likely to want commitment in the same way as you, at least not in the beginning and not if they're pushed into it. You may even feel that your Gemini sweetheart is a little fickle in their affections, and it could spark fear in you when they demonstrate their changeability trait. However, when a Gemini zodiac sign is truly hooked, they'll happily share their lives with you, as long as they're given freedom to always do their own thing!
Taurus and Gemini Sexual Compatibility:
Are Taurus and Gemini star signs sexually compatible? You'll definitely bring variety into the bedroom, that's for sure! Taurus, you're all about the body – ever so primal and sensual, you'll teach your Gemini man or woman a thing or two about staying out of their head and in bed! Your chatty Gemini, when it comes to sex, doesn't stop talking even when it's sexy time – this is something you'll learn and come to love, Taurus. They need their minds to be stimulated before their bodies are, which could be a challenge for you, and they'll also want a lot of experimentation! Variety is so important to Gemini and they'll get utterly bored with the same routine, the same style day in and day out, which could rock your boat a little, Taurus. You kind of like the safety of knowing which buttons to push and how, but be open to what you could learn - you may even enjoy it!
Taurus and Gemini Breakups:
How do Taurus and Gemini sun signs move on after a breakup? Well, for you, Taurus, it's always a challenge to let go. As an earth sign, you usually invest so much of yourself into the relationship that to move on, and accept change feels impossible at times. Your Gemini ex, on the other hand, will probably move on quite fast compared to you, though they might make a bit of a drama out of it! Gemini people have two sides to them – the bouncy, bubbly side, and then their "dark twin," which is the side that sometimes comes out during a tough time. This is the side that you may find a touch toxic, and it would be best to extricate yourself out of any communication until your head and heart are clear. They may not mean to play mind games, but for you, that can be very destructive.
Business Compatibility:
Taurus and Gemini Compatibility in Business:
Does a Taurus relationship with Gemini have compatibility in the office? Taurus, you're the one who will happily sit and consistently work, stick to your routine, and be wholly reliable and stable in the workplace. Whether you're the boss or the employee, you tend to be the glue that holds everyone together. Your Gemini colleague, boss, partner, or employee is not as reliable and fixed as you are – they're darn clever though, and they can be completely indispensable to a department that needs a quick brain and willingness to adapt. They'll chat your head off at work while drafting fifteen emails while texting a client without blinking an eye – they're multitalented like that. You're either going to learn a whole lot from them, enjoying their chitty-chatty drama, or you're they're going to drive you completely crazy!
Friendship Compatibility:
Taurus and Gemini Compatibility as Best Friends:
Are Taurus and Gemini compatible as good friends? If you are new to each other it can take a while to form a solid bond – you're so different that your paths just don't cross all that often, and you can simply miss noticing each other. However, you can find each other very interesting, with Gemini being fascinated by your beauty, creativity, and perhaps feeling your solidity and groundedness – qualities that they sorely need. You, on the other hand, will find Gemini an interesting friend, someone who is always willing to talk, flexible with your stubbornness, and usually quite cheery and funny. However, it'll take some work to get to know each other and spend time together since your interests may vary so much.
Family Compatibility:
Taurus Parent and Gemini Child Compatibility:
Are Taurus and Gemini compatible when it comes to family? Having a Gemini parent can feel unsettling for you, Taurus. While they crave change and variety, and are constantly on the move — busy with friends, socializing, and moving around, you just crave stillness and a routine, safety, and predictability. However, having a Gemini parent will actually help you be much less stubborn and resistant, and give you the gift of learning to adapt to new people and situations, a quality which you do need to develop! Sure, they're unreliable, but they are your best friend, too! Your Gemini child will go crazy with routine, Taurus, so you'll have to let them change things up for themselves and not try and force your ways onto them. Realize that they need a lot of stimulation and activity, and will rebel against any forced structure.
Taurus and Gemini Sibling Compatibility:
How do Taurus and Gemini siblings match up in the family environment? Your sibling is the one always talking, always learning something new, always on the lookout for change and variety. But you, Taurus, will prefer predictability and your calm, patient energy will either ground your flighty, nervous sibling, or irritate them – probably a mix of both! They'll want to get you to try all the things they love, but you'll have none of it unless you have taken your time to decide if it's really for you – and then you pursue whatever it is with you whole heart and soul, diving in deep! You'll be as different as night and day, but there can be deep loyalty between you two.
Taurus and Gemini Pet and Human Astrology Compatibility:
Will a Taurus human and a Gemini pet get along? Gemini pets are completely unpredictable, Taurus, and this will test you to your limits! One day they're the most loving pets ever, and the next, they're indifferent and uncaring. They're moody, weird, and darn clever, so if you think that they won't figure out how that thing works, that thing that they're not supposed to know, you better have another think coming! Your Gemini pet is so smart that they'll crack most things given half a moment alone – so best you make up very clever, foolproof ways to keep them from where they don't belong! They don't care about routine – they actually want change and variety, so do try to take them to different places and show them new things, or else they may get bored, and very, very anxious! These are nervous pets, and they can experience anxiety and restless if they're not active and left to their own devices. So, although exercise may not really be your thing, try and open yourself up to new places and spaces, and notice the major difference it has on your animal!
Taurus and Cancer Compatibility
Taurus and Virgo Compatibility
Taurus and Libra Compatibility
Taurus and Scorpio Compatibility
Taurus and Sagittarius Compatibility
Taurus and Capricorn Compatibility
Taurus and Aquarius Compatibility
Taurus and Pisces Compatibility
Taurus and Aries Compatibility
Taurus and Taurus Compatibility
Taurus and Gemini Compatibility