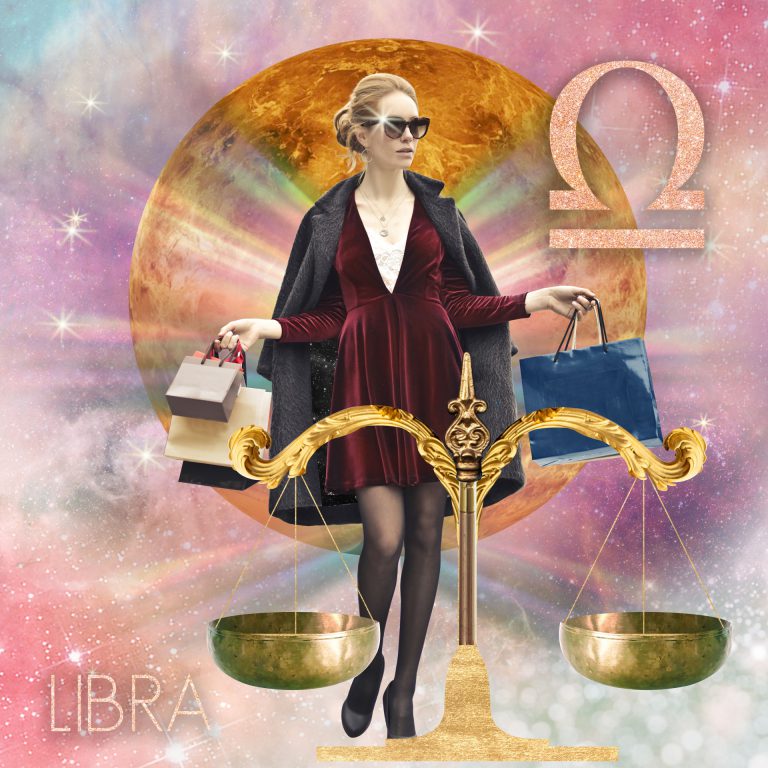 Libra is the seventh sign of the zodiac and seeks balance in all things. Planets in Libra express their energy harmoniously and kindly, but sometime indecisively. Libra planets can be quite gullible in their expression, as can the Libra personality when Libra is the Sun sign.
Key Facts About Libra
Symbol: The Scales
Element: Air
Quality: Cardinal
Ruling Planet: Venus
Traditional Color: Pale blue, pale pink, pale green
Traditional Gemstone: Sapphire
Energy Expression Keywords: diplomatically, sociably, harmoniously, peaceably, fairly, sympathetically, idealistically, romantically, resentfully, indecisively
Libra Sun Sign Personality Traits
Libra Sun sign people abhor conflict and seek peace and harmony in every area of life. Very sociable and charming, this zodiac sign is full of the social graces which oil the wheels of daily life – but their desire not to upset anyone can mean that Libra people are extremely indecisive.
Very often, Libra Sun sign people will do whatever it is that they think will please others, rather than acting in their own self-interest. Gullibility is a Libra trait, as is giving in under pressure, so sometimes this zodiac sign needs to learn greater powers of assertion and independence.
Libra people need other people, and this is not a zodiac sign which copes well with loneliness. Whether it's a loving relationship or a close friendship, Libra wants to know that someone is there – this zodiac sign fears loneliness and isolation. They are however very strong on fair play, as you might guess from their symbol, the scales. Weighing the pros and cons of every decision contributes in part to the indecisiveness, but it also means that Libra people are scrupulously fair and just.
Thanks to the ruling planet Venus, Libra has a reputation for being lazy, which is undeserved. It's true that Libra people do like the finer things in life and enjoy beautiful surroundings and great food, but this is a cardinal sign and Libra is constantly on the go. If they're not physically active, they're certainly mentally active, creating ideas and striving for ideals – the vision Libra has is of a world full of beauty and justice, and they will work hard to pursue that goal.
Libra in Love
The Libra Sun sign is probably the most romantic of all the zodiac signs. In love with the idea and ideal of love, they can sometimes be bitterly disillusioned when someone falls from their pedestal. Nonetheless, the typical Libra personality will continue to view life and love through a rosy lens – repeating the cycle until the next disappointment.
When dating, Libra people are typically delightful companions, easy-going, sociable and charming. Their desire to be in a relationship means that Libra is not usually happy as a singleton, but this can come across as a little desperate on the dating scene.
Once in a relationship, Libra is generous to a fault, perhaps trying to buy affection. Very loving but sometimes a little bit needy or clingy, they may struggle to see the faults within a relationship until it's too late. Even when all is well, Libra people sometimes forgo their love of harmony in order to create a drama – specifically to test how loved they are. This can be destructive behavior in the long run.
Best Libra Compatibility
Libra love compatibility often works well with their fellow air signs, Gemini and Aquarius. The fire signs, Aries, Leo and Sagittarius are also good matches for Libra. Libra is enchanted by the passion and creativity of the fire signs, and they in turn are charmed by Libra's devotion.
Libra compatibility with some other signs can be troublesome, however, particularly with Pisces and Taurus. With Pisces, the problem is mutual escapism, with neither zodiac sign being realistic enough to navigate potential problems in the relationships. When it comes to Taurus, Libra's changes of mind and mood swings are hard to bear; meanwhile, Libra finds Taurus to be stable and respectful (good) but also unwilling to change and evolve (not good).
As ever with astrology, however, things are much more complex than just Sun signs alone, so don't base your compatibility expectations just on this.
Libra at Work
Libra people are motivated by money, because they like to enjoy a good lifestyle. However, they also want to work in a peaceful, stable, unpressurized environment, so they tend to shy away from some of the riskier, high-pressure but high-reward careers. Tact and diplomacy are key Libra traits, and some of their best talents at work – the Libra professional can get along with most people and can find a way to handle difficult colleague with ease.
As a boss, Libra is diplomatic and engaging, always willing to listen to ideas and to involve other team members. As an employee, they have strong ideas but may sometimes lack the confidence to put them into practice.
Great career choices for Libra people include work in the arts or the beauty or luxury trades. They also excel in politics and diplomacy, negotiation and customer service. Due to their idealism and strong sense of fair play, some Libra people are drawn towards the law as a profession, or work in the justice or penal system.
A Libra in the Family
Libra Children
Libra children are always eager to please and are often no trouble at all to their parents. However, they can be rather lazy and poor with timekeeping, so they need encouragement to get things started and then finished on time. Some young Libra kids dislike making choices and decisions and tend to just fit in with the crowd, which can lead to problems with peer pressure or bad influences.
At school, Libra kids enjoy creative subjects and languages, but they quickly get upset if they feel that something at school is unfair. They make excellent peer mentors and prefects and will be keen to play a role in keeping the school a tidy and pleasant place to be.
Libra Parent
As a parent, Libra people can be very loving and gentle, but may give in too easily to a strong-willed child, in order to avoid an argument. Discipline is not a Libra strong point and they hate having to tell someone off, so Libra households are often rather free-range! Libra parents can best teach discipline by modeling good behavior and teaching their children that bad behavior has real impact on other people's lives.
Libra Health
Traditionally, Libra as a zodiac sign rules the kidneys, and care should be taken to avoid urinary tract infections. Because Libra isn't a fan of physical exercise, weight gain can be problematic for this zodiac sign, especially when coupled with their love of fine food. Graceful exercises will appeal the most, perhaps dance or swimming – there's nothing the typical Libra personality will hate more than the thought of getting hot and sweaty in a gym!
Mental health for the Libra personality is complex. Often the Libra person will be perfectly happy throughout life, but when they do feel depressed or anxious, they may struggle to pinpoint why. Loneliness can be a genuine problem and is felt much more keenly than any other zodiac sign. An active social life is therefore essential for preserving good mental health in Libra people.
This social life can be encouraged via creative hobbies – a blend of crafting and chatting will suit the Libra personality down to the ground. Beautiful crafts like flower arranging or sewing for interior design will keep Libra happy and occupied, and they often have a great deal of talent in this area.