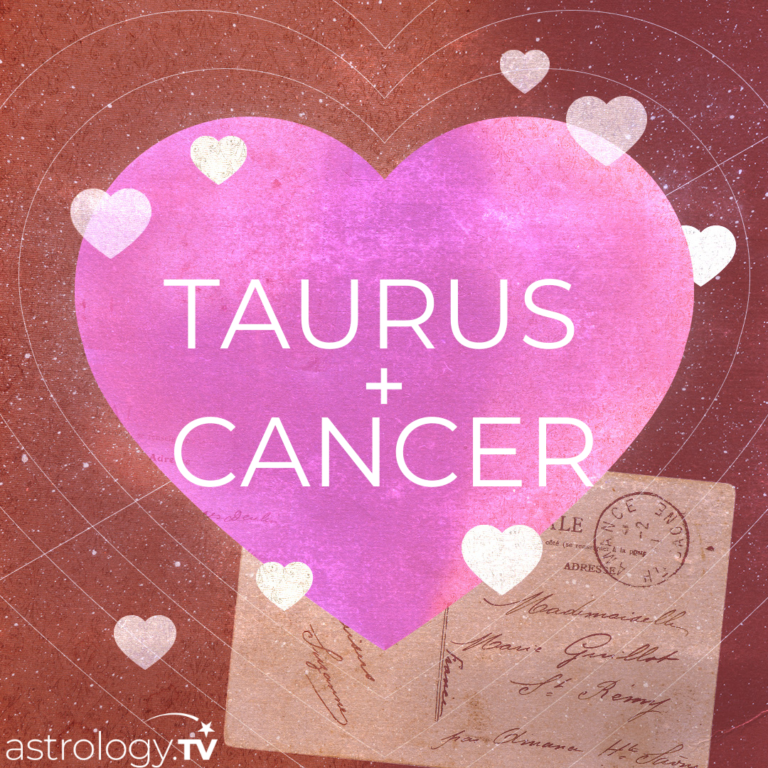 Taurus and Cancer Compatibility (Taurus Dates April 20 - May 20; Cancer Dates: June 21 – July 21):
Do Taurus and Cancer astrological signs make a good match? Do you ever! This is one of the most magical matches to make in the zodiac – finding each other will be like "coming home," and you'll feel a strong sense of total safety just by being with each other. Your earth energy, Taurus, matches perfectly with Cancer's water energy – like watering a thirsty planet, your Cancer sweetheart nourishes you and softens your harder edges, melting away any defenses and getting right into your heart! In turn, you nurture them too, and give shape and form to their lives, leaving Cancer feeling held and secure. The romance levels here are high, but the comfort and cuddle levels are even higher – you'll just want to wrap yourselves around each other and never let go! You're calm and patient with the Cancer's moods (and there are many!), while they understand your need for routine – and even if they're going through one of their "phases," your Cancer sweetheart will endeavor to meet your need for predictability. It's a meeting of minds and hearts here in this often-long-lasting bond!
Dating & Romance Compatibility:
Taurus and Cancer Dating Compatibility:
Are Taurus and Cancer likely to be Soulmates? It can certainly feel this way, and who's to say that you aren't? If Soulmates feel like ease, comfort, coming home, and being safe, then it's Soulmates you are! Your Cancer sweetheart was probably looking for someone just like you, Taurus, someone consistent, perfectly reliable, committed, and willing to go for the long haul. In the beginning – the dating phase – you both may have some hang-ups around previous hurts and fears around opening up again. So, take your time and go slowly – there really is no need to rush! Because once you know, you'll know, and you won't have any problems simply opening up your softer sides and letting each other in! Taurus, you'll go out of your way to romance your sensitive and sweet Cancer lover, and show them the true meaning of being swept off their feet – and they'll love how you always stick to plans and never let them down! That builds trust, and trust builds a life together!
Taurus and Cancer Compatibility in Marriage:
Can Taurus and Cancer zodiac signs marry? 100 percent, yes! It's very likely that the two of you will waste no time in committing to each other, and even the Cancer's phase-like moodiness and occasional cold feet won't change the fact that you'll want to spend the rest of your lives cuddling up to each other! Most Cancers dream of the perfect wedding, a wedding dream which you also share, Taurus – and when you do it, you intend it for life. You'll enjoy spending time carefully building a strong foundation together and family will never be far from your mind – the chances are high that you'll move quite quickly into the idea of creating a little unit of mini-you's to love and look after! Sometimes you'll be moody and stubborn with each other, but you always manage to find your way – as long as you promise to never hold onto your grudges!
Taurus Compatibility with Cancer in Bed:
Do Taurus and Cancer have sexual compatibility? Oh, yes! You both love passionate, sensual, tender lovemaking, and your both able to get swept away by pure, primal feeling, sensation, and emotion. Sex should be nourishing, gentle, strong, and passionate for both of you, and your Cancer will bring in the deep tenderness which you love, Taurus. However, the best part of you both is the connection and snuggles afterwards – you often use your bodies to communicate what you can't put into words or what you can't show in terms of your emotions. Be aware, Taurus, that if Cancer isn't feeling emotionally connected, it can be harder for them to be physical with you, whereas you may be more able to follow through with the physical, not always regarding the emotional. This is where you find great balance and learn to understand each other's sexual languages.
Taurus-Cancer Breakups:
How does Taurus and Cancer move on after a breakup? If you ever do break up – which is highly unlikely – it's going to be a real struggle for both of you in equal measure. Your Cancer ex will hold on just as tightly as you do, Taurus, though if they see that things aren't working, they'll be more able to release, albeit with immense regret, pain and clear grief. After that, they'll always hold a torch to your memory and remember you in the best way imaginable. It'll take many tears and conflict before either of you are willing to admit it's time to end things, though you'll both prefer to work on the relationship as hard as you can. You have to be open to changing, Taurus, or else your relationships can become stagnant and your Cancer partner may become restless and resentful. You'll both move on only very, very slowly.
Business Compatibility:
Taurus Compatibility with Cancer in Business:
Does a Taurus relationship with Cancer have compatibility when it comes to work? In some circles, your two astrological signs are known as the wealthiest signs out there, the ones most able to generate a great deal of physical security. In short, you're both brilliant when it comes to money and business, and it's a combustion of your Taurean patience and Cancer's creativity that make you a great team. In business partnerships, this is a fantastic bond, and in the workplace, you'll get along well. You'll be patient with Cancer's moods, Taurus, and your consistency will usually lend them strength – although you may get annoyed from time to time with how Cancer tends to avoid work when they're feeling "overwhelmed" – not a word that exists in your book! Their occasional unreliability could irritate you, just as your stubbornness and refusal to flow with change may annoy them endlessly, too.
Friendship Compatibility:
Taurus and Cancer Compatibility as Best Friends:
Are Taurus and Cancer good friends? Absolutely – you can be the very best of buddies, as you always look out for and take care of each other. You're nourishing and tender with each other, and you're the type of introverted friends who will happily hang out and eat a home-cooked meal together while watching a good movie or series. It feels easy, and you know, Taurus, that you have one of the best of friends in your Cancer buddy – they are loyal and steadfast, and always willing to listen and empathize. They do expect the same in return, and they value your patience and steady calm, the way you always ground them and make them feel really safe. Also – you'll just love feeding each other's energies, and that makes for a lot of things you can do together! When you get right down to it, you're also both creative, and when the time is right, you can have a great party together too!
Family Compatibility:
Taurus Parent and Cancer Child Compatibility:
Are Taurus and Cancer compatible when it comes to family? Absolutely! A Cancer parent is one of the best you can get – their tender, motherly nature always makes you feel safe and at home, and they're always very attuned to your needs and wants. A Cancer parent is so totally there for you, and wants the best for you – they might even smother you a little, but you don't mind at all! There's nothing quite like a meal made by your Cancerian parent to make you feel loved and cherished! As a child, Cancer is moody and insecure at times, though very creative and sensitive – and they love feeling the safety of consistency and routine. They may make a break for freedom and spend some of their lives searching, but providing that stable base is the best thing you can do for them in the long run!
Taurus and Cancer Sibling Compatibility:
How do Taurus and Cancer siblings match up in the family environment? You'll definitely have your fights, as all siblings do, and your Cancer brother or sister's moods and tearfulness can test even your famous patience, Taurus! But you do get them, and you always hold a nurturing space for them to come to when they need you – just as they do for you. You'll come to rely on each other, and form a strong bond with each other, as long as you learn to forgive each other and never hold onto your grudges – this can be the one thing that truly tests or even ruins your relationship!
Taurus and Cancer Pet and Human Astrology Compatibility:
In astrology, will a Taurus human and a Cancer pet get along? Brilliantly! A Cancer pet is your dream, Taurus – they're sweet, loving, and just adore cuddling – they will cling to you and never let you out of their sight if they can manage it, and you'll just love that companionship and comfort they provide! A Cancer pet also really appreciates your attention to routine and your consistent, reliable energy. No matter how many moods they have, or how clingy they get, you're always there to hold space and calm them down. You both adore being at home together snuggling on the couch, and you'll share a passion for good food together! Quality time with your Cancer pet is pure bliss – don't forget to take them near water (if they're dogs!), as they love splashing around as much as they can!
Taurus and Virgo Compatibility
Taurus and Libra Compatibility
Taurus and Scorpio Compatibility
Taurus and Sagittarius Compatibility
Taurus and Capricorn Compatibility
Taurus and Aquarius Compatibility
Taurus and Pisces Compatibility
Taurus and Aries Compatibility
Taurus and Taurus Compatibility
Taurus and Gemini Compatibility
Taurus and Cancer Compatibility