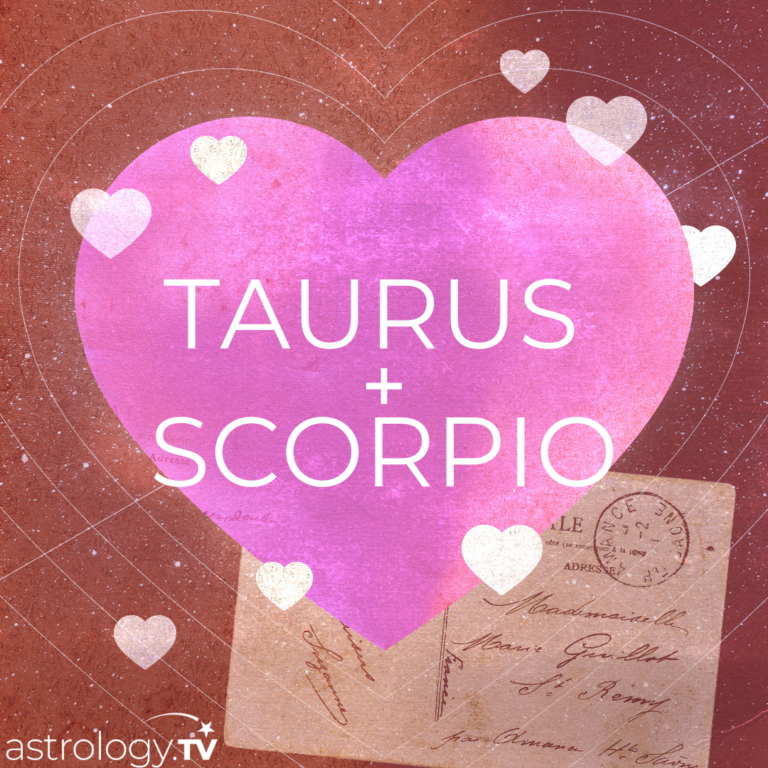 Taurus and Scorpio Compatibility (Taurus Dates: April 20 - May 20; Scorpio dates: October 23 - November 21)
Are Taurus and Scorpio compatible? Whew, the heat is on in this love match! This relationship is one of those that, if it doesn't last until the grave, will be one of the most memorable, intense, deep, and profound connections you'll ever have, Taurus. In fact, if you two do meet and fall in love, it's unlikely that you'll ever fall out of it. Your connection is that powerful. You'll find that of all the opposing signs in the zodiac, the Taurus and Scorpio sun signs make the best match. You'll meet so many of each other's needs in life. Your sexy, magnetic, and deep Scorpio sweetheart brings with them a desirable intensity you admittedly need, Taurus, or else your life would just be boring. You bring them peace, quiet, and calm, which the typical Scorpio desperately craves but often doesn't know how to create. It's a lovely mix of peace and depth, and your chemistry should be off the charts, too. Sure, you'll have your power struggles, as you both posse stubborn traits to the extreme — but you always find a way to work it out, somehow.
Dating & Romance Compatibility:
Taurus and Scorpio Dating Compatibility:
Are the Taurus and Scorpio zodiac signs Soulmates? Without a doubt — these zodiac signs are meant to be together! From the get-go, you'll feel the non-negotiable pull toward each other. No matter how much you try and resist change, Taurus — and yes, it is scary — you can't help but be drawn into your Scorpio's watery world. They're not called the Queens or Kings of seduction for nothing, and your primal, sensual nature can't help but be tempted! The flirtation level is high here, and the dating phase can feel very fast, and commitment comes without you even noticing it. Although you're both naturally careful, perhaps even fearful, this attraction is one that bypasses all those fears and solidifies quickly and naturally. Scorpio is just as frightened as you, Taurus — they are terrified of abandonment, a fear that dissipates naturally as they learn how solid, committed, and reliable you are.
Taurus and Scorpio Marriage Compatibility:
Could a Taurus and Scorpio marriage work? In some studies in astrology, your two sun signs are the ones shown to marry the most often. So, in short — yes! You can, should, and often will marry, and your marriage will be one of those that defies time — in other words, it will last! You're both fixed signs, so you have a powerfully strong will and are willing to fight for each other and stick by each other. Taurus, your Scorpion sweetheart is also so darn sexy that you'll never feel the need to look elsewhere — they match your sensuality with their natural sexuality, and this results in one of those rare, passionate marriages. You're ruled by Venus, Taurus, and Scorpio by Mars — the two planets classically known for attraction and desire. It doesn't get much better than this (despite the occasional cold war!).
Taurus and Scorpio Sexual Compatibility:
Are Taurus and Scorpio sexually compatible? Well, well, well — are you ever! The chemistry is off the charts here, and you know just how to dance the dance of desire to get your Scorpion lover's blood pumping, Taurus! They'll take over with their pure lust and dizzying sexual skills, and you should be more than satisfied with a Scorpio at the helm! They are not in the least scared off by your primal nature, and you can do absolutely anything and never feel ashamed of your sexuality — the Scorpio welcomes it all and will push you to explore more of yourself. The physical attraction is one that truly lasts — which is an enormous blessing when faced with life's more mundane moments or with a hard-to-solve conflict. When you can't speak to each other with your words, you can always let your bodies do the talking!
Taurus and Scorpio Breakups:
How does a Taurus-Scorpio couple move on after a breakup? If you actually do break up, it can be a disaster for both of you. One of the only possible reasons for you to split would be infidelity — and that would tear you apart. Both of you tend to be rather possessive and even jealous, and if there's a hint of something going on, it can put a lot of strain on your relationship. If something actually happens, your Scorpio will simply switch off and you will be dead to them, Taurus, just as they would be to you. That said, whatever the circumstances, it can be next to impossible to let go. It will take a long, long time before you feel like you have finally released the relationship. Power struggles or games may play a part in the ending — games which are best for you to avoid, Taurus, no matter how much your ex wants to reel you in.
Business Compatibility:
Taurus and Scorpio Business Compatibility:
Do Taurus and Scorpio have compatibility when it comes to work? You're either going to be the best team in the office, a power pair to be reckoned with — or you're going to push each other's buttons until you can't work together anymore! Scorpio as a boss, employee, or colleague is intense, Taurus. Scorpios rarely relax, and you want a calm, peaceful, and stable environment to work in without drama and emotional outbursts. Although they are a lot to handle, Scorpios do bring in needed change, and they are incredibly consistent, reliable, and immensely ambitious. They will move to the top quickly and will need someone like you to add creative energy, hold things steady, and keep systems running. In many ways, you balance each other — now you just need to learn to see it and appreciate it!
Friendship Compatibility:
Taurus and Scorpio Compatibility as Best Friends:
Are Taurus and Scorpio meant to be good friends? If you're not attracted to each other, then you make the closest, most committed, and reliable of friends in the zodiac. You're total opposites, but at the same time, very similar. As the Thai say, you are same-same, but different! Your Scorpio buddy will have your back until death, Taurus — their loyalty is undying, and it's something you can always count on, just as they count on you. Your caring and nurturing traits bring a lot of calm into a Scorpio's life. You're both quite introverted so you should spend plenty of close, intimate time together, connecting and bonding. There will be times when you won't agree, and it can be impossible to get either of you to change your mind or opinion. You'll just have to agree to disagree!
Family Compatibility:
Taurus Parent and Scorpio Child Compatibility:
Do Taurus and Scorpio have compatibility when it comes to family? A Scorpio child is a ball of emotion and vulnerability, Taurus, and they need your steadiness and stability to stay calm. They can be dramatic (the complete opposite of you!), but the drama brings a certain depth to your life that you crave. A Scorpio parent is intense and sometimes remote but deeply loving, loyal, and attached to you. They may want to control you, Taurus, but they soon learn that it's just not possible! Being a water sign, they love you deeply, more deeply than you perhaps even know, and they will always protect and defend you.
Taurus and Scorpio Sibling Compatibility:
How do Taurus and Scorpio siblings get along in the family environment? A Scorpio sibling can bring a bit of competitive energy to your home. Scorpios may fight to be the favorite and might not always care where that leaves you, Taurus. Your water sign sibling is also very intense emotionally and has powerful and dramatic mood swings. They act out often. You'll find them as stubborn and strong-willed as you are, so when you are on opposite sides of an argument, things can get very messy between you! It's easier once you have grown up, and you can have a very powerful bond that lasts, even though it's tumultuous at times. You do have each other's backs. Once you put aside all the triggers and become more conscious of button pushing, you'll come to realize that there's a lot to learn from each other.
Taurus and Scorpio Pet and Human Astrology Compatibility:
Will a Taurus human and a Scorpio pet have compatibility? As a pet, Scorpio has huge emotional needs, and they can be rather moody. They'll get extremely attached to you. They may even have severe separation anxiety from you, so it's essential to stick to a good routine for your pet's peace of mind. Create structures to make them feel safe and secure. That shouldn't be a problem for you, as the Taurus zodiac sign loves stability, consistency, and routine. You'll seldom change it up unless absolutely necessary. These pets are profoundly loyal and intensely intuitive. Trust then to guide you, Taurus, when your senses fail you. A bit sneakily, your Scorpio pet will also want to be the boss of you — a mission they will likely accomplish! They bring a lot of joy to your life, Taurus, and their love and affection for you runs very deep.
Taurus and Sagittarius Compatibility
Taurus and Capricorn Compatibility
Taurus and Aquarius Compatibility
Taurus and Pisces Compatibility
Taurus and Aries Compatibility
Taurus and Taurus Compatibility
Taurus and Gemini Compatibility
Taurus and Cancer Compatibility
Taurus and Virgo Compatibility
Taurus and Libra Compatibility
Taurus and Scorpio Compatibility