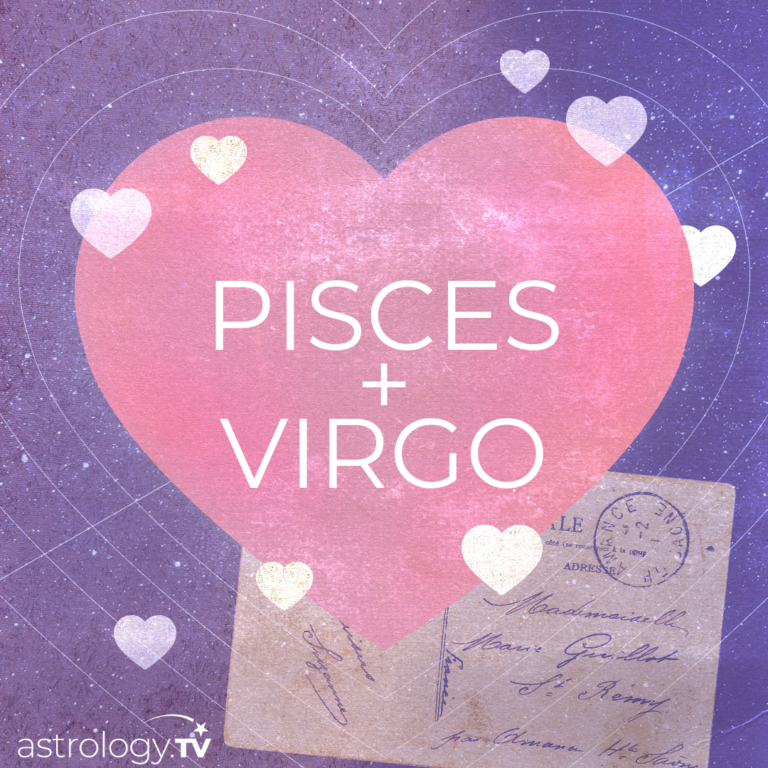 Pisces and Virgo Compatibility (Pisces dates: February 18 - March 19; Virgo dates: August 23 - September 22)
Do Pisces and Virgo make a good match? Your two signs, right opposite each other on the wheel of the zodiac, are dubbed "The Healers". And the healers you are, for good reason! You nourish others, are caring, kind and compassionate, and you make a truly beautiful team.
You'll find that your Virgo completes you in ways that you never thought possible, Pisces. They are the ideal partner for you, taking care of all the practical, mundane details of life so that you don't have to. And what's more, they actually enjoy it! They adore making sure the bills are paid, the accounts up to date and the chores in order. They bring a neatness and order into your life that you've never had before, Pisces.
And what do you bring them? Well, Pisces, you bring compassion, magic and flow into you Virgo's world. Virgo people can be really uptight and stressed, and they need someone to remind them to let their hair down and enjoy life, Pisces!
You do exactly that, whisking them away to magical destinations and inviting them to get creative. You take care of them emotionally, making your Virgo feel spiritually nourished. You listen to all their complaints (and they are many!) with compassion, and are their greatest supporter.
This relationship is one that is marked with kindness, care and empathy, and soon, the two of you will wonder how life ever was without each other!
Dating & Romance Compatibility:
Pisces and Virgo Dating Compatibility:
Are Pisces and Virgo Soulmates? You really are made for each other, Pisces. After all, as they say, opposites attract! And being opposite signs brings you more benefits with each and every day that you get to know each other.
Both shy, you approach a new relationship carefully, Pisces, especially your Virgo. Being such analytical zodiac signs, Virgo people tend to get quite neurotic and anxious when someone new enters their life, worrying if things will work out! You just trust, Pisces, and your vulnerable, open ways help your Virgo sweetheart to relax into the relationship.
You'll also find later down the line, Pisces, that your Virgo crush is nowhere near as shy in private as they make themselves out to be in public! Alone with you, they are brilliantly witty, sharp, clever and so funny that they make you laugh pretty much every time you hang out!
You have quite a sense of humor yourself, Pisces, and you love to tickle your Virgo's funny bone too. There will be many a day and night wrapped up in each other, just enjoying one another's company.
It's best if you let your Virgo plan the dates, Pisces, as they are very exact and detail-orientated. They love to plan everything down to the minute and will treat you like an absolute princess (or prince!). They love good food and nature and will seek to combine the two for a lovely time out. You are so receptive and happy to go with the flow that you'll eagerly go along with their plans and ideas, Pisces!
Pisces and Virgo Marriage Compatibility:
Can Pisces and Virgo marry? Oh yes, you can! And you should – it would be an absolute crime not to! You two really belong together – you know it, and so does everyone else! You're the perfect balance, even though you drive each other crazy at times, Pisces. After all, it is said that the person you should marry is the person you want to hug and slap at the same time!
The best thing about your marriage, Pisces, is the fact that Virgo is the ideal spouse when it comes to getting things done. They are your person when it comes to taxes, mortgages, chore allocation, routines and cleaning. They actually like it, Pisces. It gives them satisfaction to have a sparkly clean home and up-to-date spreadsheets!
All you have to do, Pisces, is appreciate them to the ends of the earth and pick one or two chores that you know they hate doing and do them yourself. This small act of service will make your Virgo husband or wife feel deeply heard, seen and gratified.
You're also a lovely partner, Pisces so don't feel left out! You are receptive, flexible and incredibly supportive of your Virgo, understanding how hard they work and providing them with a lovely sanctuary to always come home to. You soothe away their worries, help them relax and accept them as they are, which is a huge deal to the very self-judgmental Virgo.
Pisces and Virgo Compatibility in Bed:
Is there Virgo and Pisces compatibility in bed? You'll both be very satisfied, Pisces! Your normally shy Virgo has quite a different side in the bedroom. It's true what they say about this zodiac sign: "reserved in the streets, wild in the sheets!". Virgo people have quite the libido, and they know how to get down and dirty, Pisces. They are sensual and primal, inviting you to get into your body and enjoy it!
You bring the spiritual and emotional side to your sexual relationship, transforming every experience into making love, no matter how crazy it gets. You go out of your way to intuit what your Virgo wants and make it your business to satiate them – yum!
When Pisces and Virgo Relationship Breaks up:
How does Pisces and Virgo move on after a breakup? It's unlikely that you'll split, Pisces. If you do, it will be a very sad time for both of you.
Your Virgo ex will usually beat themselves up terribly, blaming themselves for not being able to "fix" all the problems in the relationship, in you and in themselves. They can become neurotic and even critical, which is usually a sign that they are overthinking all of it. They can even become rather cruel, Pisces, in which case you will likely ghost them, unable to handle or deal with their pain and yours.
This does take time to get over, so give yourself time, Pisces. You will forgive each other – or at least you'll forgive them. Your Virgo ex will try their best, though not always succeeding.
Business Compatibility:
Pisces and Virgo Compatibility in Business:
Is there Virgo and Pisces compatibility when it comes to work? Sometimes, your Virgo colleague will truly wonder whether to give up on you or push you harder, Pisces. They just don't understand how you can be so impractical and dreamy, and might just decide to take your duties over for you rather than waste time trying to get you to be more like them.
You see, a Virgo colleague, boss or employee is the ultimate perfectionist, responsible, organized and admin-smart, unlike you, Pisces. You're a mystic and a creative, and you just hate work, really, unless it inspires you. It's best you stay out of each other's ways, despite your best intentions!
Friendship Compatibility:
Pisces and Virgo Compatibility in Friendship:
Are Pisces and Virgo good friends? you are wonderful, caring and nurturing friends, Pisces. You are always there for each other ready to lend a helping hand when you most need it.
Your Virgo buddy gives the very best advice, Pisces, and seems to know just how to ground you. They will go out of their way to be helpful to you, practically speaking, rescuing you from having to do tedious and mundane tasks (which they happen to love!).
In return, you offer completely non-judgmental emotional acceptance and support, helping your Virgo friend to be a lot less hard on themselves and always intuiting what they most need in their hardest moments.
Family Compatibility:
Virgo Parent and Pisces Child Compatibility:
Is there Virgo and Pisces compatibility when it comes to family? Virgo parents can be really critical and judgemental, Pisces, which can frustrate you at times. However, their hearts are made of pure gold and they will always do absolutely anything for you. Their love is shown through their service and sacrifice, so make sure that you take notice of that, Pisces.
Your Virgo child needs a lot of order and routine in their lives, Pisces. They can't just waft around aimlessly, and a lack of stability terrifies them. Proving them with a safe, secure and predictable routine helps them to shine and be confident. They also benefit immensely from your unconditional love and care, helping them to be less hard on themselves.
Pisces and Virgo Sibling Compatibility:
How do Pisces and Virgo siblings match up in the family environment? You're fairly easy to get along with, Pisces. In any conflict, you simply step back and swim away until the drama is over (even if you are the cause of the drama at times, infuriating your Virgo sibling!).
However, generally speaking, you are both kindhearted and want to be "good" for your parents. You won't usually fight like cat and dog, but you will be opposites, which can result in clashes. You'll find that your Virgo sibling tends to take care of you, Pisces, and that continues right into adulthood.
Pisces and Virgo Pet and Human Astrology Compatibility:
Will a Pisces human and a Virgo pet get along? Because you are the "Healer" zodiac signs, you will be the type of pet and pet owner to look after each other and be in each other's lives when you most need one another. Your Virgo pet is definitely your spirit animal, Pisces, and they soothe you as much as you soothe them.
Be sure, Pisces, to feed your Virgo pet only the very best organic foods - they have a very sensitive digestive system – and to also create a routine for them. Otherwise, you'll find that they become neurotic and stressed, Pisces!
Pisces and Libra Compatibility
Pisces and Scorpio Compatibility
Pisces and Sagittarius Compatibility
Pisces and Capricorn Compatibility
Pisces and Aquarius Compatibility
Pisces and Pisces Compatibility
Pisces and Aries Compatibility
Pisces and Taurus Compatibility
Pisces and Gemini Compatibility
Pisces and Cancer Compatibility
Pisces and Virgo Compatibility