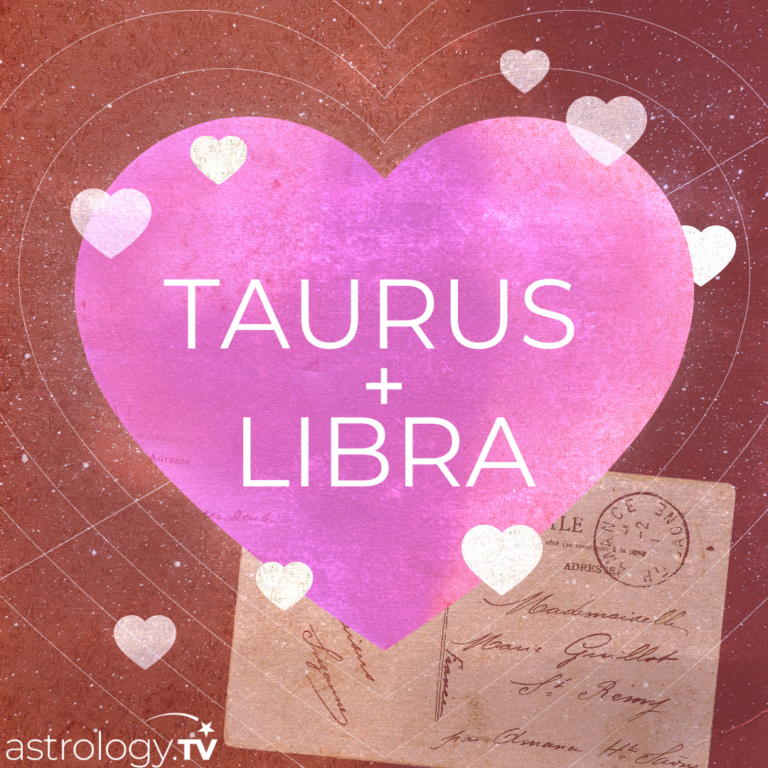 Taurus and Libra Compatibility (Taurus Dates April 20 - May 20; Libra dates: September 23 - October 22)
Do Taurus and Libra have compatibility in relationships? At first glance, if you're new to Astrology, it may seem like a hard pass in the Zodiac when an earth sign and an air sign come together, and generally speaking, these two elements can be antagonistic. However, for those of you familiar with the art of astrology and horoscopes, you'll know that Venus, planet of love and relationships, harmony, and beauty, rules these two zodiac signs—and that makes Taurus and Libra a gorgeous match (literally!). You both deeply value peace, romance, and pleasure, and because of this, you can enjoy a blissfully connected relationship in which both of you do your best to make your bond a strong one that lasts. Taurus, you'll adore how charming, gracious, and refined your beautiful Libra lover is, just as they'll love how grounded and creative you are. Your Libra sweetheart also knows just how to get under your skin and transform your stubbornness into sweetness—and only they know how! You'll learn the fine art of compromise in your relationship with a Libra, and they'll have someone who they know they can depend on. Swoon!
Dating & Romance Compatibility:
Taurus and Libra Dating Compatibility:
Are Taurus and Libra zodiac signs Soulmates? The romantic potential here certainly makes you feel as if you have found your "forever human"—and in many ways, you are the perfect love match. You both love to love, and are each looking for something that can last. Libra is the relationship sign after all, Taurus, which make you feel like you won the lottery! They are willing to please, are always full of compliments, which makes you feel like the most gorgeous person in the world! The dating phase is full of flirtation and seduction, which should last well into the relationship. The only real danger here, Taurus, is your own possessiveness, which may be triggered as your Libra does tend to flirt with everyone they meet—they just can't help it! Try not to let that ruin a potentially long-lasting connection.
Taurus and Libra Marriage Compatibility:
Do Taurus and Libra tend to marry? You will definitely want to have that fairy-tale wedding at some point, Taurus! Your Libran sweetheart will want to walk down the aisle just as much as you—both of you may have dreamed your whole lives about the kind of partnership you find in each other. When you sit down to plan, it can feel like they check all the boxes on your relationship wish list. Fortunately for you, your Libran love is willing to overlook your inflexibility and fear of change—they will graciously help you in life to learn to accept things and surrender a little more. You'll seldom fight, though this can sometimes not be the most positive thing—it's essential that you both learn to confront important issues instead of sweeping them under the rug. Difficulty and disharmony are a part of life, as much as you and your Libra want to deny it.
Taurus and Libra Sexual Compatibility:
Are Taurus and Libra compatible in bed? Being both ruled by the planet Venus makes you masters and mistresses of seduction—whether it's through a word, phrase, a well-planned date, or a sexy dress, you know how to turn each other on! Libra is the kind of partner who is willing to try just about anything, Taurus, though they may not be as good as you are about getting fully into their bodies and tapping into their primal side. You, Taurus, can be a total animal in the bedroom, and you'll show Libra how to switch off their hardworking brain and forget the world for a while! You'll just have to be careful, Taurus, of getting into too much of a routine—let your Libra show you some new tricks and don't be scared to change it up!
Taurus and Libra Breakups:
What happens when a Taurus-Libra relationship ends? It's always tough for you, Taurus— you're a fixed sign, so you like consistency and predictability. It's hard for you to let go and accept something isn't working anymore. For both of you, it can feel very disappointing to have your dream love match end, since you are both deep romantics. In the unlikely event that you do separate, try and ensure that it's not because of your possessiveness, Taurus. You do tend to want to control people's moves, and this can be a reason that this relationship doesn't work out. Remember that although your Libra is an air sign and often flirts, they will seldom actually be unfaithful. Sometimes, however, both of you can develop a wandering eye. It's important to keep that in check, as you may deny issues in your relationship and could potentially end up looking for attention elsewhere, which will only lead to heartache.
Business Compatibility:
Taurus and Libra Compatibility in Business:
Do Taurus and Libra have compatibility when it comes to working together? The two of you can make excellent co-workers. You're both not a fan of conflict and will always try to find a way to make things work in a business environment. Libra is the diplomat, so when you're being as stubborn as you are, Taurus, they'll be the ones to help reason you out of that rut. You help ground your Libra's ideas, as they tend to be the ones out there hustling and landing clients, while you as an earth sign like to hold down the fort to ensure they deliver on their promises. At the office, Tauruses and Libras work well together in all relationship forms—as colleagues, business partners, or as boss and employee. Your shared creativity is also a huge boost to your business. When you put your heads together to brainstorm, you will come up with amazing ideas!
Friendship Compatibility:
Taurus and Libra Friendship Compatibility:
In astrology, are Taurus and Libra likely to be best friends? Your compatibility is friendship is wonderful. Though you may have different preferences (for example, Taurus is an introvert and Libra an extravert), you share a love of creativity, beauty, pleasure, and indulgence; so you should have plenty of good times together! You both love art, music, dancing, galleries, and eating out together, and you will share a very strong, intimate bond. You're also not the type of friends to argue often—you want peace and harmony, and that will form a very important aspect of your friendship. The chances are high that you will end up falling in love if you are attracted to each other, so watch out! Sun signs as flirty and good-looking as yours find it hard to remain platonic.
Family Compatibility:
Taurus Parent and Libra Child Compatibility:
Are Taurus and Libra compatible when it comes to family? A Libra parent can be a dream— they're very fair-minded, willing to always "talk it out," and hear your side of the story, Taurus. They'll also help you to relax that obstinate energy and teach you the fine art of compromise. They're very supportive of your creative side, and will inspire you with their own love of beauty and harmony. As a child, Libra is a total people-pleaser, and they'll go out of their way to be "good," which creates the needed peace and harmony you crave in the home environment. You can show them how to be more strong-willed and decisive, and ground them as they can be flighty. Be prepared—your Libra child will end up growing into a gorgeous adult, and could attract many lovers!
Taurus and Libra Sibling Relationship Compatibility:
How do Taurus and Libra siblings match up in the family environment? It's calm and peaceful with the two of you, and although you'll have your moments. Taurus, you know that you can be a little strong-willed and your refusal to budge can be an issue, but you'll usually just adore each other. Your Libra sibling is always willing to share what's theirs with you, Taurus, though you can be more possessive with your things. They're also more outgoing and extraverted than you, and you may not always understand why they have such a powerful need to be affirmed by others. You're just happy to be safe at home, snuggling on the couch with your favorite creative projects—a talent your Libra sibling also has in spades! You're nice to each other—or at least, you always try to be—and you can enjoy plenty of special moments together.
Taurus and Libra Pet and Human Astrology Compatibility:
Will a Taurus human and a Libra pet get along? Libra pets are the priest of pets in the zodiac. They're also sweet, charming, refined, and willing to please—an absolute dream of a pet! They're quite finicky, though, and they have very particular tastes and high standards, so be sure to cater to those tastes, or else you'll have a mutiny on your hands! They love how grounded and reliable you are, and how much you love to cuddle. Make sure to talk to them often and spend lots of time with them, or they'll get lonely. If you're not around much, consider getting them a friend—Libra pets hate to be alone. They want to share all the activities with you as well, Taurus, so take them out, spoil them, show them that they're your number one, and they'll happily be by your side until death do you part!
Taurus and Scorpio Compatibility
Taurus and Sagittarius Compatibility
Taurus and Capricorn Compatibility
Taurus and Aquarius Compatibility
Taurus and Pisces Compatibility
Taurus and Aries Compatibility
Taurus and Taurus Compatibility
Taurus and Gemini Compatibility
Taurus and Cancer Compatibility
Taurus and Virgo Compatibility
Taurus and Libra Compatibility