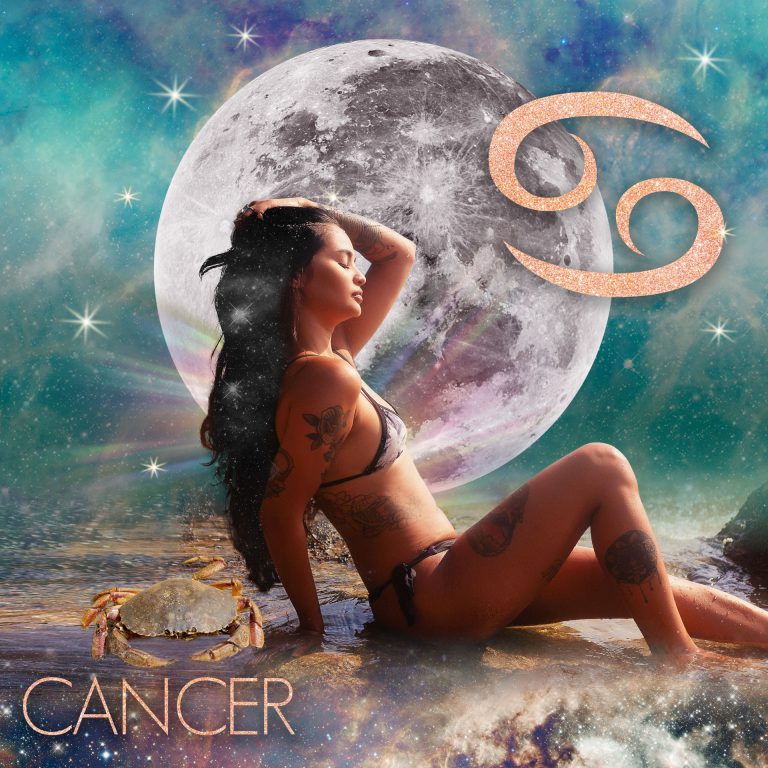 Cancer is the fourth sign of the zodiac and the first water sign, firmly ruled by emotions. Planets in Cancer express their energy sensitively and emotionally but sometimes moodily. Cancer planets can be snappy and defensive too, as can the Cancer personality when Cancer is the Sun sign.
Key Facts About Cancer
Symbol: The Crab
Element: Water
Quality: Cardinal
Ruling Planet: The Moon
Traditional Color: Silver
Traditional Gemstone: Pearl
Energy Expression Keywords: moody, sensitive sympathetic, protective, shrewd, nurturing
Cancer Sun Sign Personality Traits
Cancer Sun sign people are loving, sympathetic, compassionate and kind, but as their symbol, the crab, suggests, also moody and quick to get on the defensive. Strongly intuitive and imaginative, they do tend to worry. This worry leads to a rather cautious nature, but as a cardinal sign, they will take swift action when they deem it necessary, especially to protect themselves or their loved ones.
The Cancer personality is instinctively emotional and will usually make decisions based on their thoughts, feelings and instincts rather than on logic. Even though they are highly sensitive and easily hurt, they don't give up easily and have a lot of tenacity. Their ability to size up others and to sense what other people are thinking makes this zodiac sign a very shrewd operator – some might say canny; some might even say manipulative. Cancer people tend to know far more than they let on and are good at poker face.
The nurturing instinct is exceptionally strong in this zodiac sign, and Cancer people of whatever gender like to mother others – or sometimes to smother them, as they have difficulty in letting go and allowing loved ones their own independence. Unfailingly sympathetic and soft-hearted, Cancer people have a soft spot for the underdog and will always help if they can. Family is everything to them, and they typically love the domestic life.
Cancer moodiness, however, can be difficult for others to deal with. You never quite know what the emotional weather's going to be like for a Cancer, and when they are feeling threatened or hurt, mood swings cause this zodiac sign can be very caustic and hurtful back.
Cancer in Love
The Cancer Sun sign is extremely loving and giving in a partnership. However, again, moodiness can be an issue, especially since Cancer people can be quite cutting when they're feeling bad.
When dating, the Cancer personality is slow to warm up, as their protective instincts won't want to let you get too close, too quickly. However, they quickly become very fond of others and may 'adopt' you before you even realize it's happened.
Once in a loving relationship, it's all about commitment for Cancer. They crave emotional security and stability for the family and will not forgive transgressions which threatens family life in any way.
Highly faithful and loyal, Cancer partners are both romantic and sensual and will always be a strong support to their partners, both emotionally and practically. They do need a partner who can cope with their moods though and one who is not fazed by the periods of excess worry Cancer tends to go through.
Best Cancer Compatibility
Cancer love compatibility often works well with their fellow water signs, Scorpio and Pisces. The stable earth signs, Taurus, Virgo and Capricorn are also good potential matches for Cancer. These signs provide the solid ground and commitment Cancer needs, while Cancer in turn can help the earth signs express their emotions more intuitively.
Less good matches for the Cancer personality include Sagittarius and Aquarius. Sagittarius is not interested in playing happy domestic families with Cancer, and Cancer finds the Sagittarian traits and wanderlust alarming. Meanwhile, Aquarius is too emotionally aloof for Cancer's tastes, and Aquarius objects to Cancer's emotion-led thinking.
You should never judge compatibility on the basis of Sun signs alone though, so don't take this too much to heart.
Cancer at Work
Tenacious and determined, Cancer is a zodiac sign which can succeed in most careers if they so choose. This is a sign which likes continuity, so Cancer people tend to stay in one career field throughout their lives rather than chopping and changing. With strong business and financial skills, this surprisingly shrewd operator has good business traits, able to blend business insight with instinct.
Traditionally, Cancer people are attracted to the caring professions, where they can indulge their nurturing streak. Not particularly ambitious, most Cancers would rather have a job they love than one which earns them a huge amount. They do, however, want to earn enough to fund the stable home life they crave.
As a boss, Cancer is quite demanding, but will always give people a fair hearing if they have made a genuine mistake. As an employee, Cancer needs to feel an emotional attachment to their job and quickly becomes disillusioned if they don't.
Great career choices for Cancer people include nursing, the medical profession, teaching, elderly care and work with women's rights. Cancer people also excel in event management and in strategic planning.
A Cancer in the Family
Cancer Children
Cancer children are homebodies first and foremost and may be quite clingy when very young. Some Cancer kids are quite shy and need encouragement from an early age to step outside of their comfort zones and to socialize with other children.
Young Cancerians are very intuitive and as such are easily affected, for better and for worse, by the atmosphere at home. Because they are very family-oriented and home loving, family arguments hit them hard and they will remember them for years. They need a positive approach from their parents and lots of reassurance.
At school, Cancer children can initially be quite retiring, but they will come out of their shell in a supportive environment. Always caring and nurturing of other children, the young Cancer may become a class or peer mentor.
Cancer Parent
As parents, Cancer people are worriers and they sometimes find it hard to allow their kids to gain independence. Despite or perhaps because of their very loving and sympathetic traits, they must resist the urge to protect their children from everyday disappointments and failures, otherwise children of Cancer parents can grow up feeling that little bit too protected and nurtured.
Cancer Health
Traditionally, Cancer as a zodiac sign rules the breasts and the digestive system. Tummy upsets are common, often brought on by stress or worry and there may be allergies or sensitivities to various foods.
Cancer people quite like exercise when they can see the point of it, or when it's beautiful or rhythmical, like dancing, swimming or tai chi. In their leisure time, they enjoy collecting things and researching the history of their family, their home or their neighborhood.
Keeping busy with hobbies is essential to protect Cancer's mental health, which can suffer due to an over-active imagination. The tendency to withdraw and protect the self when troubled means that sometimes this zodiac sign finds counseling or talking therapies hard to accept – perseverance is necessary here.
When Cancer people feel down, one of the easiest things they can do to lift themselves up again is to care for others. For this reason, this zodiac sign tends to love volunteering roles, whether they're caring for people, animals or the environment. Helping this way brings enormous satisfaction which in turns boosts mental and emotional health.