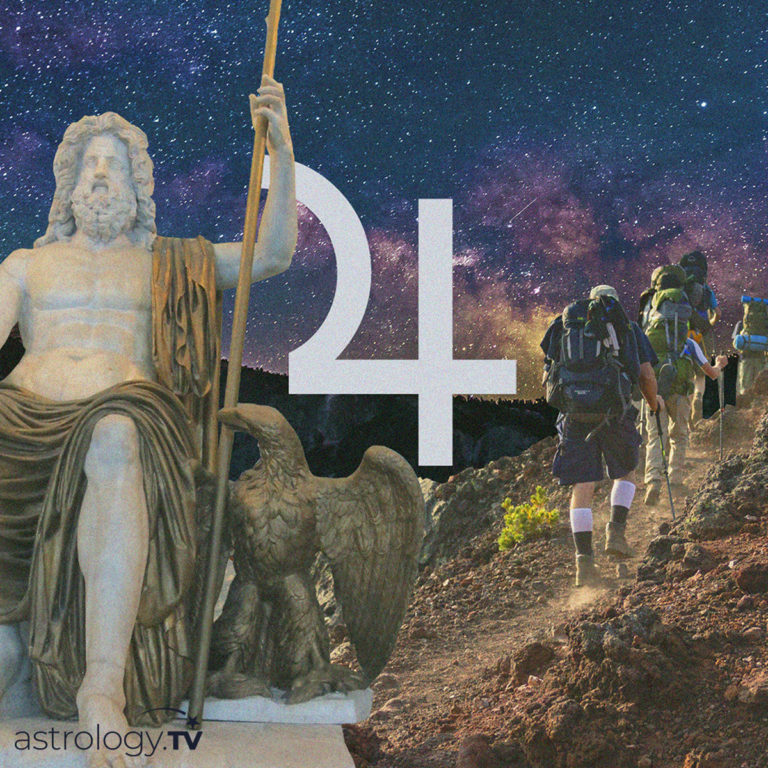 It's that time of year again as bounteous, benevolent, bodacious Jupiter bounces from optimistic, free spirited Sagittarius into pragmatic, serious Capricorn. It's like chalk and cheese, really, as all Jupiter really wants to do it grow, grow, grow – without limits – and all Capricorn wants is to work, work, work – with lots of limitations. Can these two see eye to eye? Sure!
Each zodiac sign tends to refine the sign behind them, and Capricorn reminds Sagittarius that life is not just play, as fun as it is, that responsibilities have to be seen to, and that all that growth needs to be tangibly channeled into reality. And so, we can all take the fabulous gifts that Jupiter in Sagittarius bestowed on us and turn that into gold – in other words, hard dollar cash.
We can work the magic of Jupiter in Capricorn and access success, achieve our goals and attain status. For as much as we may pretend we don't want all these things, we really do. Sometimes it's good to have some rules, some structure, a safe container for growth. And this is precisely what the astrology of Jupiter in Capricorn offers us. Keep reading to discover how this transit affects your sign.
Jupiter in Capricorn for an Aries (Aries dates: March 20 - April 19)
Jupiter in the compatible Fire sign of Sagittarius has been good to you, Aries - so good! Adventure and growth have beckoned, and hopefully you've followed the call, because now's the time to knuckle down, get that cute butt in the air and nose to the grindstone for some serious work. Benevolent Jupiter shifts into your professional zone, bringing you all kinds of career success when you put the blood, sweat and tears in. It's time to put ideals and dreams away, and instead form tangible, realistic goals. Basically, you're gonna adult – so hard – and the rewards when you embrace being all grown up can be huge. That promotion you want? It's yours, Aries. Just be sure to impress those who need impressing and to show your commitment, dedication and ability to toe the line – at least until you're the one calling the shots.
Jupiter in Capricorn for a Taurus (Taurus dates: April 20 - May 20)
With Jupiter heading into a fellow Earth sign, Taurus, you're be laughing all the way to the bank. Jupiter in Sagittarius may have blessed you when it comes to getting the help you've needed and the resources you've required, but now is the time for putting your skills to work and using those assets to build your empire. Jupiter heads into your personal growth zone, pushing you to expand yourself, your horizons; your whole world! He is inviting you, dear Taurus, to get up off that comfy couch and realize that there's so much to learn by delving into the unknown. Traveling opportunities will come your way, and they'll likely be through your profession. Digital nomad, anyone? Maybe just for a month; you can't leave your nest for too long, can you? Embrace the freedom, Taurus, because Jupiter in Capricorn will ensure that there is structure, routine, and rules to follow that will serve to make you feel oh-so-safe.
Jupiter in Capricorn for a Gemini (Gemini dates: May 21- June 20)
Everyone's gonna want what you have, Gemini, and although you'll feel a lil' sad with Jupiter leaving your romantic zone, he's moving ino your money-received sector, which means, darling Gemini, that you can get all the dollars you need to launch whatever it is you wanna launch. If you have a business, this is a fabulous time to get a loan at a great interest rate. If you're thinking of starting something with a friend or partner, Jupiter in Capricorn says, Yes, Baby! If you are hoping for a space to do some business, Jupiter can give you all that and more. The catch? You'll have to put in some elbow grease, because Jupiter in Capricorn doesn't give a free ride the way that he did in Sagittarius. Jupiter in Capricorn says you can get it all – if you follow the rules. If you are responsible. If you set up structures to pay back the loans. If you share equally with your partner. If you commit to coming in every morning and getting your sweat on – capiche?
Jupiter in Capricorn for a Cancer (Cancer dates: June 21 – July 21)
Let's be real here, Cancer. You've had it pretty rough when it comes to relationships lately, with Saturn and Pluto all up in your grill, putting every connection you have to the test. Jupiter gives you a bit of leeway now as he marches stoically into your commitment zone, lending you pleasure in partnership after all that hard work you've been putting in. He announces that adult-like love is possible, bringing you a new sweetheart, improving your current relationship, or setting you free for fresh possibilities. Whatever he does, it's gonna be all good. However, Cancer, you'll have to work for his gifts, and you'll need to take responsibility for your own "stuff" in love. No more passive aggression - okay? Also, no more agreeing to anything you don't actually want. You deserve all the commitment, all the adoration; you deserve that ring, that wedding, that security. Own it and allow Jupiter to take you where he wants to go, baby.
Jupiter in Capricorn for a Leo (Leo dates: July 22 - August 22)
Oh, you've loved Jupiter in passionate Sagittarius, right, Leo? You've been swimming in a sea of joyful self-expression, lapping up easy creative expression and generally getting your best self on! Your love life has been looking pretty rosy too, so give good ol' Jupiter a nod of thanks as he leaves you feeling all warm and fuzzy inside and shifts into your hard work zone. Sadly, play and work have to be balanced, Leo, but now's the time to take all that fabulous creative energy and those passions you've been enjoying, and make them into a reality. Carve them into your everyday life and nourish them into tangible existence. It may also be time to lose a bit of weight or to tone down the hedonism, Leo, as you realize that you could have pushed things a bit far. The good news is that you're going to enjoy every moment of taking responsibility for your lifestyle, and this is a great transit for excellent health, enjoyable work, and all-round positivity from one day to the next.
Jupiter in Capricorn for a Virgo (Virgo dates: August 23 - September 22)
This is your time, baby! Jupiter shifts from your home zone (it's been pretty damn good on that front, with many of you relocating to a space where you feel hella happy), and into your pleasure sector. This, dear Virgo, is finally the time where you can let your hair down and wiggle your butt a bit, because even you need a break sometimes to have some fun! Indulge your creative passion and structure a hobby you've always wanted to; with a little blood, sweat and tears, you could make something wonderful. This is also great news for single Virgos, as Jupiter in your dating zone invites lots of potential for connections that could become serious later. If you're already with a honey, this could be a period where babies could swim into your focus, and it's a sexy time to start trying for a mini you. The possibilities are endless here, Virgo, but overall, the cosmos wants you to enjoy yourself. Embrace it!
Jupiter in Capricorn for a Libra (Libra dates: September 23 -October 22)
It's time to expand your space, Libra. You need beauty and harmony around you, and perhaps you're not feeling that comfortable anymore in your home, in the town you live in, or even the country you've chosen. Jupiter shifting into your home zone allows you to take the reins and open up new possibilities, and to make a move that suits the you that you are right now, not the you of yesteryear! Don't be afraid of change, and use this transit to create the home you've always wanted. There's been some work to do, because Jupiter in Capricorn gives no one a free ride. He will wave a finger at you and remind you that nothing comes unless you put the effort in, Libra, so don't wait around and expect him to wave a wand. You'll have to direct that magic and use it constructively. This is also a fabulous time to spend with family, to heal old stuff, to go back to the past and put some permanent salve on childhood wounds. Jupiter offers a fresh, optimistic – yet realistic – perspective on unresolved issues.
Jupiter in Capricorn for a Scorpio (Scorpio dates: October 23 -November 21)
The truth is, Scorpio, that you'll probably – initially – prefer Jupiter's transit through Sagittarius, in your financial zone than his transit through your communication and learning zone. However, once you realize that now you have the dollars to pursue your passions, you'll see that Jupiter in Capricorn can, in fact, be even better than you anticipated. Business could improve, sales could go up, and your ideas will be well received now. It's kinda like being in a permanently great headspace, and you're positively brimming with optimism and positive thinking. This is the perfect time to go back to school to do a few short courses, to take a couple of trips or a month-long journey to somewhere you've always wanted to go. Jupiter opens up a world of options for you and the chances are that you'll be a busy bee, with ideas zooming around you and making things happen! When you take those ideas and put them on paper, you'll find fantastic professional possibilities opening up to you. Pretty neat, right?
Jupiter in Capricorn for a Sagittarius (Sagittarius dates: November 22 - December 20)
Oh dear, Sagittarius. It's sad isn't it? Saying goodbye to your bountiful ruler in your sign. You've probably had one of the best years of your life, and you've been enjoying opportunities being thrown your way, with minimum effort. Now, Sagittarius, before getting too mopey, build on these opportunities. Structure. Take responsibility. Make something real, something tangible from all the gifts you've been given. As Jupiter shifts into your money and talents zone, you have all the resources you need to make your world a pretty comfortable place, and Jupiter here can increase your dollars – but only when you work hard. He's not giving you a free ticket the way you've gotten used to; you'll have to put nose to the grindstone a bit. But, dear Sagittarius, there's something ever so satisfying about knowing that you're the one constructing your reality, that you're the one being all adulty and responsible. Look at you go!
Jupiter in Capricorn for a Capricorn (Capricorn dates: December 21 - January 19)
After what seems like an eternity of pain and suffering with Saturn and Pluto hitting you from every direction, Capricorn, now's a time where you can start reaping the rewards of your efforts. It's still gonna take a bit of work, mind you, but it's going to come with a lot less effort! Hallelujah! Jupiter settles nicely in your sign for the next year, and he invites opportunities that expand your world, grow you in ways that you could never have anticipated, and make your universe that much bigger. One word of warning, Capricorn – as Jupiter transits through your body zone, it also can expand your waistline, so watch that you don't eat all the pies, okay? Regardless of whether you do or don't, you could still enjoy fantastic health and happiness, and you're feeling pretty darn optimistic. You're feeling confident and like you can take anything on, and the truth is, you can. You should. In fact, it would be a sin not to be cheerful, hands-on and positive.
Jupiter in Capricorn for an Aquarius (Aquarius dates: January 20 -February 17)
Sometimes, the best personal growth happens where no one can see it, Aquarius. Sometimes, it feels glorious to be alone, to revel in your solitude and to watch your inner world expand. Jupiter shifts into a sector of your astrology that promises, after the year is done, you're going to have happily shed a lot of crap you didn't even know you were carrying, and emerge a lighter, freer person. The inner work is going to feel joyful, Aquarius, and if you can find places to travel to do this work, so much the better. Faraway journeys are favored – ashrams, retreats and nests of spirituality are so your vibe right now. There will be effort required, of course; Jupiter in Capricorn does ask for structure, for responsibility to be taken, for a reality check. But you've got this, Aquarius -– more than you could ever have thought. Your guardian angels are taking care of you now, so use this time to go in, to face, and conquer your shadow with a smile on your face.
Jupiter in Capricorn for a Pisces (Pisces dates: February 18 -March 19)
You've had a reality check, Pisces, and you've had to sit down and really figure out what you want for the next few years. Now, with Jupiter heading into Capricorn, you're asked to joyfully take an active part in these goals, and to wish them into reality; to channel all that creativity and imagination to create the world of your dreams. He offers you opportunity to meet the right kinda people to help this happen, and what's more, he gives you the money to do the things you wanna do. However, Jupiter has conditions; one being that you can't sit back and passively wait for things to happen. You've got to work for it, you've got to go network, ask for that raise, actively manifest your hopes. You're going to have the right people around you, and if you've been feeling lonely or isolated, cut off from community, Jupiter in Capricorn gently opens the doors for connections to take place, and perhaps even gives you the chance to be a leader. The best leaders are those who shy away from this role, Pisces. Did you know that?