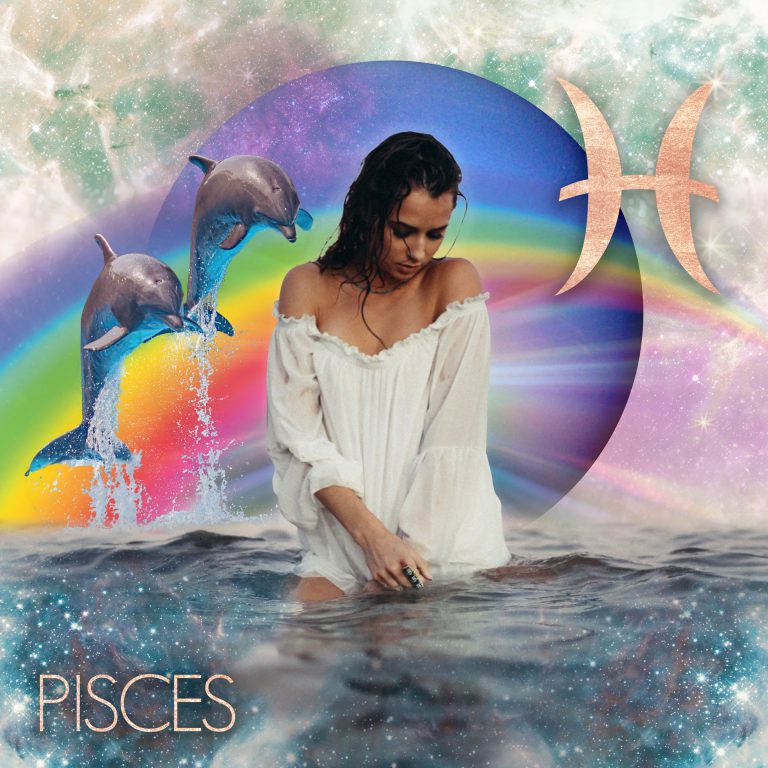 Pisces is the twelfth and last sign of the zodiac and certainly the most spiritual. Planets in Pisces express their energy dreamily, mystically and sensitively, but sometimes rather vaguely. Pisces planets are ultimately highly compassionate, though, and so is the Pisces personality when Pisces is the Sun sign.
Key Facts About Pisces
Symbol: Two Fish
Element: Water
Quality: Mutable
Ruling Planet: Neptune
Traditional Color: Sea colors
Traditional Gemstone: Moonstone
Energy Expression Keywords: nebulous, vague, confused, dreamy, mystical, spiritual, deceitful, intuitive, compassionate, sensitive, imaginative, selfless
Pisces Sun Sign Personality Traits
Pisces Sun sign people are the mystics, poets and dreamers of the zodiac. Sensitive, easily moved, spiritual and artistic, they are also selfless and giving to a fault. Typically, somewhat ethereal and other-worldly, the Pisces personality understands sacrifice, and all too easily finds itself dominated by other, stronger personalities.
Intuition is a key trait for Pisces, and this is very much a zodiac sign which feels and senses rather than thinks logically. Highly imaginative, there is great creative potential here, but that same imagination can also create a fearful personality, or one which is scared by vague worries instead of living life to the full.
The Pisces personality doesn't do conflict and instead tries to be all things to all people. This leads to gullibility, and indeed this zodiac sign is the easiest led of all, both for better and for worse. It's the dislike of conflict which leads Pisces to always seek the easiest route out – and in turn, this is what can lead to dishonesty or deception, which is another key Pisces trait.
Sometimes Pisces people deceive themselves without even realizing it, as when they fail to face up to reality. Somewhat evasive and escapist at times, the Pisces personality is highly idealistic, especially in love, but this does lead to problems when the real world doesn't match the fantasy.
Nonetheless, the Pisces personality is supremely compassionate, and these gentle souls have much to teach the world about what really matters in life. By being around a Pisces, we can all better understand the power of imagination and the strength of spirituality.
Pisces in Love
The Pisces Sun sign in love is extraordinarily romantic, sensitive and tender. Affectionate and demonstrative, a Pisces in love is a magical sight indeed. Sentimental and supportive, Pisces people make wonderful partners in love, but if you love a Pisces you will need to make allowances for the times when their emotions overwhelm them. To love a Pisces means being a safe harbor in an emotional storm.
When dating, Pisces people may come across as endearingly shy or quiet; they will want you to talk about yourself far more than they talk about themselves. It's important to treat this gentle zodiac sign kindly, as harsh or cruel words will truly devastate them.
Once in love, Pisces people stay firmly committed – to a fault. Their idealism means that they may refuse to see problems in a relationship, which means that issues are left to fester until they can no longer be resolved. Once hurt, a fragile Pisces takes a long time to recover, so once bitten, Pisces people may never again commit to a partner. If you're in love with a Pisces, be aware that you hold a very special heart in your hands.
Best Pisces Compatibility
Pisces love compatibility is great with the other two water signs, Cancer and Scorpio. Pisces also has strong compatibility with the three earth signs, which are Taurus, Virgo and Capricorn. All of these signs offer the emotional stability and security Pisces craves, and in return, Pisces offers them a depth of emotional experience and magic they can't attain alone.
Sometimes Pisces struggles in a relationship with Leo or Libra, however. Leo people are too wrapped up in themselves to provide the nurturing and care that Pisces people need. When it comes to Libra, the match can be very romantic in the short term, but long term neither sign really provides the other with the support they may need during tough times.
Romantic astrological compatibility depends on dozens of birth chart factors, though, not just Sun signs, so don't read too much into this guide.
Pisces at Work
Pisces people are extremely creative and often do well in artistic careers including music, crafts, dance or writing. However, this zodiac sign is not very organized and their time-keeping is not great either, so this can cause an issue in a career. Being their own boss would get around this to a certain extent, but the lack of security involved in self-employment would probably give the average Pisces nightmares. When employed, imagination and a knack for communication are key career strengths for Pisces, as is adaptability – this is a mutable sign, after all.
As a boss, Pisces is friendly, kind and appreciative, but perhaps too easily over-ruled. As an employee, Pisces may need a lot of direction in any kind of corporate job. However, if they feel a true emotional connection with their work then they will willingly make sacrifices in order to do a great job.
Great career choices for Pisces include the arts, as mentioned above, but also fashion, and any of the caring careers. Because they are such good listeners, Pisces people make excellent counselors and therapists, for example. The Pisces personality is not motivated by money but rather by a desire to be of service.
A Pisces in the Family
Pisces Children
Pisces children are highly imaginative, often with psychic gifts. They are, however, adept at misleading – some might call it lying! – and at shifting the blame for their misdemeanors. As Pisces kids get older, however, they may suffer from a lack of self-confidence, which will need careful handling if it's not to become entrenched.
At school, Pisces children will excel in the creative subjects and may also enjoy counseling or helping other children in some way. Because they are so easily led, however, peer pressure can be a very real problem and it's important to equip Pisces teens with the tools they may need to avoid this.
Pisces children have an innate connection to the divine, and they can benefit from meditation or visualization from a very young age. Even if the family is not religious, Pisces children often carve out their own spirituality early on, typically involving a close connection to nature and the natural world.
Pisces Parent
The Pisces personality as a parent is very loving and compassionate, but also quite vague. The details of getting to school on time or finishing homework before the deadline may be lost on Pisces parents, so they may not be very effective at helping their kids with the practical things. Nevertheless, they will make up for this with a very nurturing environment and a whole heap of hugs.
Pisces Health
Traditionally, Pisces as a zodiac sign rules the feet, so good shoes are essential for Piscean comfort throughout life.
Overall, the Pisces personality's physical health is affected a great deal by their sensitivity. Whether it's a sensitive stomach or a sensitive head, the slightest thing may cause an upset which interrupts or disrupts everyday life.
Because the Pisces constitution is so delicate, it's important to avoid drink and drugs. Having said that, some Pisces people are prone to addiction, not least because they readily turn to escapism as a way of avoiding reality.
Mental health can be a tricky area for Pisces people. As they are so easily overwhelmed by emotions, they may be more readily affected by trauma than others, even by third-hand events they have witnessed, for example, on television.
Swimming is an obvious choice as good exercise for the Pisces personality, and the grace of dance and tai chi appeal too. Meditation and prayer can be helpful in tuning in to Pisces' spiritual side, which will help maintain good mental health. Another thing which will help to keep Pisces healthy and happy is a creative hobby, particularly painting.