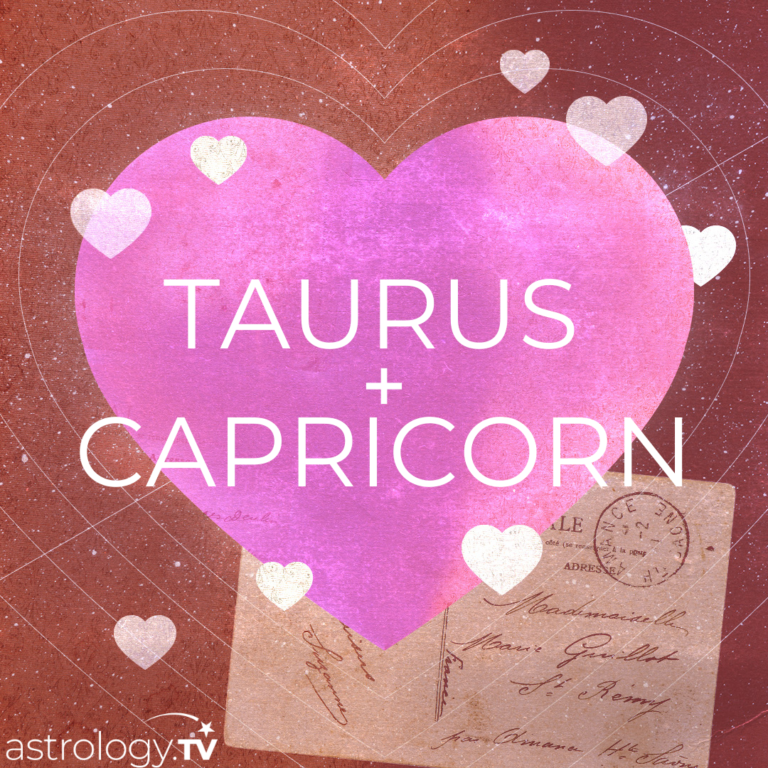 Taurus and Capricorn Compatibility (Taurus Dates April 20 - May 20; Capricorn dates: December 21 - January 19)
Are Taurus and Capricorn zodiac signs compatible? Yes, that's like asking the Sun if it shines, or the sea if it has waves! Taurus, you and your fellow earth sign Capricorn make a stellar love match, and you'll happily settle down to create a wonderful life together. You both prize commitment and value loyalty, and you share the desire to create a world with one another that feels stable, secure, and safe. This is very important to your relationship, and you'll both feel that you finally have "come home." You also share a sexy sensuality, so there's usually much more than just a desire to play house and nest — you also can barely keep your hands off each other, and you truly find each other quite irresistible. Taurus, you are ruled by the planet Venus, making you a "love sign," while your Capricorn lover is ruled by Saturn and is all about security. Put love and security together, and voila! You have a formula that is powerfully solid and trustworthy. Your Capricorn sweetheart may find you a little lazy and indolent at times, just as you think they are workaholics, but this union is an opportunity to find balance in your lives.
Dating & Romance Compatibility:
Taurus and Capricorn Dating Compatibility:
Are Taurus and Capricorn astrological signs made to be Soulmates? Sure, you are! Your compatible traits make your relationship flow smoothly. You "get" one another without effort. You will intuitively know what your new Capricorn love wants, because it's what you want too: stability! The dating phase can move seamlessly into commitment. There's no need to worry about how you fit because you fit like a glove. You both may approach this relationship with a curious heart, taking things slowly and never forcing or rushing anything. It's an approach you both like. Your courtship is a very slow, sexy, and sensual dance of learning about each other, all the while knowing your Capricorn is potentially "The One." Finding a Soulmate is that feeling of easy compatibility without drama in your relationship. You'll have your ups and downs, but you'll both handle your relationship with stoicism and strength.
Taurus and Capricorn Marriage Compatibility:
Will the zodiac signs Taurus and Capricorn marry? It would be strange if you didn't! You both love the tradition and security that marriage offers. Unlike many other modern relationships, you value the commitment that getting married brings. Taurus, with your Capricorn sweetheart at your side, you're not interested in looking for other options, and neither are they. Only if things get really bad would you ever actually consider splitting up or divorcing, and it's unlikely that will happen. The only danger in this marriage is taking each other for granted. It's very easy to get into a comfort zone together. While it feels good to always have someone in your corner, try to keep things exciting. Plan a surprise trip, spoil each other, go on dates, and remember to clock out of work to indulge in play and down time together.
Taurus and Capricorn Sexual Compatibility:
Are Taurus and Capricorn compatible in bed? Oh yes, yes, yes! Being earth signs, you share a smoldering sensuality, and both of you just love having all five senses stimulated. Touching, tasting, smelling, hearing, and seeing are all major turn-ons for you two! When things get into a rut — which they might — simply turn the "senses switch" on, and watch your sex life rev back up the same chemistry it had when you first got together. You will also adore the post-sex cuddling, and often it leads to the other and visa-versa! You can't get enough of each other, and there's very little boundary that you are willing to push with each other in your primal instincts. It's simply delicious!
Taurus and Capricorn Breakups:
How do Taurus and Capricorn move on after a breakup? It's very rare, once you're committed, for the two of you to split up. You're both not the types of people to toss your relationship aside, and your willingness to put in the work tends to be the thing that makes you last. However, in the unfortunate event that you do actually split up, it's not going to be easy. You'll have a lot of material things to work through. For example, being earth signs, you would have definitely moved in together and your finances may be entangled. Secondly, you both don't let go easily, and you could be a little bitter, especially your Capricorn ex, who may get downright nasty. You'll do your best to let things go gently, but there will be a huge transition period that could feel like forever to move past. Take it gently, and remind yourselves of the good times you had rather than focusing on the bad. Above all, don't get heated over possessions and money, because it could just make things turn very ugly.
Business Compatibility:
Taurus and Capricorn Compatibility in Business:
Do Taurus and Capricorn zodiac signs have compatibility when it comes to work? This is an area where your pairing will excel. Whether as work or romantic partners — maybe even both — you'll do extremely well. You both are cautious, careful, and smart with money, and you'll know where to expand and where to draw in. You would do brilliantly if you started your own business together. Taurus, you can happily leave all the wheeling and dealing to your ambitious Capricorn while you hold down the fort and make sure that the business stays afloat. As colleagues, you'll respect each other's commitment to the job, though Capricorn may lose it more than once over your occasional laziness, Taurus. You may simply clock in and clock out, especially if it's a job you hate, and if Capricorn is your boss, be careful — they will come down on you like a ton of bricks and whip you into shape!
Friendship Compatibility:
Taurus and Capricorn Friendship Compatibility:
Are Taurus and Capricorn good friends? You will usually be the very best of friends! You're solid as the mountains that your earth signs represent, Taurus, and you'll never have to go a day in your life doubting the loyalty of your Capricorn buddy. They also know that they can count on you for anything, and that your word is your honor. You can always lean on each other in any time of trouble, and though your lives may swallow you up at times, you're always there for each other. You'll love to share indulgent experiences, and may quite enjoy spending money together on expensive dinners out and entertainment. You're also just as likely to hang out at each other's houses and enjoy catching up, and you'll feel like you saw each other yesterday, even if it's been years. You show the stern Capricorn how to let their hair down, Taurus, something which they sorely need!
Family Compatibility:
Taurus Parent and Capricorn Child Compatibility:
Are Taurus and Capricorn compatible in astrology when it comes to family life? As solid, consistent earth signs, you're very compatible. A Capricorn parent may be strict and rigid, even a little controlling, Taurus, but the safety and routine they provide you more than makes up for that. Besides, you have a loving heart to melt their reserves away and get under their tough skin. A Capricorn child adores the rules and will often make up their own to follow, so Taurus, you will never need to worry about them being irresponsible or out of order. They always know the right thing to do and are years ahead of their actual age. You can enjoy a very solid relationship, a source of support and security in chaotic times, which you both value very much.
Taurus and Capricorn Sibling Compatibility:
How do Taurus and Capricorn siblings match up in the family environment? You'll get along well, despite the occasional power struggle and the need to always be right. A Capricorn sibling can be dogmatic and rigid, which will make you dig in your Taurean heels even deeper and cause more drama. Try not to constantly be one-upping each other, and you'll do just fine. Better than fine, in fact! You'll be the best of friends as well as siblings as long as you stay out of each other's business and opinions. Being earth signs, you'll have a very powerful bond, and there's very little that can truly come between you — unless it's money! You're both a touch possessive and can be materialistic, so don't worry if you're not the sort of siblings who share everything.
Taurus and Capricorn Pet and Human Astrology Compatibility:
Will a Taurus human and a Capricorn pet get along? A Capricorn pet loves your routine, Taurus; the more rules and routine they can follow, the better! They, like you, love nature and plants, so make sure you take them out for plenty of moments outdoors, and watch the benefits unfolding in your own life, too. You're a rock-solid pet owner, and you and your pet may be quite inseparable. Taurus, your kind heartedness and warmth make you able to melt away a Capricorn animal's insecurity and fear.
Taurus and Aquarius Compatibility
Taurus and Pisces Compatibility
Taurus and Aries Compatibility
Taurus and Taurus Compatibility
Taurus and Gemini Compatibility
Taurus and Cancer Compatibility
Taurus and Virgo Compatibility
Taurus and Libra Compatibility
Taurus and Scorpio Compatibility
Taurus and Sagittarius Compatibility
Taurus and Capricorn Compatibility