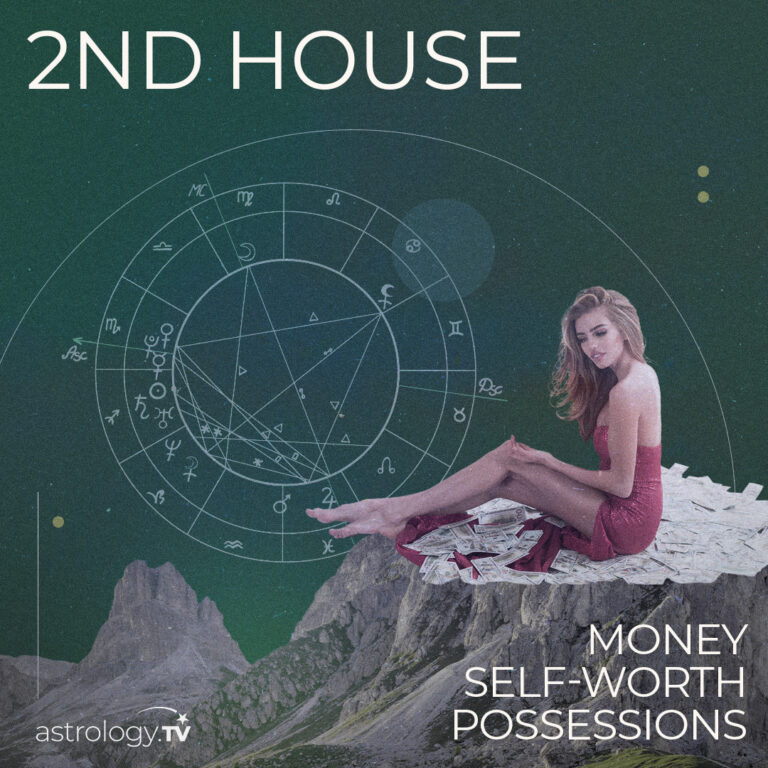 Keywords: Personal Resources, Finances, Money, Possessions, Self-Worth, Skills and Talents, Personal Values
Associated Sign: Taurus
Associated Element: Earth
House Type: Succedent
Overview Of the Second House:
The Second House in Astrology is all about what we own, possess and have. Although usually material in nature, such as our money, our furniture, clothing or anything else that we physically have, the Second House also rules what we possess in terms of our skills and talents. More so, it's the skills and talents we can use to make money for ourselves – our potential future earnings, so to speak.
Because the Second House has got to do with our resources in astrology, it's also related to what we value and see as important in our lives. That can be family, love, emotions or a host of these things, depending on the sign of this house and any planets associated with it.
And finally, the Second House relates to our self-worth, how we value ourselves, and sometimes, how we measure ourselves according to the things we have and the gifts we possess.
Second House in Aries:
With the Second House in Aries, you're quite the firebrand with your resources. You tend to be spontaneous and may enjoy taking a risk. You can "burn" through your finances quickly, yet you're also a hustler who can make it all back again.
You tend not to be possessive, though if you're in a place of scarcity, you can get quite panicked and anxious, which can sometimes lead to frustration or conflict. It's important for you to have a stable financial advisor who can help you be more financially disciplined.
You tend to value passion, adventure and excitement – and you'll fight to make sure you always have these opportunities in your life.
Second House in Taurus:
This is one of the best signs to have on the Second House. Taurus and the Second House go together like peanut butter and jelly in astrology, and can make you quite fortunate when it comes to money and resources. You may even be able to attract things towards you without too much effort, and you can be very disciplined as well.
However, you do have quite the indulgent side and you like to have high-quality objects, as most Tauruses do. You'll enjoy eating and drinking well, and you should have fairly stable self-worth – you know your value!
You'll tend to make relationships and physical security your main priorities, and enjoying life's sensual side will be important to you, too.
Second House in Gemini:
You are multitalented! You have a huge number of skills and gifts that you can use to make you money, and the problem really just lies in choosing one thing. But rest assured that you don't have to choose only one. It's okay to have multiple streams of income, and in fact, probably suits you better.
You can be quite unmaterialistic in your approach – you value knowledge, variety and learning more than things, and you may spend your money on learning, books and courses. You can perhaps be a little scattered financially, and buy things, get bored of them and waste money over the long run, so you'll need to be mindful of this habit.
Second House in Cancer:
You'll probably find that your resources and finances are constantly going through phases. This is because the planet that rules the sign of Cancer is the Moon, and the Moon is always changing. As soon as you understand this, you can become less emotional when finances dip, knowing that they'll pick up again.
You tend to have an emotional relationship to resources, and may be quite sentimental, and maybe even a bit of a hoarder when it comes to keeping things that have meaning! You have a strong emotional desire to feel financially safe and secure, which can make you a hard worker. You value family, home and emotional security above all, and you'll go out of your way to maintain these values in your life.
Second House in Leo:
You can be a grand spender! Astrology suggests you like the finer things in life, and you'll make sure you have the ability to indulge and be extravagant with your money. You can be extremely generous with your resources, especially towards the people that you love and care about. You like to protect and provide for others and expect to have the same treatment, too.
You might base a great deal of your identity on what you physically possess, which can prevent you from feeling secure within yourself. Stripped of possessions and security, you could feel quite naked and vulnerable. It's important, therefore, to build up your self worth using your very unique and special skills and talents.
Second House in Virgo:
This is a great sign to have on the Second House! With Virgo here, you are likely a great saver and keep your finances well in check. You're a master at budgeting and you never miss a cent. This can make you a touch controlling when it comes to your resources, and you will have to learn to sometimes also let go and have a bit of fun!
Virgo is an earth sign, so you should also enjoy the finer things in life, and have a good eye for beautiful, detailed pieces. You're not extravagant - quality is much more important than quantity for you.
You'll value knowledge, learning and working hard. These are often the cornerstones that you can build your life around.
Second House in Libra:
Balance is essential to you with Libra on the Second House. You can be both a saver and a spender, depending on the need at the time, and you'll always find a way to tip the scales back into equilibrium. You do like nice things though, and you tend to have incredibly good taste. Your home is likely filled with artworks and gorgeous pieces that are refined and delicate.
You also love to share what you have with the people you value, especially your sweetheart. In fact, you truly value your relationships, so much so that you'll bend over backward for them. you may even draw your sense of self-worth from being with someone special.
Second House in Scorpio:
Nothing misses your notice – you can be one of the most financially savvy and calculating people out there. Strategic and ambitious, you'll try and get the biggest bang for your buck and, although you have a reckless side, you only ever take calculated risks.
You can be quite possessive financially, and you like being in control of your finances completely. Surrendering financial power away to someone feels very uncomfortable for you. You value depth, authenticity and transformative experiences, but you do need to be careful of inviting crisis and drama into your physical world.
You may have talents as a therapist, detective or researcher. You also may have a very strong set of financial and organizational skills, too.
Second House in Sagittarius:
Money and resources come and go for you, and you always seem to manage to land on your feet and get lucky, no matter how big of a risk you take! You may be the envy of your more careful friends and partners, as you seem to attract resources effortlessly. Astrology suggests that you can be a big spender, and extremely indulgent, especially when it comes to spending money on experiences, which you deeply value.
You can have many skills and talents, and it's just a matter of choosing what you love and trying not to scatter yourself too much. You can make money through teaching, traveling or other work that is expansive and growth provoking. Speaking of growth, this is something you deeply value too.
Second House in Capricorn:
You tend to be careful and cautious financially. You're a planner, as most Capricorns are, and you like to have control and knowledge of where your money goes. You may even be somewhat restrictive or insecure about not having enough- perhaps this was something modeled to you growing up. However, this mature approach to resources does set you up for a secure future, and you may find that as life goes on, you become more and more materially stable.
You value structure, rules and stability, though your self-worth may not be all that strong until you get a little older. It's important to love yourself and cultivate your unique skills and talents over time, honing them to a fine craft.
Second House in Aquarius:
Aquarius is probably one of the least material signs. You tend to value knowledge, friendship and freedom the most and will likely spend your money on your buddies, your ideals, your causes and making sure that you are free. This can lead to working hard to ensure financial freedom, though your financial world may still be subject to constant change.
It would be good for you to be some sort of freelancer as that has the power to draw more money your way. You can also have unique talents involving teaching and coaching, so it's good to explore these. Digital currency may be a very attractive option for you and you could play around a bit with Crypto.
Second House in Pisces:
One of the most important financial lessons you'll have to learn is boundaries. You are a giving, sacrificial type of person and can easily be led astray by a sob story. Astrology warns that a toxic family member, friend or partner can pull the wool over your eyes and make you give all your resources over to them if you're not careful. With that said, you always seem to manage to make it back – it's as if the universe looks after you, simply because you're so kind-hearted and trusting with your resources.
You may be especially skilled and talented with music, art, poetry or healing – these are all industries where you can generate an income. You will need to ensure that you don't be too financially indulgent, as you can sometimes overspend.
Checkout related content:
The Astrological Houses
The 1st House
The 2nd House
The 3rd House
The 4th House
The 5th House
The 6th House
The 7th House
The 8th House
The 9th House
The 10th House
The 11th House
The 12th House