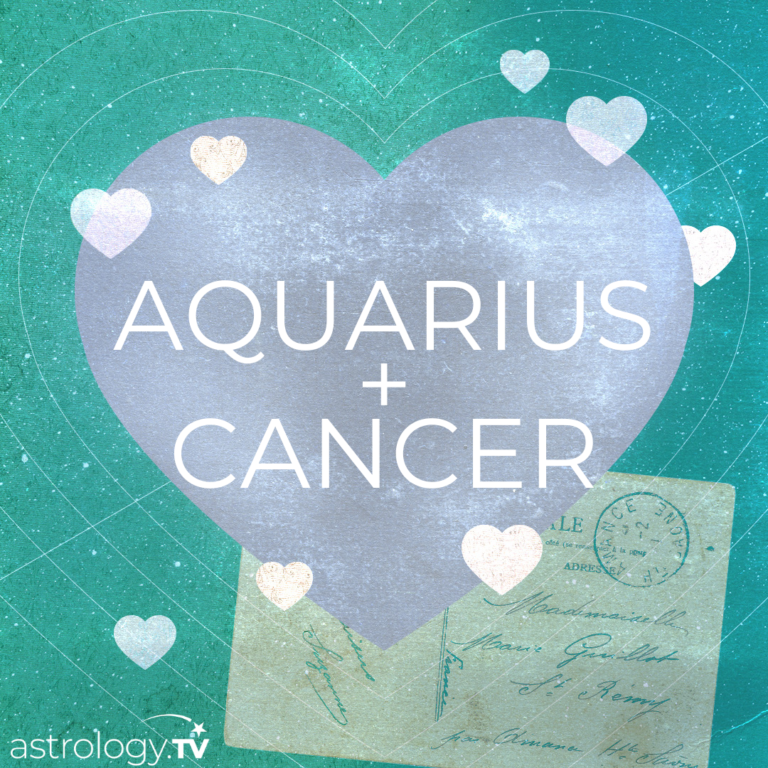 Aquarius and Cancer Compatibility (Aquarius dates: January 20 - February 17; Cancer dates: June 21 – July 21)
Do Aquarius and Cancer make a good match? Contrary to what some may think about air and water combinations, the two of you can actually make quite the pair! It's not uncommon to find you together, in other words, and you do have quite a few qualities that you really enjoy about each other!
The number-one quality you share would be your zaniness! Aquarius, you are well-known for being the world's weirdo, but you may find that your Cancer sweetheart really gives you a run for your money! Cancerians can be completely out there, and you'll find that very attractive indeed! One thing is for sure, Aquarius – you'll seldom get bored!
You see, Aquarius, Cancer is a sign ruled by the Moon, and the word "lunatic" can aptly describe this creative, sensitive and intuitive sign of the zodiac very well! They have a rich and fertile imagination that takes your mind to all kinds of strange and wonderful places, and together you can weave a world of magic and adventure!
Cancer people, Aquarius, are a lot more open to new things and experiences than most people would guess. Often, this is the sign to suggest a world tour or try out a year of being a community-living hippy. You love that about them, Aquarius, and they love that you're open, too.
However, you'll have to deal with their moods, Aquarius if you want your Cancer honey to remain happy with you. You can't just detach yourself when they're needing you, and you can never make them feel emotionally unsupported. This may be a huge learning curve for you, Aquarius, as you're not always that comfortable with big feelings!
Dating & Romance Compatibility:
Aquarius and Cancer Dating Compatibility:
Are Aquarius and Cancer Soulmates? Cancer people really buy into the idea of soulmates, Aquarius, and their strong romantic streak may make you slightly uncomfortable at first. You're not used to big displays of feelings, nor necessarily talking about soulmates just yet. Just stay open, Aquarius – you may find that you enjoy this ride!
In the beginning, Aquarius, you just want to suss things out and build up a friendship before a relationship. Your Cancerian love interest may feel this and it could make them rather insecure. They may then withdraw into their crab shell and get grumpy and closed off, so notice when they're giving off moody signals and make the effort to let them know you are actually interested! Otherwise, you may find yourself too far into the friend zone!
However, when you do get together, you will hit it off very well, and you'll find, Aquarius, that Cancer is incredibly creative and funny, intelligent and imaginative, making for fun conversations. And you just can't resist a good conversion, can you!
Be sure, Aquarius, to make your dates somewhat romantic – you can't always just go to a mutual friends' get-together and call that a date! Your Cancer needs a little bit more from you, and you'll find they shower you with love in return! It's worth the effort!
Aquarius and Cancer Marriage Compatibility:
Can Aquarius and Cancer marry? Surprisingly to some, Aquarius, you're actually very well cut out for commitment – as long as it's on your terms. You are a fixed sign in astrology, after all, which makes you the most consistent of the air signs in the zodiac, and the most reliable. However, your terms and conditions can be steep for a Cancer – because it entails that you need freedom and total independence to live your own life above all.
For many Cancerians, this will trigger a knee-jerk reaction of insecurity, but with time, it is possible that they begin to trust you and let go of their grip. It takes work for your Cancer, so be kind, Aquarius – not everyone has the same huge need for space as you do, and it can be hard for most to deal with!
Make a deal, Aquarius, that in return for your space, you'll supply your Cancer with love and affection when you are together. Cuddling them, reassuring them, supporting them emotionally, and being patient with their changing moods. Both of you are not always the easiest people to live with, so recognize that, Aquarius – no one is perfect!
Be ready, Aquarius, for the Cancer to announce their desire for children at some point. Yes, that may cramp your style, but at the same time, it can bring you huge joy - again, just be open to the idea! You may like it better than you think!
Aquarius and Cancer Compatibility in Bed:
Are Aquarius and Cancer sexually compatible? Cancer is a total koala bear, Aquarius, and they can be incredibly passionate in the bedroom! They need a powerful emotional connection to be able to engage with you sexually, so make it your mission to cultivate that, even if it feels strange for you. It will make for a better sex life, and you won't get the "I'm not in the mood" as often.
You'll also be pleased to know, Aquarius, that Cancer is totally open to the experimentation you want in the bedroom – in fact, they can be quite wild, for all of their cuddly energy! They may even introduce you to new and exciting things, Aquarius!
When Aquarius and Cancer Relationship Breaks up:
How does Aquarius and Cancer move on after a breakup? It can be tough, Aquarius, especially for your Cancer ex. They hold on very tightly, even when they know that something isn't working out.
The Cancer may even carry the torch for you for many years even after you've broken up, which doesn't help the fact that you tend to stay friends with your exes, Aquarius. You also always tend to switch your feelings off as soon as you know things are over, which will spin your Cancer's head around. Try and be as sensitive as you possibly can, Aquarius, and kind during the breakup. Empathy is important here, as well as setting clear boundaries once you have split up.
Business Compatibility:
Aquarius and Cancer Compatibility in Business:
Does Aquarius and Cancer have compatibility when it comes to working? The two of you can be creative powerhouses, Aquarius! The imagination of your Cancer colleague, boss or employee is very fertile and quite inspiring! It's also important to note that Cancerians are often some of the wealthiest around, because they are so geared towards creating security for themselves.
However, Aquarius, you'll have to put up with their moods, and not only put up with them, let it go even when their tearfulness annoys you! Family will also always come first to the Cancer, so any issues at home will be a huge deal with them, and they may need plenty of family days where they take time off. They'll come back better for it, Aquarius, so give them their freedom.
Friendship Compatibility:
Aquarius and Cancer Compatibility in Friendship:
Are Aquarius and Cancer good friends? You can have great times together, Aquarius! When your Cancer buddy is in the mood to have fun, you can paint the town a bright shade of crimson! Cancer people are zany, fun and adventurous at their best, and they also make wonderfully empathetic friends who are always there for you.
Having this emotional sort can make you feel very cared for, Aquarius, and in return, you will offer your loyal friendship and be a solid ally in tough times. Your excellent advice always goes a long way with your Cancer buddy!
Family Compatibility:
Cancer Parent and Aquarius Child Compatibility:
Are Aquarius and Cancer compatible when it comes to family? Cancer parents are amazing at parenting, Aquarius – as much as you may hate to admit it! They are caring, empathetic and a great shoulder to cry on – they love you with all of their hearts! Yes, your Cancer parent can be suffocating at times, Aquarius, but the good far outweighs the bad!
Your Cancer child, Aquarius, needs a lot of love and attention! Talking to them is all very well, but you have to make the effort to emotionally understand them, Aquarius, or else they won't feel loved. In return, they'll open your heart in the most wonderful of ways!
Aquarius and Cancer Sibling Compatibility:
How do Aquarius and Cancer siblings match up in the family environment? At times, you will totally get each other, and at others, Aquarius, you'll feel worlds apart. It's not that you clash so much, it's just that you operate on a different frequency. Your Cancer sibling is emotional and moody (in your eyes), whereas they may accuse you of being a cold-hearted robot!
However, at the best of times, your Cancer sibling will teach you the value of emotion, empathy and connection, and always be there for you, Aquarius. And as much as you resist it, you are their very best friend, and are equally there for them!
Aquarius and Cancer Pet and Human Astrology Compatibility:
Will a Cancer human and an Aquarius pet get along? Cancer pets are some of the loveliest, Aquarius. Why? Well, they are sensitive and highly intuitive when it comes to your feelings. They seem to know exactly what you need, when you need it, and open up a channel for you to dive into your own feelings. They're like little teachers, Aquarius, and you love to learn from them!
Aquarius and Leo Compatibility
Aquarius and Virgo Compatibility
Aquarius and Libra Compatibility
Aquarius and Scorpio Compatibility
Aquarius and Sagittarius Compatibility
Aquarius and Capricorn Compatibility
Aquarius and Aquarius Compatibility
Aquarius and Pisces Compatibility
Aquarius and Aries Compatibility
Aquarius and Taurus Compatibility
Aquarius and Gemini Compatibility
Aquarius and Cancer Compatibility