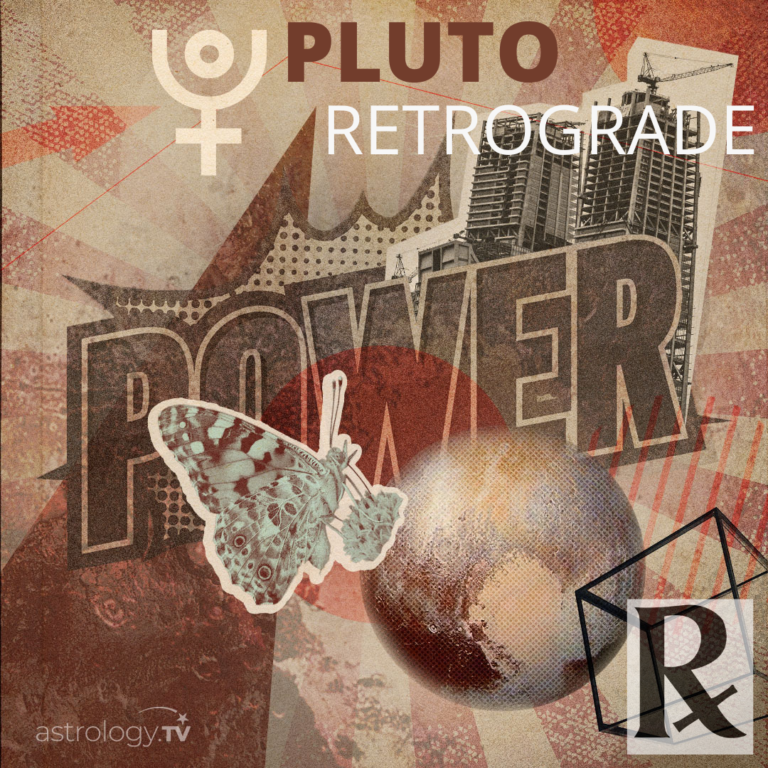 The planet Pluto sometimes gets a bad rap in astrology, where's it's known as a planet of destruction and chaos. Much like the Tower card in tarot, however, Pluto tears down only to allow for rebuilding, repurposing and revolution. There is a force for good behind the turmoil this planet can bring, and perhaps surprisingly that's even more evident during a Pluto retrograde period.
What Happens When Pluto is Retrograde?
As an outer planet, Pluto's orbit around the Sun is very, very slow. This means that as seen from earth, its apparent retrograde motion – the period of time when Pluto appears to us to be moving backwards through the heavens – is very long. Pluto turns retrograde every year, for five to six months at a time. Because this is such a common and frequent event, it doesn't always impact us in as personal a way as, say, Venus retrograde or Mercury retrograde does. If Pluto retrograde hits a sensitive part of your natal chart, however, you'll certainly know about it.
Remember that Pluto does not ever actually move backwards, and nor does any other planet. The apparent backwards motion – the retrograde – is an optical illusion caused by different orbit speeds. Because astrology is a symbolic language, however, the symbolism of this complex little planet traveling backwards can be significant.
Because Pluto is retrograde for approximately 40% of every year, around 40% of people are born during a Pluto retrograde motion. These people are said to have a natal Pluto Retrograde in their birth chart and if Pluto is an important planet in their chart, this can have a significant effect on the way that individual processes issues of power and control. Natal Pluto retrograde people can sometimes take the need for control to an extreme level, which can cause mental health or relationship difficulties. There's often a need for secrecy with this planetary placing too, and perhaps an affinity with the darker edges of life.
What Is the Importance of Pluto Retrograde in Astrology?
Regardless whether Pluto was retrograde at your birth or not, the effects of a transiting Pluto retrograde are usually felt in the astrological house where the planet is traveling.
In astrology, Pluto is associated with power, control, compulsion and obsession. Used positively, these energies can result in enormous personal drive, ambition and success. All of these things can be a force for good. Often, however, they manifest in a more negative manner, perhaps with destructive or obsessive behaviors or a tendency to manipulate others.
During a planet's retrograde period, the planet's energies are felt inwardly by us, instead of being expressed out in the world. Pluto retrograde may well bring about the destruction of something about which we obsess – but when it does, it's because that destruction was necessary in order to free us from a self-imposed prison. Once the ground is clear, we can rebuild.
Another of Pluto's astrological keywords is elimination, so that's a good way to think of this energy. You can use the Pluto retrograde period to eliminate from your life things or people which no longer serve your wellbeing.
True transformation comes from within, and it's often true that no matter how many times external circumstances prompt us to change, we still ignore the signs and keep repeating the same mistakes. The power of Pluto retrograde is that it can bring about the necessary mind or attitude shift within ourselves, so that this time, we take notice of what we're being taught, and we do make that important transformation.
Pluto's retrograde motion is also a chance for us to grapple with our shadow self. Plutonian energies tend to expose us for who we truly are – including the not so nice personality elements we all carry. During this retrograde, you may find that your own faults become more clearly exposed to you, again, giving you the opportunity to eliminate or destroy behaviors which are holding you back.
Pluto Retrograde Transiting the Astrological Houses
When it comes to retrograde planets, the zodiac sign the planet is traveling through gives us an overall flavor of what to expect, but this changes during each retrograde motion period. For a better insight into what to expect during a Pluto retrograde transit period, we look at which astrological house the planet is moving through.
Pluto Retrograde Transiting 1st House
The time is ripe for a personal re-invention; this retrograde period brings great possibility for big life transformations, so don't waste it. You can be whoever you want to be, you just need to harness the willpower and the focus to make this work.
Pluto Retrograde Transiting 2nd House
Money brings security but it can also bring greed and corruption. When Pluto retrogrades in this house, you're being challenged to change the way you view financial and emotional security. Ground yourself within so that you don't need material props for support.
Pluto Retrograde Transiting 3rd House
If you're constantly being misunderstood or your words are being twisted, ask yourself how much your own behavior is a contributing factor. An attitude shift is needed in your interactions with the world around you. Start with greater humility and go from there.
Pluto Retrograde Transiting 4th House
Playing the blame game within the family needs to stop; you also need to stop trying to control and direct the lives of your loved ones. Hold a family council and agree to love one another faults and all. Set a new tone of freedom and mutual respect.
Pluto Retrograde Transiting 5th House
If inhibitions of any kind have been holding you back, Pluto's retrograde period is giving you the chance to over-ride or destroy those issues. This will take bravery and boldness, but you're being shown that life is whatever you choose to make of it.
Pluto Retrograde Transiting 6th House
Look beyond the excuses and the easy blames to find the real root causes of discomfort or dissatisfaction in your everyday life. You can't address these issues unless you dig deep and practice some perhaps uncomfortable honesty. Only then can you break free from the rut.
Pluto Retrograde Transiting 7th House
Pluto destroys, and when it's a relationship under fire it's not easy to see the bright side of this energy. However, you have a chance here to confront any of your own behaviors and attitudes which may be undermining your love life. Change is needed. Can you do it?
Pluto Retrograde Transiting 8th House
Money, power and sex make a toxic mix when Pluto retrogrades through this house. Use your new clarity of vision to disentangle yourself from any unhealthy relationships, sexual or otherwise. Use your highest motives and insist that others do too.
Pluto Retrograde Transiting 9th House
It's difficult to feel in control of things you cannot see, touch or hear. During this retrograde, you may experience a crisis of faith or a sense that you are being judged unfairly. Your challenge is to relinquish the need to control these things. Let the energies flow over you.
Pluto Retrograde Transiting 10th House
Think carefully about your career ambitions. What kind of power are you seeking, and more importantly, why? Strip aside your ego and ask whether your career path is truly serving your higher spiritual purpose. If it isn't, be prepared to let some parts of it crash and burn.
Pluto Retrograde Transiting 11th House
Are you friends with people because you like them or because you think they can be useful to you? During this retrograde, your social motives are under the spotlight. Rethink any friendships which stink of manipulation – including those where you're the manipulator.
Pluto Retrograde Transiting 12th House
The message of Pluto retrograde in the most spiritual zone of your chart is simple: love yourself more. Eliminate the feeling that you're not worthy or that you should feel guilty. You cannot expect others to love you until you first love yourself.
Understanding the Houses in Astrology