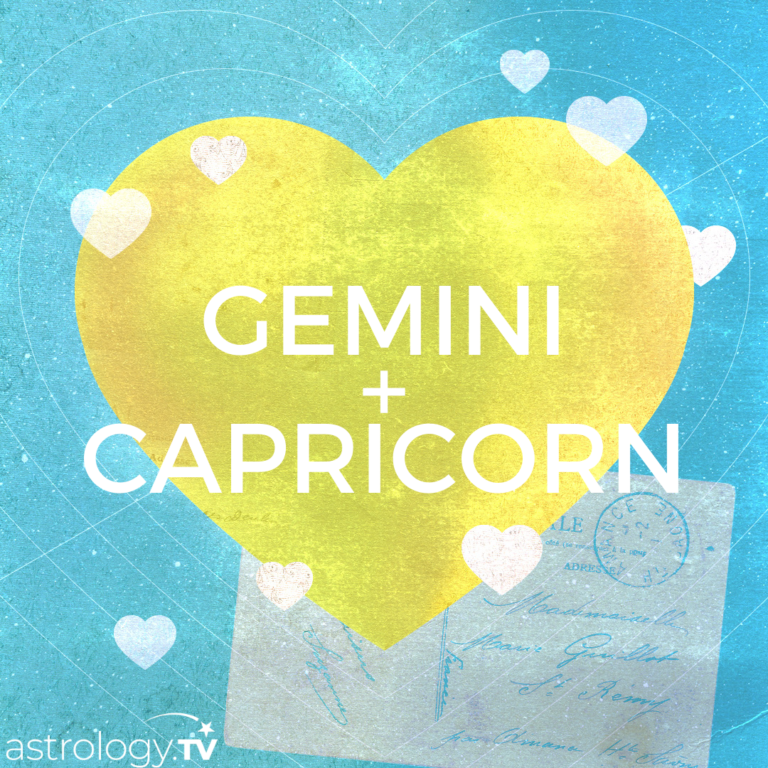 Gemini and Capricorn Compatibility (Gemini dates: May 21- June 20; Capricorn dates: December 21 - January 19)
Do Gemini and Capricorn make a good match? The idea that comes to mind with Gemini and Capricorn is that of a strict parent and a naughty child – with you being the naughty child, Gemini! Whereas Capricorn, on the other hand, is the stern father/mother figure, and they may try and "get you in line". It's not a disaster – it can be quite good for you to have a sweetheart who grounds you and reminds you to get your nose out of a book and back into reality! And when you get to know these serious signs really well, their dark sense of humor is a perfect match for yours! Plus, you make them laugh and remember how to play and be light and fun – which all Capricorns need! It's going to be an adjustment, learning to live side by side in harmony, and you'll have to continually shift and change to align with each other. This is usually easy for you, Gemini, as at least one of your personalities is very compatible with Capricorn (the macabre, serious, slightly cynical side!). Capricorn may find it more difficult, being a leader and an earth sign, which can be set in their ways. Hopefully, they realize how much of a treasure you are, Gemini, and you learn quickly to commit and be reliable with these signs, or else they may simply not have the time to entertain any sort of romance. They play for keeps, Gemini – will you?
Dating & Romance Compatibility:
Gemini and Capricorn Dating Compatibility:
Are Gemini and Capricorn Soulmates? Soulmates may not be the word for your relationship, though you can certainly work on it and develop that connection. In other words, you may not have that right away. Dating each other is a bit like dating an alien – though you'll have a lot to connect on when it comes to mental agility and share an excellent sense of humor! That may be what drew you to each other in the first place – you both have quite a bit of knowledge and may just love to share it! Capricorn is a bit like a teacher, Gemini, and not always in a negative sense. They tend to retain information, and commit to learning one or two things really, really well – whereas you learn many things fairly well. You'll have a lot to talk about and a lot to admire about each other, and this mutual respect may be just the thing that makes both of you so sexy in each other's eyes and keeps a Gemini and Capricorn relationship strong.
Gemini and Capricorn Marriage Compatibility:
Is there Gemini and Capricorn compatibility when it comes to marriage? Capricorn wants marriage above all, Gemini – are you ready for that sort of long-term commitment? They are earth signs, and earth signs are all about settling down and security. It's intimidating, yes. But rest assured, Gemini, Capricorn doesn't move too fast. They approach everything, including love, very cautiously indeed, and they don't mind taking it slow. This helps you to settle in and gives you space for that fear of commitment to come up and hopefully be conquered. You can't be reckless with their hearts, Gemini – this is a sign that's already quite insecure and has tremendously high walls that they build to protect themselves. Take those walls down not just from pure curiosity, but from an intention to truly get to know them and commit to them!
Gemini and Capricorn in Bed:
Are Gemini and Capricorn sexually compatible? Capricorn is one of those serious lusty signs, Gemini! As with all earth signs, they are remarkably sensual, physical and primal – there's very little they won't try, sexually! This is very satisfying for you, Gemini – your insatiable sexual curiosity will be very well entertained by this zodiac sign! Sure, it may take a bit more time for you to get us off your head and move into your body and your heart space. But that's precisely what Capricorn is there to help you do – they remind you that you don't only have a mind, but also a body! So, though you are coming from different places, you should have a sexual connection that proves itself to be very interesting indeed!
When Gemini and Capricorn Breakup:
How do Gemini and Capricorn move on after a breakup? You're prone to drama, Gemini, and you may not always realize that your light manner and sometimes overly chatty approach could hurt the one you have split with. Try to keep the details of your breakup mostly private, Gemini – it's important that you respect the Capricorn that way, because they will respect your privacy, too. For them, what passed between you should stay between you, and this ensures the least amount of fuss. A Capricorn will never show how much they are hurting, Gemini – as much as you may want to try and push them, they'll simply throw up that famous wall and never let you in again. Fortunately, you do tend to move on fast so it shouldn't be too much of a sting.
Business Compatibility:
Gemini and Capricorn Business Compatibility:
Is there Gemini and Capricorn compatibility when it comes to business? You should know, Gemini, that Capricorn is the boss sign of the zodiac. Whether they are actually the boss or not (which they usually are), they are the ones in charge. They may brilliant leaders, and aren't called the zodiac CEO's for nothing. They're organized, structured, smart, and far-seeing. They'll value you for your mind, Gemini, and your ability to juggle more than one task at a time – they may even exploit it. But being on the good side of a Capricorn will do wonders for your career – they'll push you, promote you, and reward you. They'll ground you and remind you to focus. However, if you show irresponsibility, a lack of commitment, or unreliability, they'll show you the door. As a colleague, they can be insufferable in their ambitions, and they could be rather jealous if you get ahead before they do.
Friendship Compatibility:
Gemini and Capricorn Best Friend Compatibility:
Is there Gemini and Capricorn compatibility as friends? There's something that most people don't always realize about Capricorn, and that is that they play just as hard they work. Many Capricorns are complete party animals, and they will run you into the ground, Gemini! They can also be a lot of fun, with a wicked sense of humor, and be that friend who is always solid, always grounded, and always responsible. Everyone needs a Capricorn friend, Gemini – you may not even realize you were missing them until you have them! They may try and act like your parent instead of your buddy, which can get admittedly annoying, yet at the same time, they'll value you for your light wit and brilliant mind. This can be a lot of fun if you really accept each other.
Family Compatibility:
Gemini Parent and Capricorn Child Compatibility:
Is there Gemini and Capricorn compatibility when it comes to family? Capricorn parents are born to be parents – they are strict, structured, reliable, responsible and everything a parent should be – minus the nurturing. They're not exactly affectionate, but fortunately for you, Gemini, you prefer to have a role model who is sharp and inspiring rather than touchy-feely. A Capricorn child will need you to be a lot more reliable than you are, Gemini, so it's best that you create those all-important rules for them to feel safe and secure in the world, or else they may develop more than a few complexes. They're usually very serious and mature before their age, so reminding them to play and have fun will be important, whilst respecting their adult natures.
Gemini and Capricorn Sibling Compatibility:
How do Gemini and Capricorn siblings match up in the family environment? You may consider your Capricorn sibling very boring, Gemini. They play by the rules and don't like it when you're being naughty or devious – which you often are. They're the ones that remind you to toe the line and listen to your parents – or even better, to listen to them. As much as you might be annoyed by them – and them by you – later on you may admit that they are the most grounding, solid, reliable people to have, the one you can always turn to when times get tough. They know exactly what to do, and they are decisive leaders. Your Capricorn sibling may even replace a parental figure in your life, regardless of your age difference. And you, Gemini, may persuade them from time to time to have a bit more fun in their lives!
Gemini and Capricorn Pet and Human Astrology Compatibility:
Will a Gemini human and a Capricorn pet get along? Capricorn pets need absolute structure, solid rules and a clear idea of what their routine is, Gemini. If you mess with that, you mess with them, and they will become very unhappy – even depressed. This will be a challenge for you, as you absolutely hate routine and rules as a zodiac sign, and you like to fly by the seat of your pants if you can. It could be a struggle at first to get things in order, but when you do, you might discover that you quite enjoy the solid routine, the sense of grounding, the earthy stability that your Capricorn pet helps to bring into your life. They love nature – being earth signs, they are naturally attuned, so be sure to take them out or allow them out as much as possible. And remember, they only like the good food – they'll turn their noses up at cheap, overly refined pet foods!
Gemini and Aquarius Compatibility
Gemini and Pisces Compatibility
Gemini and Aries Compatibility
Gemini and Taurus Compatibility
Gemini and Gemini Compatibility
Gemini and Cancer Compatibility
Gemini and Virgo Compatibility
Gemini and Libra Compatibility
Gemini and Scorpio Compatibility
Gemini and Sagittarius Compatibility
Gemini and Capricorn Compatibility