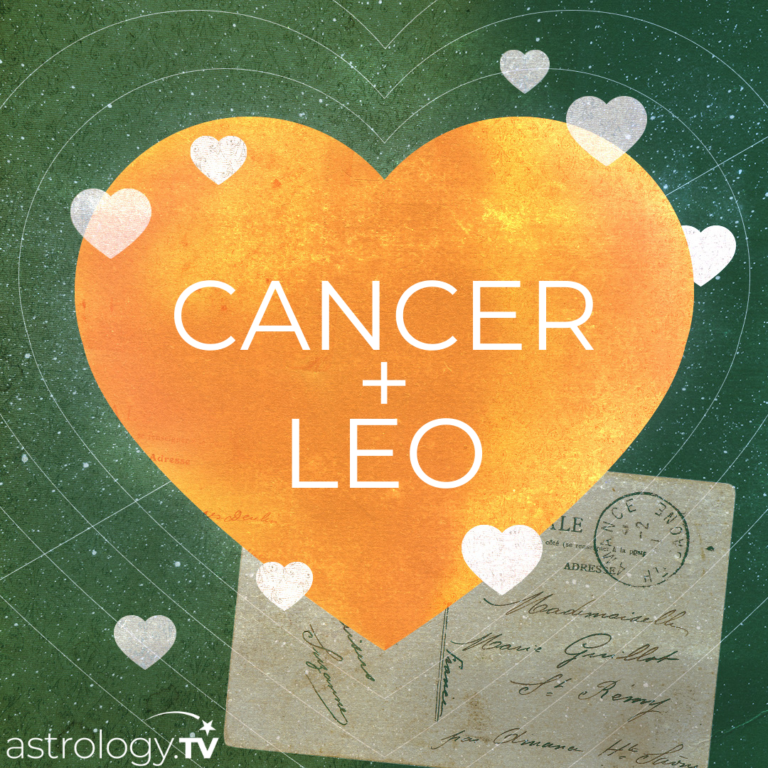 Cancer and Leo Compatibility (Cancer dates: June 21 – July 21; Leo Dates July 22 - August 22)
Are Cancer and Leo astrological signs likely to be a good love match? Even though water and fire signs aren't traditionally seen as a perfect match, the two of you are an exception! The reason for this is that you, Cancer, are ruled by the nurturing, motherly Moon, and your Leo lover is ruled by the strong and protective Sun!
These two lights are known as the "luminaries" in astrology and can be seen as the "King and Queen of Heaven". It doesn't matter what your gender is – the energy generated here is balanced and harmonious!
Cancer, you're the type that loves devotedly and forever, and you'll be happy to know that your Leo is just the same. Being a fixed zodiac sign in astrology, Leo is all about the long haul and like you, they yearn to create a home and family where they feel they belong!
Dating & Romance Compatibility:
Cancer and Leo Dating Compatibility:
Are Cancer and Leo Soulmates? It really does feel that you have met your perfect match, the one who echoes and magnifies your inner light! After all, the light of the Moon is because of the Sun, and that's' precisely how the two of you are together! You're a team, and will have a powerful romance together!
Cancer, you should also know that Leo is the romance sign of the zodiac – they adore dating and will date you even when you're old and your relationship has been around for many moons! They love to still sweep you off your feet and make grand gestures for you. You, in turn, bask in their light and feel protected and adored.
Both of you really value tradition, and the first phase of your relationship may feel quite old-school, with each of you doing the fine dance of romance with each other. You may sense that this person is someone who you could see yourself with for a long, long time!
Cancer and Leo Compatibility:
Can Cancer and Leo marry? The truth is, both of you really want to get married. Even if you have reservations, Cancer - perhaps because you've been hurt a few times in the past – you'll soon learn that Leo means to keep you!
Leo is a zodiac sign that values passion and loyalty, and once their huge hearts are given, they can be even mushier than you, Cancer! They'll likely be the ones to lay the law down and let you know in no uncertain terms that they have plans to walk down the aisle with you!
Your marriage should be very strong, as you each seem to intuitively understand the rules of engagement, and know your roles. What's more, you love being in those roles, and it make you both feel really good to be nurturer and provider. You take care of each other, and even though you'll have your blowouts – fire and water always do – you can be totally and utterly devoted to one another! Swoon!
Cancer and Leo Compatibility in Bed:
Are Cancer and Leo sexually compatible? Leo has one of the most powerful libidos in the zodiac, Cancer, and their fire will seldom die! They love playing the body-buddy game, and they can be single-minded in their sexuality!
The only problem here may be that Leo can be a touch self-involved in the bedroom (and everywhere else), whilst you, Cancer, are very giving and generous. However, when a Leo really loves you, they learn how to open up their generous side and can devote themselves to making sure you're perfectly satisfied.
You're an emotional lover, cancer, so perhaps don't expect the same level of heart-to-heart connection from Leo. They're quite physical, whereas you bring the feelings in.
When Cancer and Leo Relationship Breakups:
How does a Cancer-Leo couple move on after a breakup? Neither of you deals with breakups well at all. You both hold on tight, which is what makes you usually last as long as you do. It's only if the Leo feels their loyalty betrayed, or they feel ignored, dismissed or forgotten that they'll start entertaining the idea of splitting up.
Even then, Leo will hang on, and so will you, Cancer. This can be very emotional, and it takes a great deal of time to pass before you both reconcile yourselves to the idea that things are finished.
Will you be friends? It's tricky. You both may find it hard to resist the powerful emotional and physical pull you generate together.
Business Compatibility:
Cancer and Leo in Compatibility in Business:
Does Cancer and Leo have compatibility when it comes to work? As long as you're okay with the idea of Leo being boss, Cancer, then all will be well. You're a leader too, so there can be a few clashes if you step over the line in each other's roles.
Leo may even be very full of themselves, Cancer, and you may become very sensitive to their egos. You're either going to love working for them, and bloom under their leadership and warmth, or you're going to resent them.
The thing is, Leo may have sympathy for your personal life - especially family matters – but they expect you to be as consistent as they are. And you're not, Cancer. You're always in a different phase and you have your moods, which they might find hard to deal with in the workplace.
One thing you will have in common is that you each put your heart and soul into your work, and you do see work as family. If you're both passionate about what you do, then it won't be hard to see eye to eye.
Friendship Compatibility:
Cancer and Leo Compatibility in Friendship:
Are Cancer and Leo good friends? Leo is one of the most loyal friends you'll ever have, Cancer! They're generous, warm and loving, and they will always, always have your back. If you're looking for a lifetime friendship, Leo is the person to enlist.
At times, you will find your Leo buddy intensely self-involved and they'll need a huge amount of your time, energy and attention. You just cannot ignore them, and if you have personal problems going on, expect them to kick up a fuss that you haven't considered to tell them. This can strain your friendship, and you'll have to, at some stage, let them know.
You may also find them somewhat aggressive, whilst Leo may see you as overly emotional. Once again, these are just the extremes, and despite the personality differences, you should have a very heartfelt bond!
Family Compatibility:
Cancer Parent and Leo Child Compatibility:
Are Cancer and Leo compatible when it comes to family? This is potentially the area with the best compatibility! Cancer, you as a parent are the ultimate "mother" and you live for taking care of your children! Your Leo will lap up the adoration and attention, and put you at the very center of their world! They are hard work – but there's a lot of love there.
A Leo parent can be magnificent in their affections, and highly protective of you, Cancer. You are the apple of their eye, but they also need a lot of your immediate attention. They also rule with an iron fist so don't expect them to budge on their rules and ideals! Leo parents are sometimes a bit narcissistic, and you may have moments of resentment, Cancer – but you love them anyway!
Cancer and Leo Siblings Compatibility:
How do Cancer and Leo siblings match up in the family environment? Leo tends to be the dominant sibling, Cancer - in case you haven't figured that out yet! They need to be your parents' center of attention, and they can crush you in their desire for the limelight!
You may harbor resentment towards your Leo sibling for this, yet at the same time, you look to them for leadership and protection, no matter if they are the older or younger one. Never doubt that they absolutely adore you, and would do anything for you, given the chance!
A Leo sibling won't always get your moods, Cancer, but they will usually cheer you up. They are stubbornly optimistic and always sunny, maybe to the point where they label you a wet blanket! However, you do teach them the necessity of empathy, too.
Cancer and Leo Pet and Human Astrology Compatibility:
Will a Cancer human and a Leo pet get along? This is a happy relationship! Both of you just adore being at home with each other, and snuggles come in thick and fast! Leo pets – especially cats – are royalty, and they will expect only the very best, Cancer! You'd better up your age when it comes to your choice of pet food (hint, make it gourmet and preferably not tinned or packaged), their bed and their toys. In other words, only the best of the best!
And, whilst they are the most demanding of pets, they're also the most loving, and they have the hugest hearts. They are completely loyal to you, so you never need to worry about them running off or giving their affections to anyone else (unless you've been ignoring them, of course).
There's a beautiful bond of love between a Cancer human and a Leo pet. You only have good things to look forward to with a Leo animal!
Cancer and Virgo Compatibility
Cancer and Libra Compatibility
Cancer and Scorpio Compatibility
Cancer and Sagittarius Compatibility
Cancer and Capricorn Compatibility
Cancer and Aquarius Compatibility
Cancer and Pisces Compatibility
Cancer and Aries Compatibility
Cancer and Taurus Compatibility
Cancer and Gemini Compatibility
Cancer and Cancer Compatibility