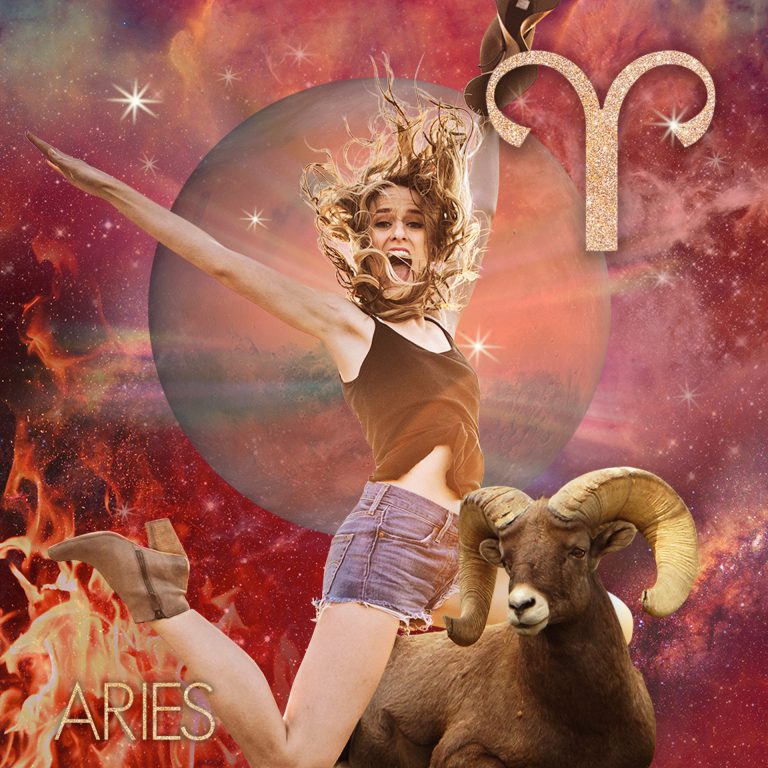 Aries is the first sign of the zodiac and wastes no time in getting directly to the point. Planets in Aries express their energy in a very forthright manner, or even quite urgently. Aries planets demand attention and are not easy to ignore – nor is the Aries personality when Aries is the Sun sign!
Key Facts About Aries
Symbol: The Ram
Element: Fire
Quality: Cardinal
Ruling Planet: Mars
Traditional Color: Red
Traditional Gemstone: Diamond
Energy Expression Keywords: assertive, bossy, immediate, urgent, first, angry, selfish
Aries Sun Sign Personality Traits
Aries Sun sign people are bold, self-confident and full of bravery and courage. They are also extremely impulsive, rarely pausing to think before taking direct action. This impulsive nature sometimes gets them into trouble, but it can also be their saving grace.
As this is a high energy zodiac sign, Aries people are also full of vigor. These are the go-getters of the zodiac, always ready to take on a new challenge and rarely afraid of anything much. Dynamic and not frightened by change, they will quickly take the lead in any situation – whether you want them to or not! Strong-willed at all times, Aries individuals always believe they know best.
Aries can be thought of as the mythical hero of the zodiac. Aries will readily ride into battle to protect you if they love you – or to fight you if they don't. Bold Aries individuals tackle conflict head-on and often initiate it themselves. Know to be very quick to anger, the Aries temper is truly quite a sight to behold. Fortunately, they are also quick to forgive and forget – this zodiac sign does not hold a grudge.
Patience is not an Aries personality strong point. When a hot-headed Aries person wants something, they want it right now. Impatience can lead to frustration or anger, and this is often where the sign's selfishness shows up too. Being a sign of firsts, Aries people put their own interests first and can therefore be rather self-centered at times. However, their energetic, daredevil attitudes are infectious, and generally speaking these are great people to be around.
Aries in Love
The Aries Sun sign in love is extremely passionate – this is a fire sign, after all. As a cardinal sign they will always prefer to make the first move in a relationship. This zodiac sign loves the thrill of the chase, provided they're the ones doing the chasing.
When dating, Aries people can be a little bit full-on, and impatient to progress the relationship at speed. In a committed relationship, they are highly protective and will champion their lover with some considerable flair.
With a very high sex drive, Aries people can quickly tire of a relationship which becomes flat or predictable – but they're not always great at taking their own share of responsibility for this.
Temper tantrums and aggression can be a problem for some Aries people in love, especially as they tend to speak or act first and regret it later. If you're in love with an Aries, you'll need a very forgiving nature.
Best Aries Compatibility
Aries love compatibility often works well with their fellow fire signs, Leo and Sagittarius. The air signs, Gemini, Libra and Aquarius are very different to Aries, but generally have the knack of dealing with Aries fire very well – and Aries can help to inspire passion in these signs too.
Aries sometimes struggles in relationships with Virgo and Scorpio. Virgo finds Aries' recklessness intolerable and frankly, rude, while Aries has little patience with Virgo's need to analyze life in detail. Meanwhile, Scorpio will not indulge Aries' tantrums and does not forgive or forget, while Aries finds Scorpio too manipulative and underhand.
Remember though, there's much more to astrological compatibility than just Sun signs alone!
Aries at Work
Aries people are ambitious and determined to succeed at work. However, their constant need for challenge means that they don't thrive in routine jobs. Anything which is on the cutting edge or pioneering in some way will appeal to an Aries, and they do have a good head for business.
As a boss, Aries is a strong leader, but can be rather autocratic and unforgiving of weaknesses in employees. As an employee, Aries sometimes comes into conflict with authority and ideally needs a free hand to do things their way.
Great career choices for Aries people include the military or law enforcement, the security services or emergency services, particularly firefighting. Aries people also excel in the fitness industry, particularly martial arts, and in roles where the key is motivating others.
An Aries in the Family
Aries Children
Aries children are very bold and brave and often reach their childhood milestones earlier than expected – it's that rush to be first again! Very high energy, Aries children should be encouraged to take up sports and outdoor pursuits in order to use up some of their spare vitality.
At school, much depends on whether the Aries child loves the subject or not. If allowed to follow their passions, Aries kids are excellent students, determined and motivated by results. If forced to study something less interesting, however, behavior can deteriorate through boredom and lots of messing around can be expected.
Aries children don't take well to stern discipline but react much better when they can see a reason for a rule or request. Expecting your Aries child to do as they're told "just because" is a recipe for conflict.
Aries Parent
As a parent, Aries people can be inspirational, always encouraging other family members to follow their passions and cheering them on. It's important for Aries to understand, however, that their own interests might not be shared by their kids. Aries parents can also sometimes be a little demanding, expecting success in their children and finding it hard to hide disappointment if the child doesn't tick the right boxes.
Aries Health
Traditionally, Aries as a zodiac sign rules the head, so this area of the body can be quite vulnerable in Aries Sun sign people or others where Aries traits are a strong factor in the birth chart.
Burning up excess nervous energy will always be important to an Aries throughout their life – this is a sign which needs to stay active and to stay moving, so physical exercise should be a priority.
The Aries tendency to rush about, thanks to their ruling planet Mars, can lead to careless accidents – Aries probably sees the inside of an ER more often than most other zodiac signs! There's a certain element of deliberate recklessness within the Aries personality too, which needs channeling if they're not to end up taking dangerous risks.
Ideal Arian sports and leisure pursuits include boxing, martial arts, adrenaline sports and rally driving. Creatively, Aries often likes to work with metal, leather or wood.
Perhaps Aries' biggest health challenge is their mental health – Aries people can tend to dismiss mental health issues out of hand, thereby not always seeking the help they may need. Repressed anxiety or fear can occur in a strong Aries chart, so it's helpful if Aries people are reminded that everyone has fears at some time, and that this is not a personal weakness – the Aries personality is highly independent, so they may take some persuading before they will willingly seek any kind of therapy or help.