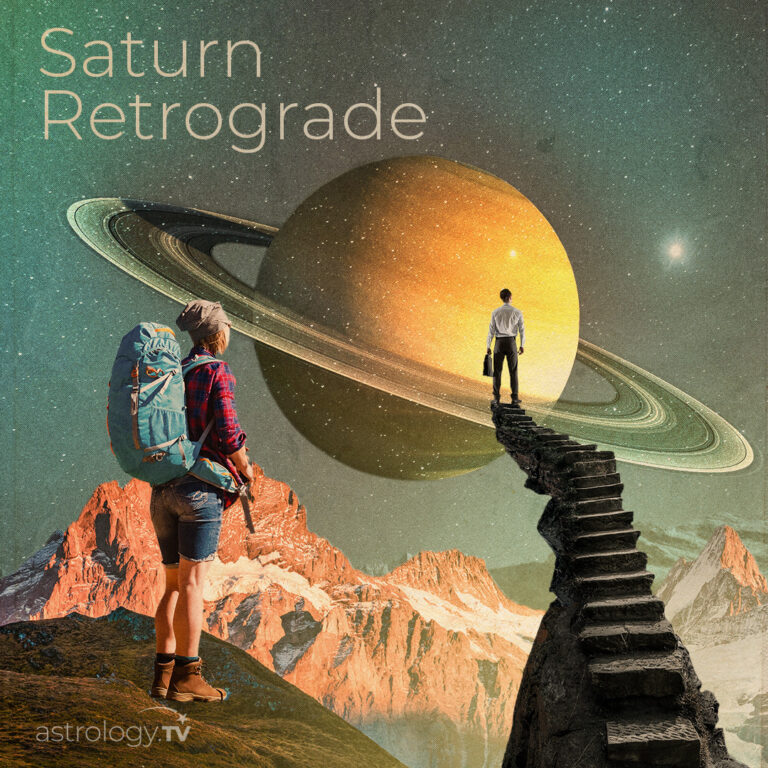 Saturn is the planet of order, stability, and structure. It is connected with the tenth house of our career, goals, objectives, and ambitions.
Saturn symbolizes integrity, hard work, and devotion. But it is also a strict ruler of law and order and brings restrictions and regulations.
What happens when Saturn turns retrograde?
When Saturn turns retrograde, things slow down, and we are driven to reflect more on our past. Saturn's backward stroll is not necessarily negative as the one of the infamous retrograde Mercury.
On the contrary, this energy creates an optimal time to take a step back and reevaluate your actions and plans. It helps you better prepare for what is coming, as you will be able to take your past mistakes and lessons and implement them into your future.
Examination of your conscience
Saturn turns retrograde in Pisces on June 17th, 2023, and this transit lasts for roughly 139 days until November 4th, 2023, when Saturn is stationary direct, remaining in Pisces. The last time when Saturn was in Pisces occurred between May 1993 and April 1996.
How is Saturn settling in Pisces?
Pisces is a water sign ruling the 12th house of dreams, fantasies, and illusions. The Fish thrives on emotions and tend to be big dreamers.
Saturn, being very different energy to Pisces, is very logical and practical, can throw at us some curveballs. We all know that creating realistic goals based on fantasies is a harder. But on the other hand, only dreamers dare to aim BIG.
A glimpse back on your past.
Saturn retrograding in highly intuitive and sensitive Pisces will take you down memory lane. It is a slow-moving planet, and delays and setbacks are more likely to occur during its backward motion. But remember, slow success builds character. So, with Saturn moving backward in Pisces, you will make slow but steady progress.
During Saturn's retrograde transit in Pisces, our creativity gets stronger, and we learn to build bridges to others. Obstacles on the path will be overcome with patience and deep faith, as Pisces is one of the most spiritual signs in the Zodiac.
When transiting Saturn in Pisces goes retrograde, care and compassion are at the forefront. Influenced by understanding Pisces, we choose our words and actions from a place of understanding and love. Our inner voice is louder and stronger. We need to listen to it as it can help us make the right decisions and choices.
Your will and patience will be tested, but authoritative Saturn is only helping you get on the right track. If you pass the test, once Saturn retrograde phase is over, it will be easy to turn a new page and start a new chapter of your life.
Allow yourself to be challenged, so you can be taught how to become stronger.
Saturn is the teacher, and with its backward movement in Pisces, you are about to go on an karmic journey. Important lessons can be taken from the pain of the past. So do not fight the process, as it can help you heal.
Saturn retrograde in Pisces will only point to your weaknesses so that you can overcome them. Once you know your greatest weakness, it is no longer a weakness. It now becomes your strength.
How Does Saturn Retrograde in Pisces Affect Each Zodiac Sign?
Aries Sun Sign (Aries Dates: March 20 – April 19) During Saturn Retrograde in Pisces
Loose ends from your past, now come back to haunt you. You need to face your fears and deal with all the emotions you were holding on to. In addition, a past partner can come back into your life, and you need to be certain if you are ready to give them another chance. While Saturn retrogrades in Pisces, you need to be willing to compromise with your family, children, or loved ones to keep the harmony in your relationships.
Taurus Sun Sign (Taurus Dates: April 20 – May 20) During Saturn Retrograde in Pisces
Your friendships are put to the test with Saturn retrograde in Pisces. In addition, you are highly receptive to other people's energy, which makes you more vulnerable and exposed to negative influences. It is time to cut any toxic relationships out of your life and allow yourself to grow by being surrounded by people that truly value and respect you.
Gemini Sun Sign (Gemini Dates: May 21 – June 20) During Saturn Retrograde in Pisces
This is not the time to make any rushed decisions regarding your career, reputation, or professional life. Saturn moving backward in Pisces increases the hustle, and you must stay patient. Remember, good things take time. Use this energy to reflect on your goals and ensure to follow your heart's desires.
Cancer Sun Sign (Cancer Dates: June 21 – July 20) During Saturn Retrograde in Pisces
Saturn retrograding in Pisces might make you feel like time stands still and you are not making any progress. As a result, you will question your values and beliefs. This ride can be a bit uncomfortable, but growth comes from when you leave your comfort zone.
Leo Sun Sign (Leo Dates: July 22 – August 21) During Saturn Retrograde in Pisces
Saturn retrograde in Pisces sets you on a soul-searching adventure. Your dreams are now a cosmic portal with important messages for you, so make sure to listen. You could be feeling more nostalgic and spend more time reflecting on your past. However, what is behind you can't be changed. Instead, Saturn wants you to take the most important lessons and use them as stepping stones toward your future success.
Virgo Sun Sign (Virgo Dates: August 22 – September 21) During Saturn Retrograde in Pisces
Relationships that will stand the test of time under this transit will prove to be the ones you need to keep in your life. Retrograde Saturn in Pisces may not seem like it is on your side, but it is. You may experience difficulties and challenges in your intimate relationships because you need to open your eyes and know that you are with the right person. If not, this transit is setting you free so that you can search for your true soulmate.
Libra Sun Sign (Libra Dates: September 22 – October 22) During Saturn Retrograde in Pisces
Your desire to help and be of service to others is increased with Saturn's retrograde motion in Pisces. You will feel generous and kind, ready to fight against injustice. Under this transit, your altruistic thinking and vision to change the world come to the surface. Remember, the Universe always rewards good deeds.
Scorpio Sun Sign (Scorpio Dates: October 23 – November 21) During Saturn Retrograde in Pisces
With Saturn going backward in Pisces, creative blockage and stagnation in your mental activities are more likely to be part of your daily life. As a result, it will be more challenging for you to think outside the box, which usually comes naturally to you. Saturn's lesson is to stay patient and trust the process. In times when you feel frustrated, take a walk in nature and allow your mind to unwind.
Sagittarius Sun Sign (Sagittarius Dates: November 22 – December 20) During Saturn Retrograde in Pisces
Your family and loved ones will rely on your support and protection. With Saturn retrograding in Pisces, your domestic area may not be the most harmonious aspect of your life now. Use your incredible ability to read people's energy to help you find out how your loved ones truly feel. Allow your instinct to lead you.
Capricorn Sun Sign (Capricorn Dates: December 21 – January 18) During Saturn Retrograde in Pisces
You may feel like the more you try, the further you get from your goals and ambitions. Saturn retrograde in Pisces is trying to teach you to communicate. Your connection to neighbors, siblings and cousins could be more challenging, but it is more important to acknowledge the things that money can't, like happiness, love, and health.
Aquarius Sun Sign (Aquarius Dates: January 19 – February 17) During Saturn Retrograde in Pisces
Retrograde Saturn in Pisces inspires you to make profound analyses and set yourself free from what has been holding you back. Your inner transition is now under the microscope, and you will ensure you are on track with your life. This transit is time for preparation, regrouping, and deciding your next move.
Pisces Sun Sign (Pisces Dates: February 18 – March 19) During Saturn Retrograde in Pisces
Self-organization is the main key to minimizing the possible negative effect of Saturn Retrograde in Pisces transit. Luckily this is the area where you shine the most. However, things tend not to go your way so it can be a frustrating and karmic time. Patience is a virtue, Pisces. Do not force things to happen; go with the flow and trust your instincts.