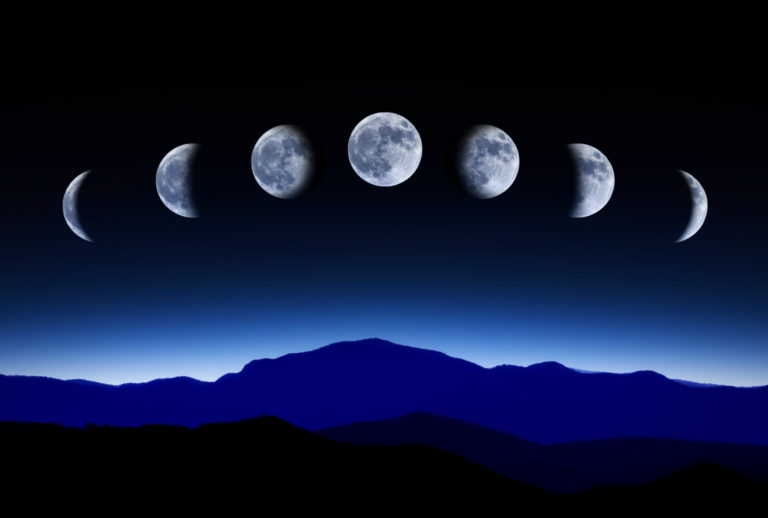 Unless you've spent most of your life in a cave, you'll already have a passing familiarity with the phases of the Moon – you know that on some nights you look up into the sky and see a bright Full Moon, on other nights you can only see a tiny crescent of light and on other occasions the Moon seems to be half there, or three quarters there. The Moon phases are these different ways in which we see the Moon from here on earth, and they follow a regular cycle every 29.5 days.
Why Does the Moon Have Phases?
Just like the earth, the Moon is a sphere, and it is always half-illuminated by the Sun. However, from here on earth, we see it as variously not illuminated at all, fully illuminated or partly illuminated. Why? Because the Moon is orbiting the earth. This means that the proportion of the half-illuminated lunar surface we can see varies from day to day throughout the lunar month. The apparent changes in illumination, seen from earth, are what constitute the Moon phases.
What Are the Different Moon Phases?
There are eight lunar phases in total. In order, they proceed as follows:
- New Moon
- Crescent Moon (also called Waxing Crescent Moon)
- First Quarter Moon
- Gibbous Moon (also called Waxing Gibbous Moon)
- Full Moon
- Disseminating Moon (also called Waning Gibbous Moon)
- Third Quarter Moon (also called Last Quarter Moon)
- Balsamic Moon (also called Waning Crescent Moon)
- ….and then New Moon, beginning the cycle again
Why are the Moon Phases Important in Astrology?
The changing Moon phases come about because of the changing spatial relationship between the Sun, the Moon and the Earth each month. In astrology, we see this changing relationship as a metaphor for our thoughts, energies and moods during the month.
Traditionally, the different phases of the Moon were believed to be favorable for some activities and unfavorable for others. Farmers were advised to follow planting cycles according to the Moon's phases, and people seeking medical treatment would also choose to undergo or avoid surgery depending on the lunar phase.
In modern astrology, we use our astrological understanding of Moon phases to make decisions about timing. By knowing what kind of energy is available on any given day, we can decide whether to push ahead with a difficult matter or let it rest for another day. We can choose whether to start something new, or to finish something old. In astrology, therefore, the Moon phases, together with the Moon's sign and any aspects it makes, act like a kind of planetary weather forecast on a daily basis. Knowing the Moon phases means you can act to make the most of whatever kind of cosmic energy is currently in play.
Moon phases are also important in astrology when it comes to manifestation and visualization. Pagans, Wiccans and others also use the Moon phases to time magical events, spells and celebrations.
Here is a quick and easy guide to the 8 different Moon phases and how their energy manifests. Note that each Moon phase lasts for approximately 3.5 days.
New Moon
A New Moon occurs when the Moon lies directly between the earth and the Sun, so no direct sunlight reaches the part of the Moon that we can see. In astrology, New Moon energy is about new beginnings, a fresh start and a fresh take on life. It's a time of excitement and enthusiasm but much of what is about to manifest still remains hidden in the darkness.
If you were born during a New Moon, you are a very instinctive being, with a child-like enthusiasm and energy around you. Restless and always keen to start something new, you may however have trouble finishing what you start. Sometimes, one parent is more prominent in an individual's life.
Crescent Moon
During the Crescent Moon, we on earth see a crescent sliver of the Moon illuminated, on the right-hand side of the Moon as you look at it. In astrology, the Crescent Moon is a good time for making initial progress with your plans, getting help and information from others as required. The mad rush to "do something" has passed and has been replaced by a quiet determination to do something practical.
If you were born during a Crescent Moon, you are very goal-oriented. You are great at research and you don't leap without looking first. Nevertheless, you maintain good energy and enthusiasm – you just don't waste it.
First Quarter Moon
The First Quarter Moon actually looks like a half-Moon to us here on earth, as half of the side we can see is illuminated. At this point, obstacles to your plans may be causing problems, but you should be able to overcome these using your instincts and intuition. Don't give up on new initiatives now but do nurture them with your soul rather than with logical thought alone.
If you were born during a First Quarter Moon, you are most likely confident and forthright, with natural leadership abilities. You will get things done, almost at any cost, but your determination can make you prone to anger and frustration.
Gibbous Moon
The Gibbous Moon looks as though the right-hand three quarters of the Moon is illuminated, as seen from earth. During this moon phase, progress needs careful analysis to determine what is going right and what is going wrong – and why! Patience may be stretched, but good organization will pay dividends during this Moon phase. Seek to improve that which is well underway.
If you were born during a Gibbous Moon, you have a very questioning nature and you are on a permanent quest for self-improvement. A conscientious student, you are always seeking to learn something new, but you may find that perfection becomes your enemy.
Full Moon
The Full Moon is when the Moon's disc appears to be fully illuminated from earth. The Full Moon is a period of intense emotion but also of completion. What you have sown, you will now reap. Full Moon phases can bring drama into our lives or upset – but there is always a positive lesson behind any such crisis. Full Moon periods are also very good for meditation and self-understanding.
If you were born during a Full Moon, you probably like to test emotional boundaries and you may experience tumultuous relationships with others, going from one extreme to another. With your heart on your sleeve, you are emotionally honest, but sometimes just too intense.
Disseminating Moon
During the Disseminating Moon, the left hand three-quarters of the Moon's visible disc in the Northern hemisphere (and the opposite in the Southern hemisphere), as seen from earth, is illuminated. This is thought to be a time of teaching and learning, and of reflection of what has happened during the lunar cycle thus far. Seek guidance where it is needed and try to understand what may need to change within you as you prepare for the next lunar cycle.
If you were born during a Disseminating Moon, there is an innate teacher within you, whether you realize it or not. You should share your experiences with others, as this is your gift to the world. With a great talent for words, you may also have a disrespect for authority.
Third Quarter Moon
During the Third Quarter Moon, half of the Moon's disc is illuminated, as seen from earth. This is a period for reflection and for understanding how far you've come and what you have successfully achieved – as well as where you could do better. Start to tie up loose ends or work to finish something left undone. Take responsibility for any mistakes you have made and try to make amends.
If you were born during a Third Quarter Moon, you may often uproot yourself, or suddenly leave a job, a relationship or a lifestyle. Inwardly restless, you don't like to be tied down, and this leads you to turn your back – often on people who don't deserve it.
Balsamic Moon
During the Balsamic Moon, we can see a thin crescent illuminated on the Moon, on the left-hand side as we view it. This moon phase is a time for rest and ideally, you should not start anything new at this time. Spend quality time with loved ones and friends, and turn inward for answers through meditation, prayer or psychological work.
If you were born during a Balsamic Moon, you are perhaps not very sociable by nature, preferring your own company. Spiritually strong, you have an innate sense of spiritual purpose or calling. Although quiet and publicly unassuming, you have what it takes to guide others through a crisis.