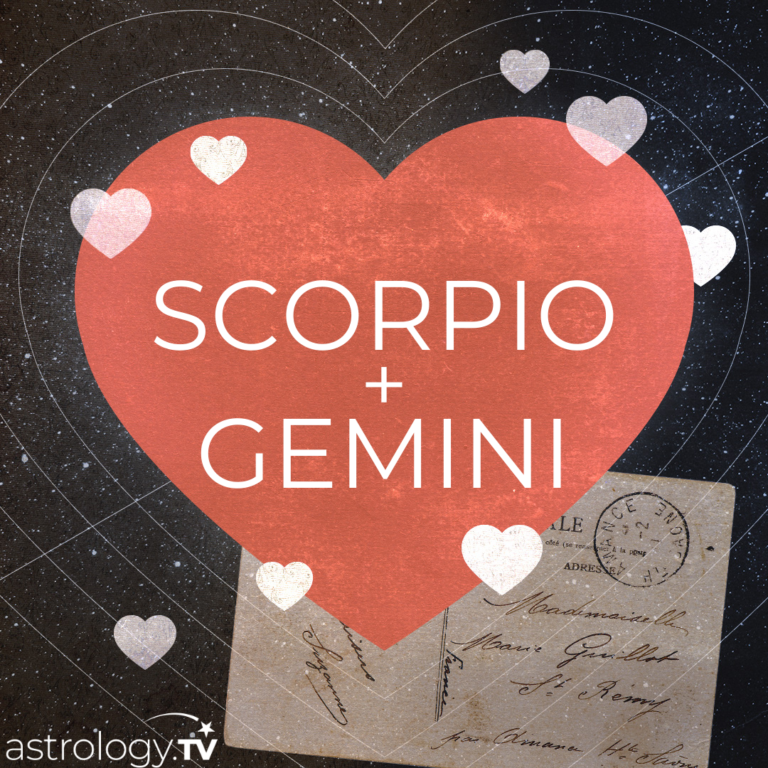 Scorpio and Gemini Compatibility (Scorpio dates: October 23 - November 21; (Gemini dates: May 21- June 20)
Do Scorpio and Gemini make a good match? Strangely enough, you really do make a great match. This is one of those lesser-known astrological couples that simply work. Why? Well, astrology suggests that zodiac signs that are five signs apart seem to get along and most often, stay together.
Yes you have differences – major differences – but you're also very similar. Scorpio, Gemini mirrors you, so whatever you put out is exactly what you'll get back. If you're intense and moody, so is Gemini. If you're light and fun, so are they.
It's not like they don't have an identity, of course – Gemini people are funny, witty, charming and loving of change – but they are chameleons. They are easily influenced by whoever they're with. Hence, if you're one of the more dramatic Scorpios, then this relationship can get, well, sticky.
You both love gossip, and you can be a little sneaky – which you love about each other. You're a naughty twosome (or threesome, or foursome, depending on how many personalities your Gemini lover has).
And despite their cool, detached and airy nature, Gemini's can be very passionate, Scorpio. They're actually quite sensitive, like you – once you get to know them. However, they also have that wonderful, rational side that helps you when you're stuck in the deepest, darkest hole. As long as you see it that way – and not see them as the enemy – you'll do just fine!
Be careful to avoid drama, Scorpio, as both of you have a tendency for it and it can cause havoc in your relationship. Strive for peace and respect, and you'll be a couple that can stand the test of time.
Dating & Romance Compatibility:
Scorpio and Gemini Dating Compatibility:
Are Scorpio and Gemini Soulmates? It's likely that both of you zodiac signs will feel that way, Scorpio. You're both deep enough to crave that in a partner, and this relationship can feel intense in a lot of ways.
When it comes to dating, you can play emotional games, Scorpio, and seldom do you find someone who can actually keep up with you – or outdo you. Gemini is such a person, and they can run circles around you, giving you a run for your money! For example, you'll "test" them to see how much they like you, and they'll simply test you right back.
This can become playful and exciting, but be careful it doesn't get manipulative, Scorpio – for both of you. Yes, being intimate with a Gemini is scary, because they do come off as non-committal. However, they are only non-committal with someone who is the same. They mirror you, remember?
So, if you hold back and throw up defenses, you will be met with defenses and a lack of vulnerability. If you are open and real, you'll get that in return, Be careful of what you put out, Scorpio, it could backfire on you.
Scorpio and Gemini Marriage Compatibility:
Can Scorpio and Gemini marry? It's probably best that you do marry, Scorpio, because your mischief can be contained - plus you'll feel safer. However, actually getting a Gemini to commit is another story. They can be infuriatingly indecisive, which can trigger your insecurities. You are, in fact, an extremely loyal partner, and you prize loyalty in return.
Gemini will have to step up and prove that loyalty, before you trust them enough to wed them, Scorpio. Once they do, you can have an interesting and deep relationship together that lasts. You bring them a sense of stability that they may always have craved, Scorpio– but never knew they did.
Your marriage itself, if you don't play dramatic games, can be fun and interesting. Your Gemini spouse tends to bring a lightness to your life, Scorpio. They make you laugh when all you want to do is cry. They lighten the mood when it's dark, and they don't buy into the power stuff.
However don't try and control them, Scorpio. Gemini is a free spirit with many interests. They need you to trust them enough. Also, don't hate them for not being as emotional and sensitive as you are. Yes, they seem robotic at times, but they help you to balance out. Just as you teach them all about empathy.
Scorpio and Gemini Compatibility in Bed:
Are Scorpio and Gemini sexually compatible? You do have different criteria in order to feel attracted to someone. Gemini loves word games, and they are turned on by sexy ideas and language. They need to have that powerful mental connection in order to feel turned on by you.
You, on the other hand, need an intense emotional attraction to be your best, sexually. You would prefer a heart-to-heart emotions instead. However, this doesn't prevent you from being attracted to each other. You find your way through it and can have a fairly exciting sex life together.
Gemini is experimental, which you love, Scorpio. They are always ready and willing to try anything, which is very good, considering what a wild sign of the zodiac you happen to be! Your sexual escapades should be something to remember, that's for sure!
When Scorpio and Gemini Relationship Breaks up:
How does Scorpio and Gemini move on after a breakup? This can get messy, in all honesty. You're both the drama queens of the zodiac, and you may push each other over the edge in your bid to "win" at the breakup.
The worst thing that could happen is the gossip, Scorpio. You may really badmouth each other behind the scenes, which is behavior that only causes problems and bitterness. Be your best selves, and refrain from telling everyone what a so-and-so each other is.
The best you can do is let go and not look back, Scorpio. Gemini may cause trouble, gaslight you, and play games, whereas you can become spiky, sharp and vengeful. You can be your worst selves here, so just walk away, Scorpio, walk away.
Business Compatibility:
Scorpio and Gemini Compatibility in Business:
Does Scorpio and Gemini have compatibility when it comes to work? Gemini doesn't have the same ambition as you, Scorpio, so you are usually quite safe from them overstepping a line and entering your territory.
However, Gemini can be crafty and extremely sneaky, so be careful, Scorpio. There are some Gemini's who can't be trusted, so don't confide too much in them. They tend to gossip, you see. Keep your distance, don't create office drama and just enjoy and respect how strategic you both are.
Friendship Compatibility:
Scorpio and Gemini Compatibility in Friendship:
Are Scorpio and Gemini good friends? You can be excellent friends - as long as there is complete trust in your relationship. Gemini mirrors your loyalty, Scorpio, and your commitment. The two of you can happily gossip all day, but be careful of giving all your secrets to your Gemini buddy. Because, if things go wrong, well, they could spill it all.
Be aware, Scorpio, that Gemini tends to be more outgoing and social than you, so you won't always see eye-to-eye on things to do together. You'll have a function in each other's lives, but may not spend every moment together, and that's perfectly okay.
Family Compatibility:
Scorpio Parent and Gemini Child Compatibility:
Are Scorpio and Gemini compatible when it comes to family? Gemini parents always make you laugh, Scorpio, but they aren't the most sensitive to your emotions. They are equally moody, the way you are, but they aren't empathetic. Take the good with the bad, Scorpio, because they do mean well and they do love you to bits.
Your Gemini child is a whirlwind, Scorpio, so best you get used to it. They prefer to talk than to cry. and they have a thousand interests that they do at once. They can't commit to anything and have many friends that they constantly change and rotate. You'll just have to keep up, somehow.
Scorpio and Gemini Sibling Compatibility:
How do Scorpio and Gemini siblings match up in the family environment? You two will probably manipulate and scheme with each other, ending up in massive dramas that your poor parents have to try and manage. It's not always easy with you two drama queens!
Try and maintain respect for each other, and don't steal each other's friends or boyfriends/girlfriends. Never try and get revenge, and set out to be kind to each other, not hurt each other. If you can do all of that, you can have a lovely adult relationship, and always have each other's back.
Scorpio and Gemini Pet and Human Astrology Compatibility:
Will a Scorpio human and a Gemini pet get along? Gemini pets are not really there for you to own, Scorpio. They are there for you to play with, have fun with and take care of. But, they live their own lives.
Gemini pets are the types of pets that have multiple personalities, and they could be absolutely mental one day, and super chilled the next. They may have anger issues one moment, and then the next, they are the sweetest hinges you could imagine. It's enough to give anyone whiplash!
Just offer them variety and play, Scorpio, and they'll be just fine. Never let them get bored because they will just get mischievous. A bored Gemini pet is truly a force to be reckoned with. Oh, and remember to always talk to them!
Scorpio and Cancer Compatibility
Scorpio and Virgo Compatibility
Scorpio and Libra Compatibility
Scorpio and Scorpio Compatibility
Scorpio and Sagittarius Compatibility
Scorpio and Capricorn Compatibility
Scorpio and Aquarius Compatibility
Scorpio and Pisces Compatibility
Scorpio and Aries Compatibility
Scorpio and Taurus Compatibility
Scorpio and Gemini Compatibility