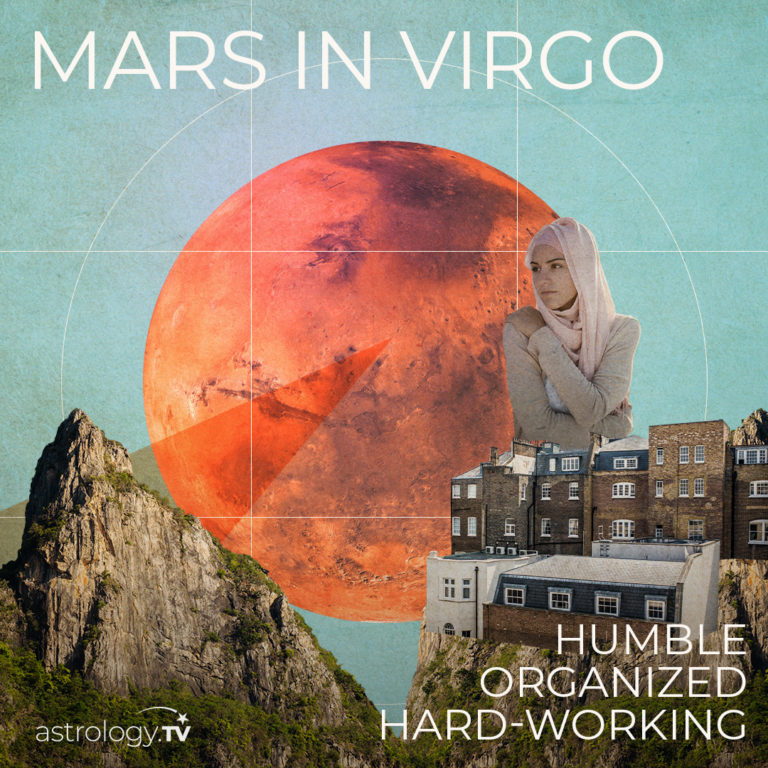 When is good enough nowhere near good enough? Yep, when Mars transits Virgo, the zodiac's perfectionist.
Mars is due to move into Virgo on July 10th, 2023 and will stay there until August 27th, 2023, giving us seven weeks to get things right – or else.
When Mars transits Virgo, the little things count. Details become incredibly important and you ignore them at your peril.
This astrological energy is all about improving things, whether that's your 'helpful' advice to your co-workers or your own zeal for self-improvement.
In astrology, Virgo energy is critical and Mars energy is forceful – put the two together and you have an enforced upgrade which some of us will find harder than others.
During Mars transits of Virgo, there is a lot of satisfaction to be had from a job well done, but it's also very easy to beat ourselves up for not doing well enough.
An obsessive emphasis on performance is demanding, even for the most capable zodiac signs, and the self-critical nature of this astrological transit can easily lead to depression or anxiety.
Mars is the planet of passion in astrology, but also of anger.
When Virgo's rather harsh standards are applied across the board, tempers will flare if things aren't quite right.
Virgo is an earth sign, however, so after the tantrums, practical, solid, sensible solutions can be found and with luck, the situation will edge closer to than elusive perfection than it was before.
What emerges following a Mars in Virgo transit is almost always better than what existed before it, but that improvement comes at a cost to some zodiac signs.
The key to a healthy, positive Mars in Virgo transit is to avoid over-analyzing your own actions and results. Do the best you can, but don't allow your inner perfectionist to sabotage your confidence.
On a positive note, this transit is great for embracing a more holistic, healthier lifestyle and for making life changes that can quickly become new, healthy habits.
It's also a great time to help others, so look out for someone who needs a helping hand.
--------------------
Mars in Virgo for an Aries (Aries dates: March 20 – April 19)
This Mars transit boosts your energy and your vitality no end; in fact, since Mars rules Aries, you probably have energy to spare. Sports and hiking will appeal, especially if you're lucky enough to be able to hike through wild nature. You'll feel driven to improve your health during this transit. Look into alternative health treatments as well as standard procedures. Diet is also important, so aim to cut out things you know aren't great for your health. At work, avoid the temptation for busy work – make sure what you're doing actually matters.
Mars in Virgo for a Taurus (Taurus dates: April 20 – May 20)
When Mars transits Virgo, Taurus' creativity is fired up. You want to have some fun, and quite right too – let work look after itself for a while. The pursuit of perfection in your leisure life, however, can drain all of the fun out of what should otherwise be a pleasant few weeks. Whatever you enjoy doing with your time, don't ruin it by demanding unattainable standards from yourself. If you're single, this is an interesting transit for dating, with Mars stirring up passion in Taurus. If you're already in love, Mars will help to bring back the magic you once felt.
Mars in Virgo for a Gemini (Gemini dates: May 21 – June 20)
Nobody's family life is perfect, but you'll certainly want yours to be while Mars transits Virgo. As a parent, you may become more demanding now, especially if you children are of school age. Try to ease off the pressure; you may only want the best for your kids but breathing down their necks won't help. This is a good time to seek perfection in your home environment, however, so get cleaning, decorating, renovating and revamping your surroundings. Watch out for tempers at home, as your Gemini fuse is considerably shorter than normal.
Mars in Virgo for a Cancer (Cancer dates: June 21 – July 21)
When Mars transits Virgo, you'll want to speak up, loud and clear. Things you've stopped yourself from saying in the past now pop up out of nowhere, and you have little fear of the consequences. This is quite refreshing, and also quite dangerous. If you alienate someone during this transit, it could take a while to repair the damage. Use a blend of Cancer caution and Virgo common sense to moderate what you say. Not self-censorship, exactly – more a case of self-preservation. Watching your words is rarely more important than now.
Mars in Virgo for a Leo (Leo dates: July 22 – August 21)
Mars in Virgo activates your money zone, so it's no surprise that you feel driven to make more money during this transit: it's the how which is interesting. You may feel drawn towards a less flamboyant way of creating income; something more behind the scenes. You may also be re-assessing your relationship with money altogether, perhaps eschewing materialism in favor or spending your free time volunteering for a charity. Perfection, money-wise, can take many forms. Which will you pursue?
Mars in Virgo for a Virgo (Virgo dates: August 22 – September 21)
When Mars transits your own sign, your Virgo abilities really shine. This is a fantastic time to pursue a new job or to make an excellent first impression on a date. Be unashamedly Virgo; stop trying to be something you're not. Your confidence in your own skin grows during this transit, but so does your hyper-critical inner voice. Your challenge during the Mars in Virgo transit is to silence that voice while powering ahead as the healer and mystic you are.
Mars in Virgo for a Libra (Libra dates: September 22 – October 22)
For Libra, the Mars in Virgo transit can be tricky. You're turning the full force of your inner critic onto your spiritual life at this time, and there could be many doubts and questions over your religion, your beliefs or your spiritual practices. You may also find it difficult to sleep, as Mars' ferocious energy invades your nights. To thrive during the Mars in Virgo transit, Libra needs to enforce downtime. Create sacred space and don't allow self-criticism into it.
Mars in Virgo for a Scorpio (Scorpio dates: October 23 – November 21)
When Mars transits Virgo, you'll feel much more community-minded than normal, and some of your more selfish Scorpio traits will soften. This is a very good time to work towards a common cause with friends or colleagues. You can easily take on a leadership position within a group at this time but try to avoid leading through fear. You'll get more people on board through persuasion than through your rather pointed and often hurtful style of criticism. This is a time to soften your tone and your stance and to look to do good all around.
Mars in Virgo for a Sagittarius (Sagittarius dates: November 22 – December 20)
When Mars is in Virgo, this warrior planet activates your career zone, so this is potentially a fantastic few weeks for your working life. Step up to the plate and take on new challenges – always a Sagittarius thing - or assert yourself and get the respect you deserve. You may need to be careful to avoid drastic action, taken on a whim, which could damage your own cause, however. Think through your choices carefully and slowly. Abandoning a career due to minor quibbles would be counter-productive. If you do get the urge to shift career direction, focus on finding your true calling.
Mars in Virgo for a Capricorn (Capricorn dates: December 21 – January 18)
The earthy energy of Mars in Virgo is familiar to you as a fellow earth sign – what's not so familiar is the urge you now feel to criticize yourself and to undermine your own beliefs and opinions. This can be a challenging transit for Capricorn as you are effectively being reminded to update your views. If you can justify what you think, great. If you can't – that should tell you something. Constructively, this is a good time to go back to school in some way and to brush up your skills. It can also be an interesting time for travel, if you can avoid being snobbish about where you go.
Mars in Virgo for an Aquarius (Aquarius dates: January 19 – February 17)
Out with the old and in with the new, shiny and very nearly perfect. When Mars transits Virgo, your old habits and prejudices are exposed and ripe for change. This is a great time for self-analysis, provided you can avoid being too hard on yourself. It's also a good time to re-assess your relationship with sex and power. If you've been manipulative in the past, see your faults and change. The Mars in Virgo transit challenges your aloof Aquarius energy and asks you to connect, on a fundamental level, with your fellow humans.
Mars in Virgo for a Pisces (Pisces dates: February 18 – March 19)
When Mars transits Virgo, it activates your love zone – and we all know that Mars is connected to passion, so – enjoy! This can indeed be a wonderful interlude for a passionate love affair, but in an established relationship, Mars' warrior energy and Virgo's critical nature can provoke unease and ill-feeling for sensitive Pisces. Don't try to change your lover. If anyone in the partnership needs to change, let it be you. This energy is about fitting together better with your lover, so make a positive fresh start from your own end instead of expecting your sweetheart to bend to your will.