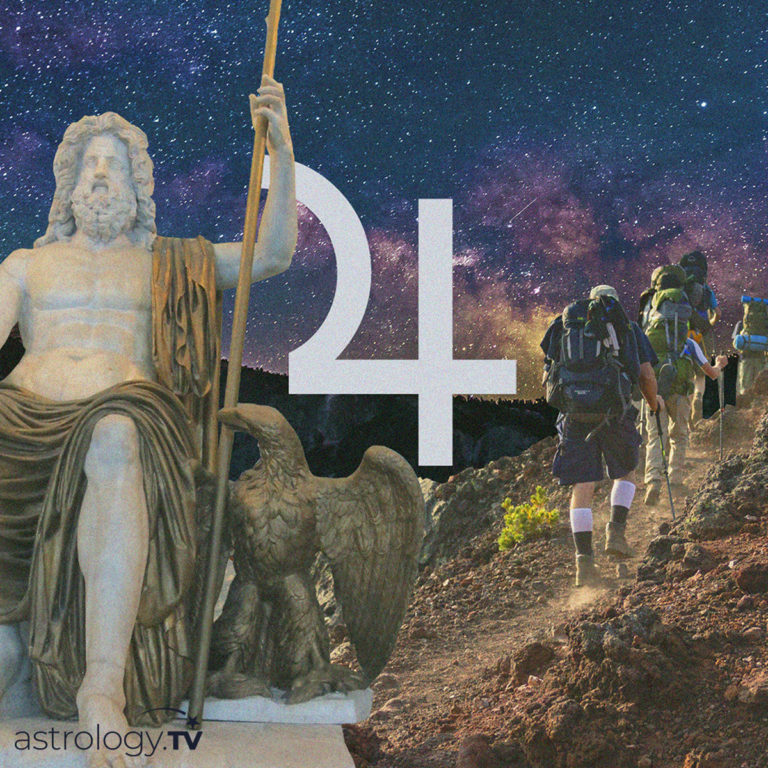 Each of us makes our own luck in our lives, but it's true that luck and good fortune do seem to come easier to some people than to others. Why might that be? In astrology, it could well be due to the influence of the planet Jupiter. Although Jupiter doesn't create luck in itself or cause winning lottery tickets to rain down upon us from the skies, this jovial giant of a planet does have energies which help us to make the very most of every opportunity which comes our way. For this reason, Jupiter in astrology is considered to be the most fortunate planet of all – provided you know how to use the gifts it brings to your natal chart.
What Does Jupiter Represent in Astrology?
Jupiter's astrological energies are all about expansion. Through Jupiter, we grow. The way Jupiter functions in your birth chart reveals how you go about finding opportunities in life, and how you handle the circumstances which face you. Jupiter also rules other expansion-themed topics, such as wisdom and learning (expansion of the mind), travel (expansion of the horizons) and hope (expansion of belief). These are very intellectual and philosophical energies which are fundamentally optimistic and positive. Jupiter also has a role to play in how we feel and express gratitude and in how we choose to follow a moral code. Justice is another Jupiter theme, as is morality. Finally, Jupiter's energies reveal how religious you may be and what kind of beliefs you hold dear.
What Does Jupiter Retrograde Mean?
Like all planets, Jupiter (as seen from earth) occasionally appears to travel backwards through the zodiac signs for a short while, before starting to move forwards again. When this happens, the astrological term is Jupiter retrograde. This happens approximately once a year and lasts for several months. When Jupiter is retrograde, its normal bountiful energies are not quite so materially or psychologically generous. During this period, it's important to focus on being grateful for what you have, rather than wanting more. Jupiter retrograde is a period for consolidating your blessings rather than worrying about what you do not yet have.
What is a Jupiter Return?
Jupiter takes approximately 11-12 years to travel through all 12 zodiac signs. This means that once every 11-12 years, Jupiter will return to the exact position it held in your birth chart, and this is what we call a Jupiter Return. Jupiter returns, like their more famous cousins the Saturn returns, are significant life points, usually involving personal growth and the learning of lessons. Each time Jupiter returns to its natal position in your natal chart, you will find yourself being challenged to 'find the luck' in your current situation. Jupiter returns are a reminder that you are blessed, no matter how hard times get.
Key Facts about Jupiter in Astrology
Positive expressions of Jupiter energy: luck, fortune, expansion, growth, wisdom, philosophy, intellect, belief, opportunity, gratitude, hope, learning, generosity, tolerance, humor
Challenging expressions of Jupiter energy: greed, blind optimism, pessimism, fatalism, ungraciousness, ungratefulness, exaggeration, extravagance, wastefulness
Jupiter rules: Sagittarius. A ruling planet in its own sign tends to be the purest and most positive expression of its energies.
Jupiter is exalted in: Cancer. An exalted planet is usually strong and works positively.
Jupiter is in detriment in: Gemini. A planet in detriment is typically quite weak, with its energy manifesting negatively or being misused.
Jupiter is in fall in: Capricorn. A planet in fall is usually weakened, although positive aspects to the planet will help.
What is Your Jupiter Sign?
Your Jupiter sign reveals how you channel Jupiter's abundance and positivity through your zodiac sign. In astrology, your Jupiter sign also offers insight into your intellectual abilities and your philosophy of life.
Jupiter in Aries
If your Jupiter sign is Aries, you are broadminded, assertive and very positive. Extravagantly generous, you are easily able to inspire and lead others, but you can come across as arrogant or "in your face".
Encourage abundance: through friendly competition with others.
Jupiter in Taurus
When Jupiter is in Taurus, there's a definite love of the good life and a jovial sense of humor. You are materially fortunate, whether you realize it or not. Warm and sincere, you are a wonderful host, and generous to a fault.
Encourage abundance: through sharing your wealth-creation abilities.
Jupiter in Gemini
When your Jupiter sign is Gemini, your intellectual energy is scattered, so you may struggle to narrow down your focus in life. You are however clever and broad minded but be careful not to come across as too superficial and flighty.
Encourage abundance: through finding and following a clear purpose.
Jupiter in Cancer
Jupiter in Cancer people are very kind with strong humanitarian instincts. Your beliefs and principles may change as you grow and learn, but you should be proud of your ability to admit that you may have been wrong.
Encourage abundance: by listening to your gut instincts rather than insisting on logic.
Jupiter in Leo
If your Jupiter sign is Leo, you have an exuberant and enthusiastic personality, albeit sometimes a little too over the top for some tastes. You keep yourself very busy but it's vital that you develop your creative skills in your spare time.
Encourage abundance: by learning to appreciate stillness.
Jupiter in Virgo
With Jupiter in Virgo, you sometimes struggle with the bigger picture, despite having an excellent grasp of the detail. You have a great talent with words as well as many practical and physical skills. However, your imagination is sometimes self-censored.
Encourage abundance: through dreaming the impossible.
Jupiter in Libra
If Libra is your Jupiter sign, you are a laid-back lover of luxury. You are motivated by money and the finer things in life and you no doubt work very hard for success. Your jovial, easy-going personality may mask a high level of emotional dependence on others.
Encourage abundance: by appreciating the things money cannot buy.
Jupiter in Scorpio
Jupiter in Scorpio people are prone to exaggeration and drama but live every moment of life to the full. With a flair for finances, you are often materially blessed. However, pride and vanity can be traits you need to watch out for.
Encourage abundance: by practicing moderation in all things.
Jupiter in Sagittarius
If Sagittarius is your Jupiter sign, your positivity and enthusiasm is off the scale. A confident, can-do attitude gets you far in life, and you are a firm believer in the power of belief or visualization. However, sometimes your blind optimism is misplaced.
Encourage abundance: through studying other cultures.
Jupiter in Capricorn
With Jupiter in Capricorn, you are ambitious and responsible, but you are easily depressed when life is not going well. Your offbeat sense of humor usually sees you through but watch out for dogmatism and intellectual arrogance when challenged.
Encourage abundance: by valuing and appreciating the contributions of others.
Jupiter in Aquarius
If Aquarius is your Jupiter sign, your imagination gives rise to exceptional originality in your thinking. Very tolerant and broad minded, you strive to help the underdog and to better society however you can. Strong scientific ability is present here too.
Encourage abundance: by campaigning for a cause which matters to you.
Jupiter in Pisces
When Jupiter is in Pisces, you are very sympathetic and full of empathy. You may have a very strong faith or religious belief, but you sometimes struggle to see beyond that or to appreciate other ways of thinking. There is more than one path to the light.
Encourage abundance: by opening your mind to other possibilities.
As well as your Jupiter sign, the house placement of Jupiter in your natal chart also influences which area of life provides or could provide abundance for you.
Where is Your Growth Point? Jupiter Through the Houses
Jupiter in the 1st House
Grow by: sharing your enthusiasm and allowing your leadership qualities to emerge
Avoid: too much self-indulgence in food, drink or recreational drugs
Jupiter in the 2nd House
Grow by: seeking abundance in intangible areas of your life as well as material ones
Avoid: trying to buy love or friendship
Jupiter in the 3rd House
Grow by: going back to school, training or studying
Avoid: constant restless changes of home or job
Jupiter in the 4th House
Grow by: forgiving and moving beyond any family trauma
Avoid: parenting without boundaries
Jupiter in the 5th House
Grow by: showcasing your creativity
Avoid: gambling – with money, love or anything else
Jupiter in the 6th House
Grow by: giving your time and expertise to a good cause instead of your money
Avoid: laziness and lack of physical exercise
Jupiter in the 7th House
Grow by: exploring a karmic and intellectual connection with your partner
Avoid: superficial relationships
Jupiter in the 8th House
Grow by: sharing your resources – financial, emotional and otherwise
Avoid: demanding too much of others
Jupiter in the 9th House
Grow by: saying yes, even when doing so is scary
Avoid: expecting to find black and white answers
Jupiter in the 10th House
Grow by: wielding power with humility
Avoid: ambition for the sake of ambition
Jupiter in the 11th House
Grow by: forging deeper connections within your community
Avoid: being too goal-focused
Jupiter in the 12th House
Grow by: Accepting life's struggles instead of battling against them
Avoid: spending too much time alone