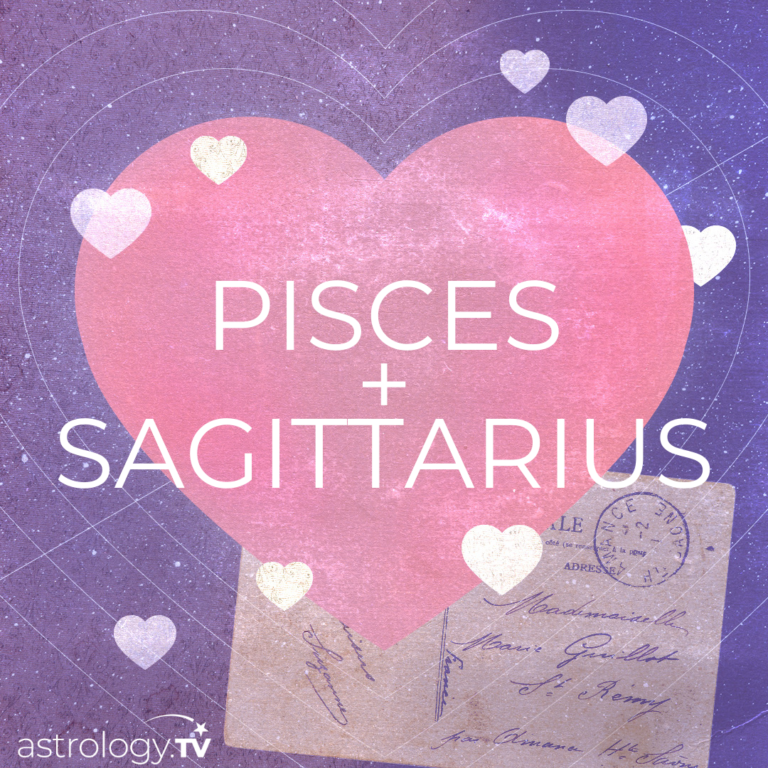 Pisces and Sagittarius Compatibility (Pisces dates: February 18 - March 19; Sagittarius dates: November 22 - December 20))
Do Pisces and Sagittarius make a good match? Although you won't find much positive to say about your astrological zodiac match online, Pisces, the truth is that you two can make a wonderful couple. The reason for this is because you are both (traditionally, in ancient astrology), ruled by the planet Jupiter – planet of growth and abundance!
Jupiter is also the planet that rules travel, expansion, fun and philosophy. This is the planet that makes you both such footloose free spirits, Pisces, and the type of people to try anything at least once! Although you have the more sensitive soul, Pisces, and are definitely more emotional, you share a spirituality and depth of perception with your Sagittarius lover. This is a big drawcard of why they are so attracted to you!
Your Sagittarius is a free zodiac sign, so keep that in mind, Pisces. It's one thing that can really pull you apart, because what happens when fire meets water? It becomes steam, and water can put fire right out! Sagittarius people may complain that you're "raining on their parade", that you're playing the victim, why can't you look on the bright side – and so on.
Sagittarius people can make you feel deeply hurt, especially seeing as you are such a caring and compassionate person who can take their direct comments to heart. You do need to grow a thicker skin to be able to withstand the honesty of the Sagittarius, Pisces! When you do, you'll find that their positivity lifts you up when you most need it, and that you teach them the fine art of unconditional love, too!
Dating & Romance Compatibility:
Pisces and Sagittarius Dating Compatibility:
Are Pisces and Sagittarius Soulmates? Your souls are definitely made of the same stuff, Pisces, but that's not to say you are exactly soulmates. However, you do find a certain resonance with each other and may realize you have quite a bit in common, when you get to know each other.
For example, you love traveling, Pisces, and so does your Sagittarius crush. They live to jump on a plane and fly somewhere amazing and new. You adore the escape of new places, and this can bring a real spark to your connection. You may also find that you're both quite spiritual, and have done all kinds of things, from yoga, to meditation, to trying plant medicines and so on. This can add an amazing depth to your relationship, Pisces.
What you may also have in common is the strong desire to keep growing and expanding. Life is an ongoing lesson to both of you, and you both manage to always land on your feet, whatever seems to happen!
You're also both not the types of people to hold back when you like someone, and you could each leap in, headfirst and quite impulsively! Sagittarius people are passionate and wild, Pisces, and you are always in search for "The One" – so this can be a very intense and fast bond right from the beginning. Will it last? That's the real question!
Pisces and Sagittarius Marriage Compatibility:
Can Pisces and Sagittarius marry? If there's one piece of advice you should take from this, Pisces, it's to take things slow – real slow. Don't commit to your Sagittarius too fast, because you both have the tendency to be far too impulsive and rush into things. Sagittarius, being a fire sign, could easily speed down the aisle, as could you, which may have you waking up with a nasty hangover and a few doubts!
Give this time, Pisces, to see if you are really that compatible. You have so much in common, but you need to be able to withstand the Sagittarius person's free spirit and unwillingness to be tied down, commit or get too serious about anything or anyone. Life is one big party with Sagittarius until they find the right One. When they do, they can be wonderfully loyal, but they do need a lot of space to do their thing. You can't cling, in other words, Pisces.
Funnily enough, you are quite similar, however. As romantic as the idea of marriage seems to you, you don't all that easily feel comfortable in being tied to one person. The reality can be scary, Pisces, which is why you should wait and see all sides to each other, fully understanding what commitment will mean before you actually do it.
You may be the type of zodiac couple that is, in reality, happier to be life partners than to bother with the structure of marriage!
Pisces and Sagittarius Compatibility in Bed:
Are Pisces and Sagittarius sexually compatible? Sagittarius people are absolutely wild in the bedroom, Pisces. They love to just have a good time and treat sex as playful, exciting and spontaneous. They make good lovers, as they're always open to trying everything and keen for adventure!
However, at times, you may just want to make love, Pisces, which Sagittarius people may or may not be into. They won't always understand that you can't do it if you feel emotionally disconnected, especially if you are hurting. Set the stage up right first, Pisces, and let your Sagittarius know you are down for anything – as long as you feel loved and secure.
When Pisces and Sagittarius Relationship Breaks up:
How does Pisces and Sagittarius move on after a breakup? It could be a little messy, but you do move on quickly, Pisces, both of you. Neither of you is the type to ever hold a grudge, and friendship shouldn't be too hard once you've gotten over each other.
You'll probably find that your Sagittarius ex gets over you much faster than you get over them, Pisces. They may even take up with someone new, which could hurt you and push you even further way, even having you ghost them, which is perfectly okay under these circumstances, Pisces.
Business Compatibility:
Pisces and Sagittarius Compatibility in Business:
Is there Sagittarius and Pisces compatibility when it comes to work? Being such free spirits, you'll likely have a very similar working style, Pisces – it's about living and let live, in your opinion! You don't step on their toes, and they don't step on yours, and never will you call each other out for being irresponsible (even though you are!).
Do be prepared to be shouted at in a temper from time to time, Pisces – Sagittarians have a notoriously fiery side to them, and never know when to have a filter or put a lid on it. This will more often sting than not, so be sure to have a little bit of emotional armor if you want to carry on working together.
Friendship Compatibility:
Pisces and Sagittarius Compatibility in Friendship:
Are Pisces and Sagittarius good friends? You can be fairweather friends, Pisces, without either of you necessarily being all that loyal or steadfast. But you understand this about each other, and accommodate one another accordingly.
One thing is sure – you'll have a whole lot of fun when you're in the mood for it! Dancing the night away with a few drinks feels like your happy place in your friendship. You may also have spiritual interests in common, such as yoga, meditation or even traveling to interesting places.
However, your Sagittarius will also, very often, hurt your feelings, Pisces, and they might think you a little oversensitive at times, just as you get annoyed with their lack of consideration for your feelings. Forgiveness and tolerance are key for your bond!
Family Compatibility:
Sagittarius Parent and Pisces Child Compatibility:
Is there Sagittarius and Pisces compatibility when it comes to family? Your Sagittarius parent does tend to trample all over sensitive feelings, Pisces, which can make you resent them at times. Just bear in mind that they are usually trying to cheer you up and have you look on the bright side of things, which is a good skill for you to learn, at the end of the day, no matter how annoyingly optimistic they are!
Your Sagittarius child is a free spirit, Pisces, and they don't need your coddling. They just want to be with their friends, growing up to travel and explore the world on their own terms. It may hurt that they don't need you that much, Pisces, but you'll love them unconditionally anyway!
Pisces and Sagittarius Sibling Compatibility:
How do Pisces and Sagittarius siblings match up in the family environment? Your Sagittarius sibling is definitely going to shout you down most of the time, Pisces, and even dominate you a little bit. However, they are also your best buddy and you can have so much fun together, as kids and now as adults.
Just be aware, Pisces, that if you ever approach your Sagittarius sibling for advice, they are going to give it to you directly, which you won't always appreciate!
Pisces and Sagittarius Pet and Human Astrology Compatibility:
Will a Pisces human and a Sagittarius pet get along? A Sagittarius pet is a traveling pet, Pisces. They will roam wide and far in search of adventure, especially if they feel bored at home. These pets need constant adventure, so be sure to provide that for them, or else you will have an irritable animal!
Your Sagittarius pet will also make you laugh almost all the time and never fail to cheer you up, Pisces. It's a special gift that they have that you just adore about them!
Pisces and Capricorn Compatibility
Pisces and Aquarius Compatibility
Pisces and Pisces Compatibility
Pisces and Aries Compatibility
Pisces and Taurus Compatibility
Pisces and Gemini Compatibility
Pisces and Cancer Compatibility
Pisces and Virgo Compatibility
Pisces and Libra Compatibility
Pisces and Scorpio Compatibility
Pisces and Sagittarius Compatibility