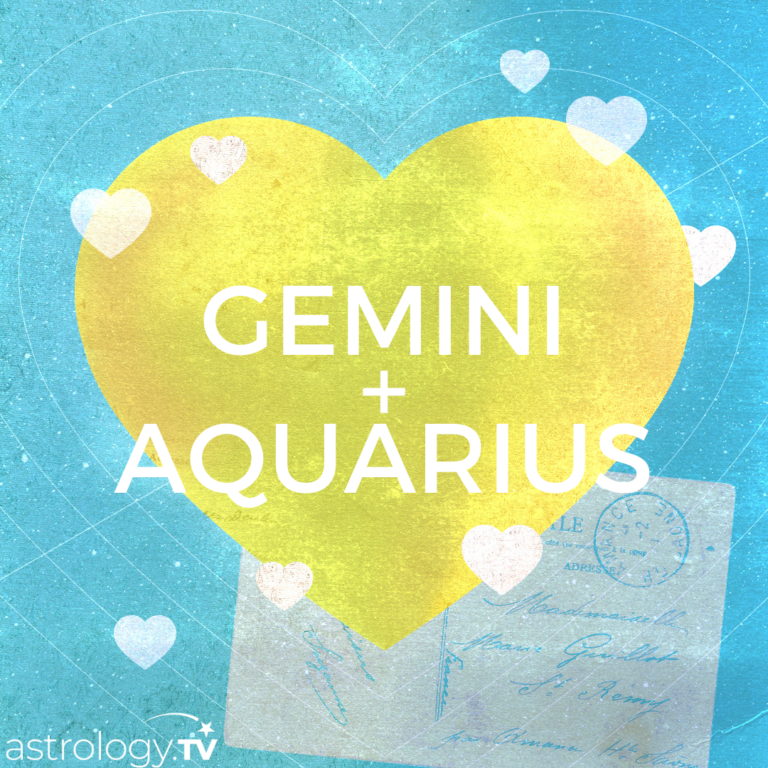 Gemini and Aquarius Compatibility (Gemini dates: May 21- June 20; Aquarius dates: January 20 - February 17
Do Gemini and Aquarius make a good match? The Brainiac of the zodiac meeting up with the genius of the zodiac? It's a match made in heaven! Both Gemini and Aquarius are air signs, with air being the element of thinking, the mind, communication, and thought in general. It's likely that once you started chatting – whether online or at a social gathering – you just never stopped! The next thing you knew, you were in a relationship – just like that. This is one of those astrology connections that seldom fizzles out, and even if it does, you'll usually manage to stay great friends. That's the thing about your relationship – it has the rare combination of being best buddies as well as lovers. Both of you know that the only way into your hearts – and bodies – is through the mind. If your chosen sweetheart can't switch you on mentally, then they'll never manage at all. You'll never have to worry about that with an Aquarius, Gemini – they are possibly even more brilliant than you, though your wit often outdoes theirs. You're both all about having a good time and approach life lightly. Drama is usually not a part of your relationship unless your dark twin has come out to play, Gemini. The only real danger here may simply be too much analyzing and not enough feeling. But, is that even a problem for you? Probably not!
Dating & Romance Compatibility:
Gemini and Aquarius Dating Compatibility:
Are Gemini and Aquarius Soulmates? This does feel like the real thing, and probably is. You two flow naturally into each other, and there's very little needing to "figure each other out". Sure, you'll be curious about one another, and will always, always learn and grow together, but seldom are you sitting, scratching your head in frustration at each other's behaviors. The dating phase feels fun and fresh – flirty texts, sexy messages, and elegant quips are all a part of your mating dance, and will probably stay that way forever. Because you're both constantly learning new things, you're always finding each other fascinating – sharing information has to be your favorite way of bonding! You're also both not particularly emotional or clingy unless you have lots of water planets in your charts. This allows for breathing room and freedom within your relationship, which is essential for your Aquarius, Gemini – they wouldn't stick around otherwise.
Gemini and Aquarius Marriage Compatibility:
Is there Gemini and Aquarius compatibility when it comes to marriage? Aquarius is quite unconventional – don't be surprised if they suggest some way-out commitment ceremony or refuse marriage altogether, because "everyone does it". However, some Aquarians are keen to solidify their commitment, though they won't be particularly hung up on it. This suits you very well, Gemini – you admittedly have a great fear of commitment and hate being too tied down or suffocated. Because Aquarius is so casual and cool, you'll probably be more eager than usual to tie the knot, Gemini – in your strange, contradictory way! You know you'll have all the freedom in the world with an Aquarius partner, plus you'll always have the time to talk to and hear your (many) crazy ideas! This is a partnership between best friends and romantic partners. It doesn't get much better than this, Gemini.
Gemini and Aquarius in Bed:
Are Gemini and Aquarius sexually compatible? Sex is probably one of the last things on your mind, Gemini – both of you get so caught up in conversation that you may totally forget that you have a body and that the body likes to have sex! However, often your conversation turns to more seductive things, and when that happens, you have excellent chemistry! You know just what to say to each other to get going, and both of you are eager and keen to experiment - especially you, Gemini! In fact, with the Aquarius kinkiness and your experimental nature, it's not surprising to think that the two of you may even try out swinging or open sexual relationships! You're not too possessive of each other, and usually you both feel secure enough to try it out!
When Gemini and Aquarius Breakup:
How do Gemini and Aquarius move on after a breakup? For all their "free love" ways, Aquarius is a fixed sign, which means that they crave security and commitment (yet also need their space – they are complex like that!). It may be a bit harder for Aquarius to move on initially, or to consider a breakup. However, if they are pushed, lied to or betrayed in any way, they'll simply switch off. Just like that. Suddenly, there will be zero connection between you, and though they are happy to be friends, there's no going back. So, be sure, Gemini, when you want to split up – because Aquarius won't do the getting back together thing very often. You, on the other hand – as long as you're not allowing your dramatic side to take control - should bounce back a bit faster.
Business Compatibility:
Gemini and Aquarius in Business:
Is there Gemini and Aquarius compatibility when it comes to business? You're lucky to have the consistent Aquarius as a work buddy, employee, or boss, Gemini. They're not dominating, allow you breathing room, and seem to handle your inconsistency quite well – though they won't put up with too much chaos for too long. Despite their rebelliousness, Aquarius is one of the most reliable signs out there, and they will stick to a routine (usually of their own making). They're smart as a tack, friendly, cooperative, and great in a team. Aquarius is also a natural teacher, and you'll learn a lot from them. Your communication is top-notch which helps to dispel any negativity, and neither of you takes things overly seriously. Plus, you'll be great buddies on and off the job!
Friendship Compatibility:
Gemini and Aquarius Best Friend Compatibility:
Are Gemini and Aquarius good friends? You're not just good friends, Gemini – you're the best of friends! As long as you remain totally honest and real with your Aquarius buddy, you should have a long-lasting, loving connection. You also have a whole lot of fun together – your mischief and the Aquarius rebelliousness make for fun times indeed! You'll love a good dancefloor, a busy party, and share a wide circle of friends. You're not possessive of each other, and don't take it personally when you hang out with other friends. You're also both extroverted air signs, which helps when it comes to deciding activities to do together. But, the very best thing about your friendship is the communication – the two of you can chat for hours about anything under the sun!
Family Compatibility:
Gemini Parent and Aquarius Child Compatibility:
Are Gemini and Aquarius compatible when it comes to family? Very! An Aquarius parent is downright "cool". They pretty much let you do whatever you want, Gemini, and encourage every single one of your many, many hobbies – especially the weird, intellectual ones. They'll be a bit on the detached, rational side, but you're the same way, so you don't take it personally. As a child, your Aquarius is going to be social, friendly, slightly weird, and original as anything. They need their freedom and independence and can be a bit of an airhead, so it's good for them to have grounding at home, and some semblance of stability. They are talkative, have strong imaginations, and they love to talk to you – just as much as you love talking to them!
Gemini and Aquarius Sibling Compatibility:
How do Gemini and Aquarius siblings match up in the family environment? You'll be more friends than siblings, really, especially when you grow up and become adults. You will have your arguments – your Aquarius sibling can be a real know-it-all, and extremely stubborn in their options – which may infuriate you! You'll also drive them crazy with your inconsistency and unwillingness to commit to anything. However, these are small things, and as you grow you, you'll share a lot of similar qualities, such as being quite extraverted, social, smart, and good at any studies you take on. You like to have fun, and you can get up to a lot of mischief together, whether young or old! You should have a long-lasting, strong bond which many siblings would love to have – so make sure you treasure it!
Gemini and Aquarius Pet and Human Astrology Compatibility:
Will a Gemini human and an Aquarius pet get along? Aquarius pets are not really your pets, Gemini. They belong to everyone, and they often couldn't care less if you're around or not! They're immensely independent, self-sufficient, freedom-seeking, and downright weird. They may have extremely strange habits and be complete originals – there's no pet like an Aquarius pet. They'll fascinate you, be your good friend (if you give them space), and learn fast. They're very intelligent, quick learners, and fun companions. They need plenty of fresh air, and though they're a free spirit, they prefer consistency to being all over the place, so you'll have to be sure that you're not a ball of chaos, Gemini! They may simply cut you off and search for a new home (especially if they're cats) if you don't measure up to their standards. Talk to them often – you may be surprised at how much they actually understand you!
Gemini and Pisces Compatibility
Gemini and Aries Compatibility
Gemini and Taurus Compatibility
Gemini and Gemini Compatibility
Gemini and Cancer Compatibility
Gemini and Virgo Compatibility
Gemini and Libra Compatibility
Gemini and Scorpio Compatibility
Gemini and Sagittarius Compatibility
Gemini and Capricorn Compatibility
Gemini and Aquarius Compatibility