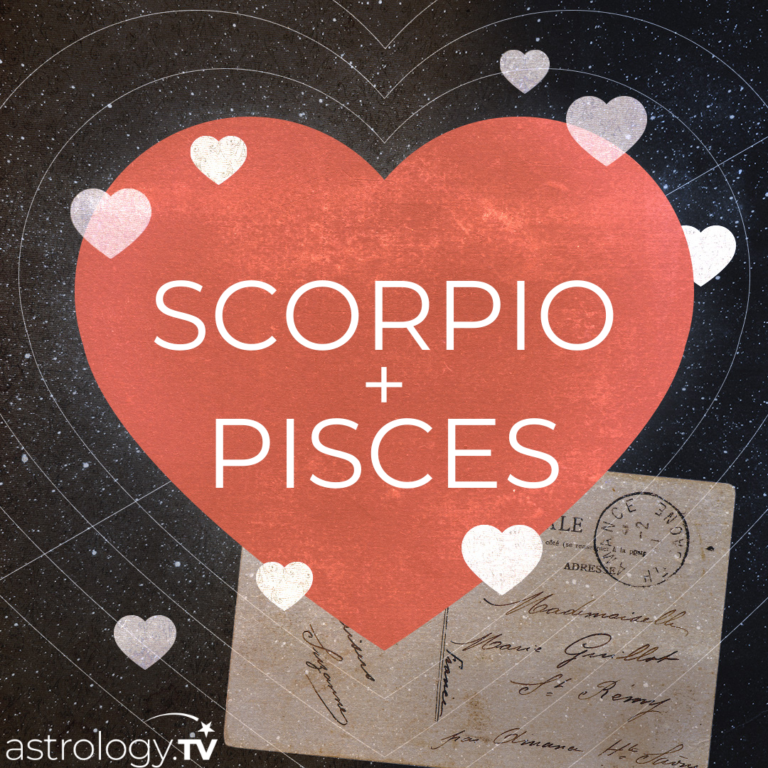 Scorpio and Pisces Compatibility (Scorpio dates: October 23 - November 21; Pisces dates: February 18 - March 19)
Do Scorpio and Pisces make a good match? You make a beautiful match, period. Firstly, being two water signs of the zodiac means that you resonate on the same frequency – an intuitive, sensitive and highly emotional frequency. You might understand each other on a level that doesn't require words, and it feels amazing to know you have someone like that in your life!
Normally self-protective and fearful of sharing yourself, Scorpio, you'll find that the tender Pisces just melts those defenses away. They don't have an agenda, unlike so many people you might have encountered romantically, and all they want to do is merge with you and be with you.
In fact, you might be inspired to protect your Pisces sweetheart from the world out there, and they really need that from you. They love having such a strong and capable partner who knows how to get things done!
You'll also have a very powerful emotional connection and a strong sense of empathy for each other. Tuning into each other feels effortless, which helps to smooth over the moodiness that both of you have. Yes, things can get emotionally dramatic at times here, being such sensitive signs, but with that understanding, you can soothe each other.
Do be careful at times, Scorpio – both of you have to practice rationality as you may swim in waters that are too deep. You can drown in each other's feelings and forget to draw boundaries. Taking emotional space from time to time will be healthy for the two of you.
Your fixed nature within the zodiac also stabilizes the more wayward, floaty ways of the Pisces, and makes them feel grounded, safe and secure with you.
Dating & Romance Compatibility:
Scorpio and Pisces Dating Compatibility:
Are Scorpio and Pisces Soulmates? In every sense of the word, you absolutely are. Both of you fully believe in that concept, especially the dreamy Pisces type. You've been burnt a few times, Scorpio, so you're a little more hesitant to jump in and just believe, but you'll soon be convinced. They're so trusting, so open, and so ready to get deep with you that you'll learn to open up to the idea, too.
The dating phase will feel like a whirlwind. All your usual games and tricks just don't work, Scorpio and you don't need to use them. The Pisces has already fallen for you, and they're not scared of showing it. They're not out there to break your heart or betray you, which you'll sense. Also, they just seem too innocent for games – most of the time.
You do get those unreliable Pisces types out there, for sure, the ones who are scared to commit or may float away and come back. But that's never malicious. And you'll sense that. Plus, it's never hard to pull them back in and make them feel safe and secure. Sometimes, that's all the Pisces needs to feel to stick around.
If you can spend most of your dates by the ocean, then that would be a good idea, Scorpio. Both zodiac signs just love the sea and could spend every date sitting near the ocean and having a picnic, wrapped in each other's loving arms.
Scorpio and Pisces Marriage Compatibility:
Can Scorpio and Pisces marry? You'll definitely want to make your connection one that lasts a lifetime! Whether that looks like cohabiting or tying the knot, you'll be eager to connect in an even deeper way, merge even more.
Pisces will probably want to move faster than even you, Scorpio. Or, they'll be the type of Pisces that freaks out and tries to find any kind of loophole. It depends on which type of the zodiac sign you get, but at the end of the day, keep in mind that they do want to be with you. They may just be scared of feeling trapped, which is very common with this zodiac sign.
However, usually, it's the former. Your chances are better too, Scorpio, because you really have a powerful and potentially long-lasting connection. For you, the Pisces may willingly give up their freedom and happily settle down.
In marriage, you'll find your Pisces adaptable, easy to get along with and a stellar wife or husband. They support you wholly, encourage you and believe in you. They may not have the same ambition as you, but at least they'll never compete with you. In fact, many Pisces wouldn't work if they didn't have to, and are happy to be at home, making a nest for you and taking care of all the domestic details whilst diving into their creative passions.
You're often okay with that, Scorpio. You don't mind being the main breadwinner and looking after your Pisces human. You can see that they are gentle souls that find the real world difficult!
Scorpio and Pisces Compatibility in Bed:
Are Scorpio and Pisces sexually compatible? Oh, yes. Pisces is looking for spiritual connection when it comes to sex and sexuality, to go to another world and lose themselves in you, Scorpio. Their depth of lovemaking can leave even you feeling breathless, and their remarkable intuition when it comes to knowing what you want and need in the bedroom seldom leave you wanting.
They may be slightly intimidated with your desire to break taboo, Scorpio, so being aware of this will help in the long run. Because they're so adaptable and willing to please, Pisces may push their own boundaries, which could feel uncomfortable. Being considerate enough to check-in and really tune in to their level of comfort will show how much you care, Scorpio.
When Scorpio and Pisces Relationship Breaks up:
How does Scorpio and Pisces move on after a breakup? It's going to be hard to actually break up, never mind move on. Being water signs of the zodiac, neither of you let go very easily at all, as you have a very strong emotional entanglement. It may get dramatic, and plenty of tears will be shed!
You'll find, Scorpio, that Pisces forgives easily and eventually lets go and surrenders with peace and love. They may then "ghost" you, which can sting, but it's only to protect themselves – and you – from deeper enmeshment. Once you see it that way, you'll realize that they never meant harm. Seeking revenge then just loses its sweet taste.
Business Compatibility:
Scorpio and Pisces Compatibility in Business:
Is there Pisces and Scorpio compatibility when it comes to work? Well, it depends on the type of work that you do. See, if Pisces hates their job and isn't inspired, then they can be the laziest and most infuriating colleague ever. However, if they are able to have freedom and creativity, to help people, they are very happy and won't rub you up the wrong way.
You will understand each other, and Pisces will never, ever try and usurp your position in any way. Scorpio. This cuts out all of that workplace competition that can get so tiresome.
Friendship Compatibility:
Scorpio and Pisces Compatibility in Friendship:
Are Scorpio and Pisces good friends? you have a profoundly deep friendship. You just "get" each other in a way that no one else does. Whether friends from childhood or old-time friends, the two of you connect instantly and forever.
Yes, your Pisces buddy's daydreaming ways sometimes annoys you, Scorpio, and the way that they seem to never pick a side. Their loyalty isn't the same as yours, which can be the one problem in your friendship. However, you can also learn from their compassion and willingness to see things from all sides.
Family Compatibility:
Scorpio Parent and Pisces Child Compatibility:
Is there Pisces and Scorpio compatibility when it comes to family? Your Pisces parent is a bit floaty and not amazing at responsibility, Scorpio, so that might have driven you crazy in early life, and into your adult life, too. However, their kindness, empathy and compassion always made you feel emotionally understood, which is quite something.
Your Pisces child lives in their own little world. They are soft creatures, not great at ambition or direction. Just let them find their way, Scorpio – they're not a mini-you.
Scorpio and Pisces Sibling Compatibility:
How do Scorpio and Pisces siblings match up in the family environment? You'll either be as thick as thieves or mortal enemies. Probably a little bit of both, really, depending on what's going on.
However, what you will always have is a sense of understanding that your sibling will always be there for you emotionally. Pisces, of all people, "gets' your sensitivity, Scorpio. They know what a softie you are, and they're perhaps the one person you can trust in your life fully.
They'll keep your secrets and be the ones you turn to in a time of crisis, knowing they will support you. It also goes visa-versa, and you might find yourself often rescuing your Pisces sister or brother.
Scorpio and Pisces Pet and Human Astrology Compatibility:
Will a Scorpio human and a Pisces pet get along? Pisces pets are just wonderful! They are intuitive, sensitive and caring, and they stick closely to your side. They are just full of unconditional love and forgive you, no matter what.
In many ways, these pets are your teachers, Scorpio, and show you how to forgive and forget too. Learn from them – their souls have been here many times!
Scorpio and Aries Compatibility
Scorpio and Taurus Compatibility
Scorpio and Gemini Compatibility
Scorpio and Cancer Compatibility
Scorpio and Virgo Compatibility
Scorpio and Libra Compatibility
Scorpio and Scorpio Compatibility
Scorpio and Sagittarius Compatibility
Scorpio and Capricorn Compatibility
Scorpio and Aquarius Compatibility
Scorpio and Pisces Compatibility