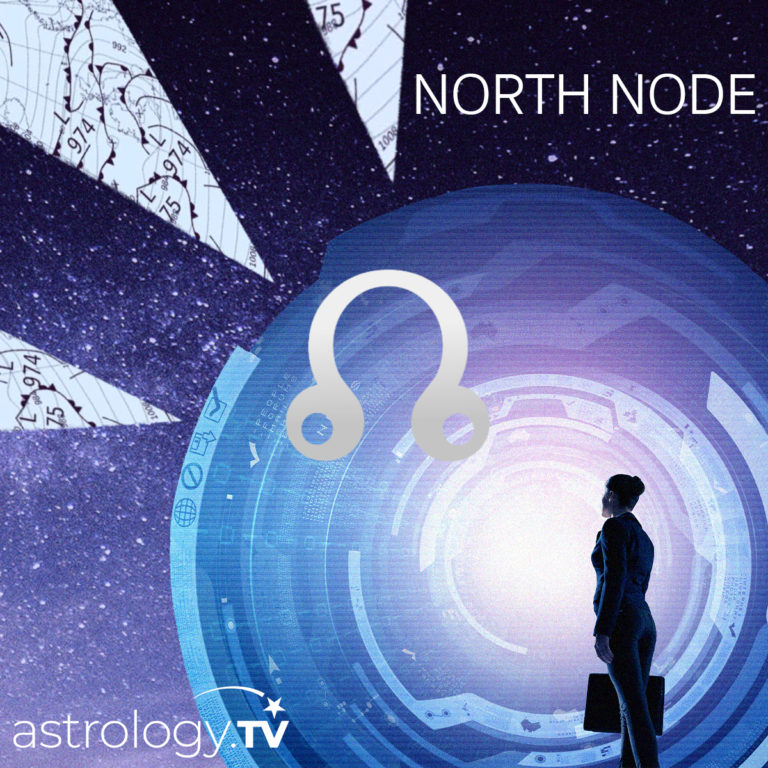 When the Moon's nodes shift signs, it marks a significant change in the way in which we approach our destiny and the way we resolve our past karma. But what exactly are the lunar nodes, and what is their significance?
What are the Moon's Nodes?
The Moon's nodes are not physical objects, planets or visible things – they are symbolic points in the sky.
The lunar north and south nodes are the points at which the Moon's orbit intersects the ecliptic, which is the circle the Sun appears, from the earth, to trace through the sky each year.
Astrologically, the lunar nodes are associated with spiritual development. The south node represents your karma, or all of the experiences you have already absorbed.
By contrast, the north node represents that which is yet to come – what you should focus on now in order to help resolve the karma from your past. The lunar nodes are always directly opposite one another; our past, after all, is inevitable directly linked to our future.
What does North Node in Gemini Mean? What About South Node in Sagittarius?
With the south node now in Sagittarius, we are collectively looking to resolve or heal karma associated with religion, beliefs, globalization, and international politics. How can we do this?
This is where the north node comes in. Now in Gemini, the north node shows us that we can work to resolve this karma through improving the matters associated with Gemini, such as communication, information distribution, ideas, and the media.
On a global scale, the north node in Gemini and south node in Sagittarius may signify developments around the issue of false or fake news, perhaps with the social media giants finally finding a way to stem the flow of misinformation – but at what cost to free speech and wider wisdom? These things are never straightforward.
There's also a suggestion here that the focus may shift from global to community, perhaps with more emphasis on local initiatives, local solutions, and community cohesion, away from multinational giants and global corporate culture.
Where Sagittarius spans the world, Gemini focuses much more on the immediate neighborhood.
On a personal level, we are seeking to progress through learning something new, through indulging our curiosity and by engaging a sense of fun and light-heartedness, as Gemini energy suggests.
The north node in Gemini also challenges us to spend more time looking at the detail of our lives.
The south node in Sagittarius tells us that we've spent enough time engaging with the bigger picture and the grand vision; it's time now to get granular.
Rather than planning forwards for sweeping ambitions, should we instead spend more time appreciating the here and now?
An increasing awareness of mindfulness as a spiritual practice could come into play here, showing us that what matters most is the current moment and the joy (very Gemini) that we can find at that moment.
How Will the North Node in Gemini and South Node in Sagittarius Affect Each Zodiac Sign?
Each zodiac sign will experience north node in Gemini and south node in Sagittarius slightly differently.
For each, however, the key challenge will be figuring out how to use the spiritual lessons of Gemini to overcome the karmic challenge of Sagittarius, as that applies to each individual's own chart.
Aries Zodiac Sign (Aries Dates: March 20 – April 19) During the North Node in Gemini
You will have more questions than answers while the north node is in your communication zone, Aries, but that's a good thing. Feed your curiosity and don't be afraid to flit from topic to topic as the mood takes you.
You should also spend this period focused on your local area – get to know your neighborhood better and find the beauty and fascination which is right under your nose.
Taurus Zodiac Sign (Taurus Dates: April 20 – May 20) During the North Node in Gemini
The north node in your money zone encourages you to seek financial independence, Taurus, while the south node in your debt zone warns of the dangers of depending on others too much.
This is a time to take a stand and to break free from obligations that have held you back. Seek work that aligns with your personal values, even if it pays less than what you currently do.
Gemini Zodiac Sign (Gemini Dates: May 21 – June 20) During the North Node in Gemini
With the north node now in your own sign, your challenge is to believe in yourself instead of seeking validation from others.
Figure out that it doesn't matter what others think of you – it only matters what you think of yourself. Stand up for your own identity, even if – especially if – that identity bothers others. This north node transit teaches you to be comfortable in your own skin, come what may.
Cancer Zodiac Sign (Cancer Dates: June 21 – July 21) During the North Node in Gemini
Take time away from the general hustle-bustle of life, Cancer. With the north node in your seclusion zone, you will benefit from time to yourself to meditate, to pray, to write, to dream – or simply to be.
Let the world turn without you for a while, because your challenge now is to learn how to step back. It may not be easy, because you like to feel needed, but for now, focus on being needed by yourself.
Leo Zodiac Sign (Leo Dates: July 22 – August 22) During the North Node in Gemini
You're a very gregarious person, but the north node in your friendship zone asks you to reconsider the way you treat people socially.
Try to lose some of the diva attitude and instead become more genuinely attuned with and interested in others. That means listening at least as much as you talk and not demanding the spotlight – being a little more humble socially will help you to grow exponentially as a person and a soul.
Virgo Zodiac Sign (Virgo Dates: August 23 – September 22) During the North Node in Gemini
Your challenge, while the north node is in your public zone, Virgo, is to move away from family constraints, traditional constraints or cultural rules, in order to embody your higher purpose.
This can be painful, especially if you face disapproval from your loved ones or your community – but you have gifts and talents which must be used in order to secure your happiness. Don't be afraid to use them now.
Libra Zodiac Sign (Libra Dates: September 23 – October 22) During the North Node in Gemini
Your beliefs are under pressure while the north node is in your wisdom zone, Libra. You may discover during this period that some of your prejudices or knee-jerk reactions have been wrong – but that's OK.
Being wise and big enough to accept that is a major gift. Allow your ideas and opinions to develop and to flex as you learn more. Keep an open mind and you will emerge from this as a bigger and more soulful person.
Scorpio Zodiac Sign (Scorpio Dates: October 23 – November 21) During the North Node in Gemini
With the north node now in your most complex psychological house, Scorpio, you're being challenged to step out of your emotional comfort zone. This may involve being more emotionally open to others, and less suspicious or guarded.
Take some emotional risks. Yes, sometimes, you will be hurt by the actions of others. But this node combination is teaching you that what you miss by being so self-protective is worth far more than the occasional hurt.
Sagittarius Zodiac Sign (Sagittarius Dates: November 22 – December 20) During the North Node in Gemini
Having the north node transit your love zone is an interesting period in life – if you are single and you meet someone during this period, there may well be a soulmate link or a karmic connection of some kind.
You may also experience heartbreak if you and your current partner have some soul group karma to work out. The key to experiencing love and abundance here is to keep an open heart and to approach love with the very highest of intentions.
Capricorn Zodiac Sign (Capricorn Dates: December 21 – January 19) During the North Node in Gemini
The north node urges you to keep busy, Capricorn. You may feel as though you want to hide away during this period, especially if old fears and phobias resurface.
However, it's actually a good time to experience therapy or counseling – and the very best therapy of all would be to launch yourself into a time-consuming, all-absorbing new work or hobby project, which forces you to meet your fears head-on.
Aquarius Zodiac Sign (Aquarius Dates: January 20– February 17) During the North Node in Gemini
The north node in your house of joy encourages you to grab hold of each moment and to truly value it for what it holds. You'll also find value in developing independent, individual hobbies – not everything fun has to be done with other people!
Spend a little less time socializing and little more time indulging in solo pursuits, and you may just find that you understand yourself a whole letter better for it.
Pisces Zodiac Sign (Pisces Dates: February 18 – March 19) During the North Node in Gemini
The north node in your home and family zone underlines to you in no uncertain terms where your priorities should lie, Pisces.
You may have experienced pain or pressure in the past from working too hard, as the south node in your career zone now indicates – but you have a chance to fix this now. Of course, you still have to work but find ways to spend more time with your loved ones, even if that means remote working or changing jobs.