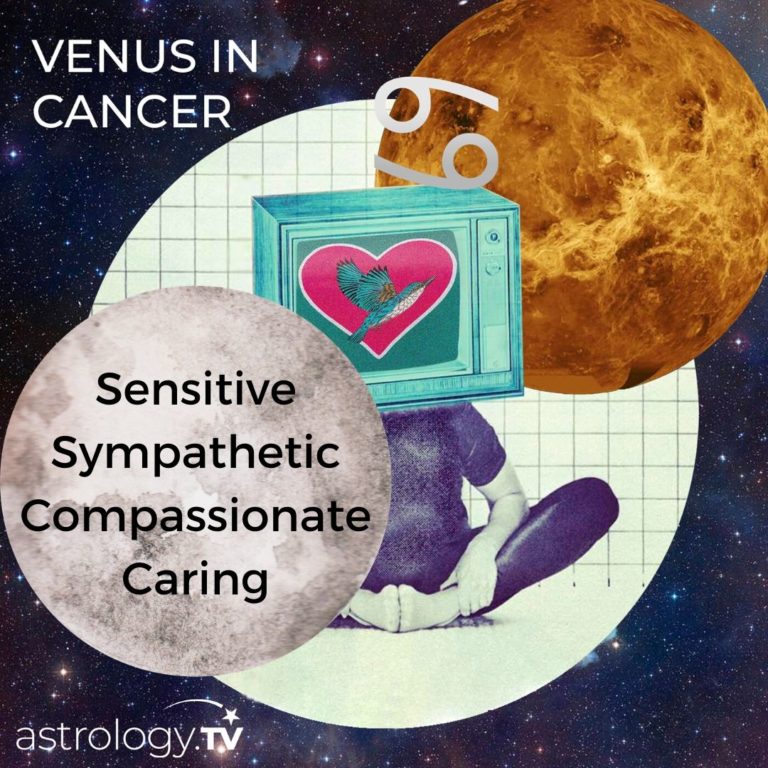 Venus is famous in astrology for being the planet of love. Indeed, it is, but there is much more to Venus as a planet than this. The astrological Venus speaks to how we love, who we love, what we love and what we are prepared to give in return. It's about our emotional level and intensity of feelings, and it's also about kindness, compassion and sensitivity.
Away from the sphere of emotions, Venus is also associated with money and finances, luxury, wealth, glamor and beauty. The zodiac sign Venus transits tells us a lot about how important these things are to us, and about what lengths we will go to in order to obtain them.
When Venus moves into Cancer on May 7th, 2023 until June 5th, 2023 we lose the happy-go-lucky spirit of Venus in Gemini and love becomes a rather more intense and serious affair.

Venus in Cancer is loving, sensitive energy, which cares deeply and feels enormous compassion and sympathy for others.
However, this is also energy which is heavily focused on emotional security. When Venus is in Cancer, we want to feel safe and nurtured, so that we can in turn protect and nurture others.
We generally don't feel safe in wild relationships, so this energy is more faithful and more cautious than some other expressions of Venus.
It can be too cautious, in fact, as there is a tendency when Venus is in Cancer to play it too safe. We may be over-protective of ourselves or our loved ones – or indeed, overly touchy or overly suspicious about the behavior of others.
Ruled by the Moon, in astrology Cancer as a zodiac sign is famously moody, and when Venus is in Cancer, the moods of love can change very swiftly indeed.
Materially, Venus in Cancer is shrewd. Financial stability matters here, just as emotional stability matters in love, but Venus in Cancer is not afraid to take calculated risks, and this is generally thought to be a good transit for business matters.
We should remember that Cancer is a cardinal sign and a water sign in astrology.
Cardinal signs have to lead and to be in charge; when Venus is in Cancer, this energy leads from the heart, not the head.
Venus in Cancer can also be quite manipulative, using the power of water (emotions) to overwhelm the opposition in order to get what it wants.
Emotional manipulation can be very subtle, but harmful nonetheless, and this is something we need to look out for when Venus transits Cancer.
--------------------
--------------------
How Will Venus in Cancer Affect Each Zodiac Sign?
The transit of Venus through Cancer will affect each zodiac sign and each individual slightly differently, depending upon one's personal natal chart and the strength of Venus and Cancer within it. Overall, however, each zodiac sign will feel the need to protect and will show some of their softer sides.
Venus in Cancer for an Aries (Aries dates: March 20 – April 19)
When Venus transits Cancer, she activates the family zone of your chart, Aries. This should be a very warm and pleasant few weeks at home, with loving relationships and the restoration of harmony where there has been discord. It's a very good time to look into your family background; a search for your roots could be very illuminating now.
Venus in Cancer for a Taurus (Taurus dates: April 20 – May 20)
Venus in Cancer enhances your communication skills, making it much easier for you to speak from the heart, Taurus. This is an excellent time for difficult conversations, as you'll be able to blend tact with honesty. It's also a good time for tackling your never-ending list of home chores and DIY. Aim to clear some these jobs – and your clutter – once and for all.
Venus in Cancer for a Gemini (Gemini dates: May 21 – June 20)
This Venus transit activates your money zone, and it's a fortunate time for setting up a business. However, you must take care not to try to buy someone's love or affection. Spend your money wisely and spend your time and attention even more carefully. What matters is what you do, not how much is in your bank balance.
Venus in Cancer for a Cancer (Cancer dates: June 21 – July 21)
When Venus transits your own sign, you're blessed with increased grace, humor, social graces and confidence in love. It's a wonderful time for dating, Cancer, but be careful not to come across as too serious too quickly. In an established relationship, lavish affection on your other half and be sure to let them know how much they're appreciated.
Venus in Cancer for a Leo (Leo dates: July 22 – August 21)
This Venus transit activates your spiritual zone, Leo, but it may also cause you to be slightly fearful of spiritual matters which are beyond our current understanding. Expect to feel intrigued and keen to learn, but also hesitant. Take things slowly. Enhancing your own ability to meditate and to understand your dreams is a very good start.
Venus in Cancer for a Virgo (Virgo dates: August 22 – September 21)
Venus here brings you a major boost in your social life, Virgo. You'll feel more confident in company and keener to make new friends. Whether at work or for pleasure, mixing with others is a delight now rather than a chore. Make the most of this by maximizing the time you have for socializing; other matters can take a back seat for now.
Venus in Cancer for a Libra (Libra dates: September 22 – October 22)
The Venus in Cancer transit brings you added charm at work, and diplomatic skills too, Libra. It's a good time for job interviews or important presentations, as you are likable
and personable now. You may, however, find it annoying that your ability to move up the ladder depends temporarily more on who you know and how you schmooze than on your actual ability.
Venus in Cancer for a Scorpio (Scorpio dates: October 23 – November 21)
This Venus transit encourages you to stretch your wings and to explore pastures new, Scorpio. Whether you're literally traveling or just taking an active interest in other cultures, there's potential for a love encounter here – whether or not you're already happily involved elsewhere! Passion and a heady mix of exoticism go hand in hand right now.
Venus in Cancer for a Sagittarius (Sagittarius dates: November 22 – December 20)
This Venus transit helps you to do the emotional work you've been neglecting, Sagittarius. Whether you're looking back at past traumas or trying to make sense of recent sadness, you can do so now feeling safe, supported and protected. Psychologically, this transit is hugely helpful, and you should emerge from it feeling much stronger.
Venus in Cancer for a Capricorn (Capricorn dates: December 21 – January 18)
With Venus transiting your love zone, Capricorn, it's no surprise that relationships are your top priority for a few weeks. As well as your actual love life, interpersonal issues all around become easier, so tricky colleagues and family members become more amenable too. It's a relaxing and pleasant vibe, so by all means enjoy.
Venus in Cancer for an Aquarius (Aquarius dates: January 19 – February 17)
Venus transits your health zone here and gives you a taste for the finer things in life. Over-indulgence in food, drink or substances can cause health issues during this transit, and you may also feel rather physically lethargic. On the plus side, you should be able to get plenty of good quality sleep during this transit.
Venus in Cancer for a Pisces (Pisces dates: February 18 – March 19)
This Venus transit is a major boost to your creativity and hobbies, Pisces, especially if you like art, cooking, dance or swimming. However, if you're dating, this transit can bring a rather closed-off emotional feeling and you may struggle to open up to someone new. Don't worry; it's just a phase.