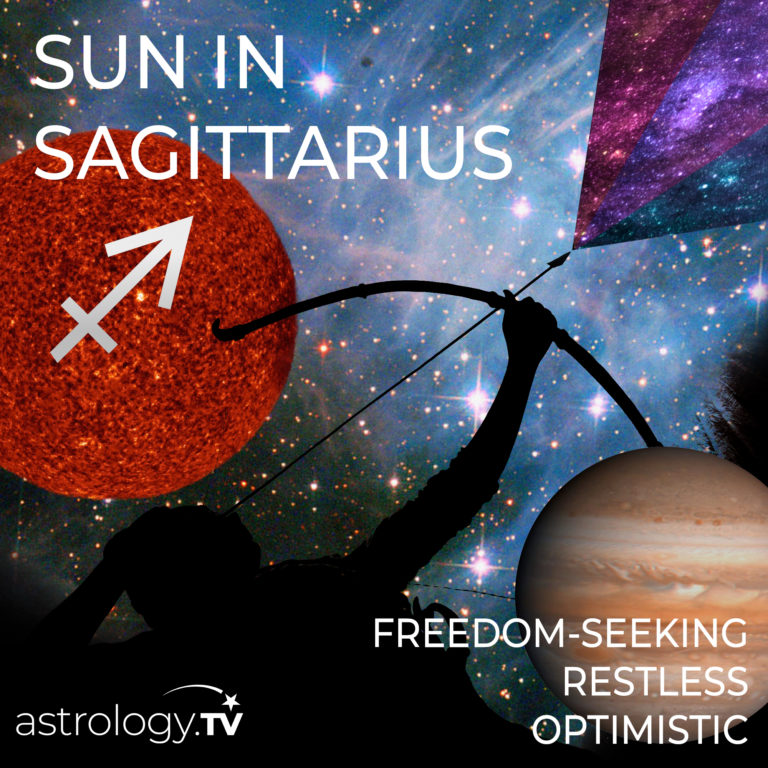 Every year, the Sun spends approximately one month in each zodiac sign.
Anyone born during the time that the Sun is traveling through a sign has that as their Sun sign in astrology, but the Sun's regular changes of sign affect the rest of us too, regardless of our Sun signs.
When the Sun transits Sagittarius on November 22nd until December 21st, 2023, all the things we normally associate with Sagittarius start to become more important for us.
The Sun represents our ego, our life force, and our source of joy and creativity – so when the Sun transits Sagittarius, we tend to express our egos or find our joy in adventure, travel, freedom, higher education, justice, the law and the outdoors.
In many ways, Sagittarius energy is very free-spirited, so the emphasis during this time is on breaking the boundaries, exploring the new and ignoring the rules.
During the Sun in Sagittarius transit, restlessness is quite common, particularly for people who feel stuck in their jobs or their family situations.
It's not that Sagittarius' energy in astrology is irresponsible, as such, it's just that it puts bill paying at a much lower priority than hiking in the wilderness, skydiving or just about anything else.
In astrology, Sagittarian energy is very philosophical and idealistic, so we also see people start to think about the bigger picture when the Sun transits Sagittarius.
Instead of seeking personal gain, we ask what's best for the world as a whole.
There's always an underlying sense of optimism with the Sun in Sagittarius – a zodiac sign which is, after all, ruled by jovial Jupiter – so during this transit we look for win-win solutions and we see answers rather than problems.
The emphasis on justice and law when the Sun is in Sagittarius can sometimes be seen on a national or global scale; on a more personal level, this is energy which seeks fairness, whether that's within the family, at work or in society at large.
How Does the Sun in Sagittarius Transit Affect Each Zodiac Sign?
Each Sun sign will experience the Sun in Sagittarius transit in a slightly different way, but on a personal level, all signs will be interested in stretching their wings and exploring new projects and places.
Sun in Sagittarius for an Aries (Aries dates: March 20 – April 19)
Take a wider look at life while the Sun transits Sagittarius, Aries. If you're feeling trapped or stuck in a rut, you have this month to break free.
You can do so by taking some calculated – not reckless – risks and by being willing to say yes to what life has to offer. Don't worry if you can't see the whole pathway ahead of you; if you can see the first step, that's all you need to see for now.
Sun in Sagittarius for a Taurus (Taurus dates: April 20 – May 20)
When the Sun is in Sagittarius, you're being gifted the light of the Sun on your inner psychology, Taurus. This is a good time to process and to work on any phobias, fears and emotional issues, and it's a great time for healing past trauma.
To get the most from this solar transit, however, you must be prepared to be open and honest about your experiences.
Sun in Sagittarius for a Gemini (Gemini dates: May 21 – June 20)
The Sun now shines from your love zone, Gemini, and the work you need to do this month centers around how you relate to others, whether romantically or on any other interpersonal level.
Take a good look at the impression you are making and be sure it's the one you want to make. In a happy relationship, explore your karmic links. If you're not happy together, you owe it to yourself now to move on.
Sun in Sagittarius for a Cancer (Cancer dates: June 21 – July 21)
During this solar transit, try to focus on your own health and well-being instead of caring for others, Cancer. Let the world turn without you for a while, so that you can take care of your own needs.
Physical rest, a good diet, joy-inducing exercise and strong mental health are all essential to you now, so if any of those are lacking in your life, do whatever it takes to fix that.
Sun in Sagittarius for a Leo (Leo dates: July 22 – August 21)
For all of your larger than life nature, Leo is a fixed sign and easily gets stuck–but with the Sun now shining from your risk zone, you have the opportunity to create your own luck and to move to a much happier place in life.
Take chances now and dare to do something you've never done before. The more you stretch your wings, the more opportunities life will bring to your door.
Sun in Sagittarius for a Virgo (Virgo dates: August 22 – September 21)
The Sun now shines from your family and roots zone, blessing your family life with joy and abundance, Virgo. Great news if you're hoping to add to the family, welcome a new pet, move home or patch up a rift.
This is also a good time to explore your past. Re-visit childhood haunts, look into your family tree, spend time with older relatives listening to their recollections and stories.
Sun in Sagittarius for a Libra (Libra dates: September 22 – October 22)
Flexible thinking is the gift brought to you by the Sun in Sagittarius, Libra. You can expect a very busy time, with plenty of errands and lots of work to do, but you'll have a strong sense of determination too, and excellent time management skills.
Teaching and learning both come naturally to you but during this transit you should share these skills, either as an informal mentor or even as a student helping a fellow student.
Sun in Sagittarius for a Scorpio (Scorpio dates: October 23 – November 21)
The Sun now transits your money zone, and this is generally a fortunate and lucky time for your finances. However, you're also being urged to look beyond the obvious and to make an inventory of your many non-financial resources and blessings too.
Think about the skills you have which you're barely using, and the skills you would like to develop. How can you put them to better use, Scorpio, to become a more rounded and resourceful individual?
Sun in Sagittarius for a Sagittarius (Sagittarius dates: November 22 – December 20)
With the Sun now in your own sign, Sagittarius, it's your own personal mini New Year. This is a fantastic time to take stock of how far you've come and to set your intentions for the year ahead.
Filled with positivity and optimism now, your only challenge is to remain realistic in the goals you set for yourself. There's little which can stop you now when you put your mind to something, so tackle your biggest challenges first.
Sun in Sagittarius for a Capricorn (Capricorn dates: December 21 – January 18)
This solar transit activates your spiritual zone and encourages you to listen carefully to your inherently spiritual nature. It also encourages trust, Capricorn – trust in mystery, magic and all things you cannot explain.
It's the ideal time to take up meditation or divination and to broaden your mind through understanding that reason and logic cannot explain everything. Much spiritual growth is possible now.
Sun in Sagittarius for an Aquarius (Aquarius dates: January 19 – February 17)
This solar transit highlights your connection to the wider world, your community and to humanity in general. You are a very humanitarian sign in any case, Aquarius, but now your urge to make a difference is more urgent and more compelling than ever before.
Stand tall, raise your voice when it matters, be heard. Wherever you feel that you should try to make a difference, go for it.
Sun in Sagittarius for a Pisces (Pisces dates: February 18 – March 19)
With the Sun now in your career zone, Pisces, you're starting a month of immense possibility and ambition. Set your sights high and don't be told no by anybody.
With sheer strength of personality, verve and a tiny bit of luck, you can sidestep almost any obstacle now in order to get to the position you deserve. If you're still starting out in your career, don't be afraid to take some risks or to think laterally.