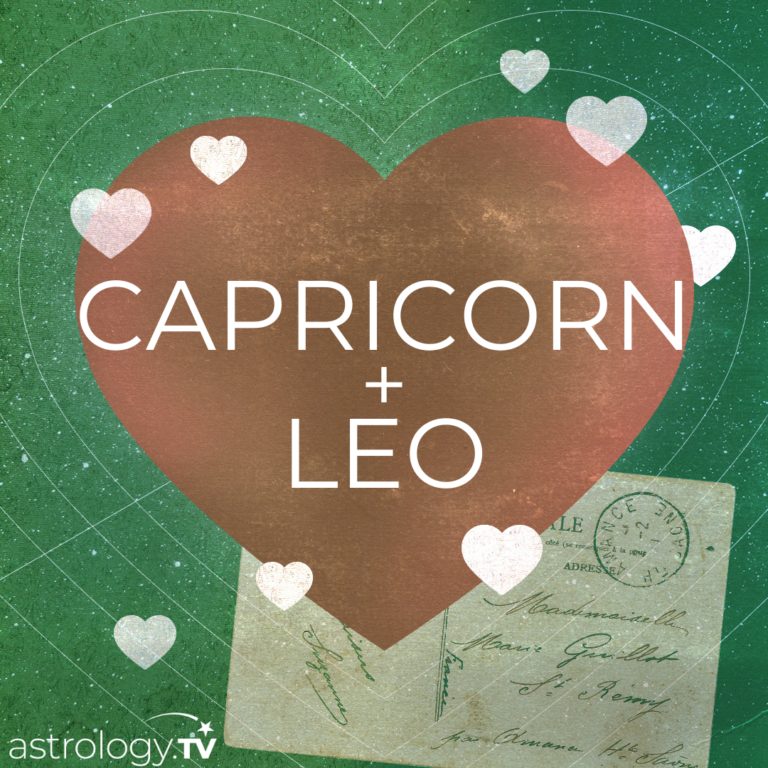 Capricorn and Leo Compatibility (Capricorn dates: December 21 - January 19; Leo dates: July 22 - August 22)
Do Capricorn and Leo make a good match? You two are an astrological match that others would envy! Yet, your two zodiac signs aren't well-known as the perfect couple, at least when you look at mainstream astrology! However, traditional and ancient astrology says that signs five signs apart from the zodiac are meant for each other – just like the two of you!
The reason why is because, although you'll have a lot of learning and adjusting to do, you grow immensely with each there and you complement each other in the best of ways. You're similar, Capricorn, and you know it. If there was anyone more successful and driven than you, it would be the fiery and ambitious Leo! They love to be the ruler of all, and their pride, strength and warmth inspire admiration in you – even if you are a bit jealous sometimes!
The same goes for your Leo sweetheart's view of you, Capricorn. Yes, you're not as dramatic and over the top as they are – but there is only room for one star of the show, anyway. You climb quietly, with determination and with immense endurance.
This is very sexy, to the both of you. You know you have found someone who you can, in a way, compete with and who will hold you accountable for your successes and failures, pushing you to do more and be more. Plus, being loved by a Leo is a beautiful experience, Capricorn. They take all that buried insecurity and bring you out into the light, showering you with gifts and flattery. They make you feel good, plain and simple. And absolutely adored!
Make sure you do the same for them, Capricorn – Leo hates to be ignored. Yes, they get that you work hard, but make time for play, too.
Dating & Romance Compatibility:
Capricorn and Leo Dating Compatibility:
Are Capricorn and Leo Soulmates? You are very similar souls, and in that way, it can feel a bit like you have met your perfect match, your other half. Strong and determined, you're drawn to each other like moths to a flame.
Despite your best efforts at being careful and cautious when entering this relationship, Capricorn, your Leo will just bowl you over with their warmth, enthusiasm and passion. This is a sign of the zodiac that doesn't hesitate when they like someone or want them – they wear their hearts on their sleeves.
It can feel overwhelming to be wanted so much, but be careful of coming off as if you are rejecting them, Capricorn. Leo people have fragile egos and are hurt easily, despite their seeming strength. They get fiery and angry when pushed way, and if pushed too far away, they will remove that immense loyalty and never look back.
Also, if you think you're romantic, Capricorn, just wait until you date a Leo! This zodiac sign holds nothing back when they spoil the one they love and care about! The Leo is grand, and they will wine and dine you, taking you to the most luxurious spots to eat, dance and make merry. In fact, the way that they spend money and expect you to spend money can be rather alarming for such a cautious sign like yourself!
However, Capricorn, you do have taste, and you do like to show off, too. You will probably try and outdo each other on dates, though your taste is, well, a touch more refined than the sparkly, glamourous Leo!
Capricorn and Leo Marriage Compatibility:
Can Capricorn and Leo marry? You're an earth sign, and Leo is a fixed sign of the zodiac, Capricorn. Both qualities indicate people who are bred for marriage and commitment, like the two of you. For you, Capricorn, marriage doesn't at all feel like an outdated institution, but like something that is secure, stable and structured. It feels safe, for you.
As for your Leo lover, they are born to be forever connected to their lovers, and thrive in marriage. This is the sign of romance and children, and so these topics will be of utmost importance to your Leo spouse. They are brilliant, loving and protective parents, and you really couldn't ask for better, Capricorn.
Make sure that you make time for romance, however, Capricorn. Just because you are married doesn't mean that you can slack off and work for days on end without giving your Leo lover attention or making them a priority. Leo people are terrible to be married to when they feel unloved, ignored or low on your list of importance.
You'll also have to watch out for undermining each other's authority. Being two very controlling people who like to lead, this can lead to clashes unless you figure out a way to parcel out leadership roles in different areas of your marriage.
Generally speaking, however, when you do marry, it can last a long, long time as you share the qualities of deep loyalty and endurance, and will fight for each other in hard times. Neither of you will give up easily on one another!
Capricorn and Leo Compatibility in Bed:
Is there Leo and Capricorn compatibility when it comes to sex? Your sex life will be fiery, intense and passionate! Leo lovers are remarkably enduring, Capricorn, and for once, you have found someone to keep up with you in the bedroom! While you bring that primal, animal energy, your Leo brings the fire and heat!
The main problem really is, here, that one of you has to be the boss, and you're not sure who – maybe you need to take turns, Capricorn!
When Capricorn and Leo Relationship Breaks up:
How does Capricorn and Leo move on after a breakup? Well, neither of you tend to let go all that easily, so it's not going to be easy to break up in the first place, Capricorn! You both prize loyalty and things have to get really, really bad for you both to actually consider splitting apart.
When you do, Capricorn, it'll be dramatic for Leo, and not so much for you. In fact, the way you go cold will break the heart of Leo, so be careful, Capricorn, and remember the love that you had together.
Business Compatibility:
Capricorn and Leo Compatibility in Business:
Does Capricorn and Leo have compatibility when it comes to working? It's best if you stay out of each other's way, in all honesty, Capricorn. You're so similar when it comes to wanting to be the very best of the best that you'll probably just end up stepping on each other's toes.
In fact, you could easily get annoyed at the bossiness of the Leo, and how loud, dramatic and controlling they are, Capricorn. However, that bossiness? It's in you too, so best to just admit it! You can admire each other from a distance, leading your own departments and your own teams, but never, ever work under each other. It's a recipe for disaster!
Friendship Compatibility:
Capricorn and Leo Compatibility in Friendship:
Are Capricorn and Leo good friends? You will be loyal friends, that's for sure! Even though you are very different in personality, you are the types of people who will stick together despite these differences – because you both believe in loyalty. And that is a very powerful quality to have in a friendship, Capricorn!
Plus, your Leo buddy will show you how to have fun and let your hair down – to stop being so serious and just let go! You also ground them, Capricorn as you, too, have an important role to play! Learn to appreciate these qualities in each other!
Family Compatibility:
Capricorn Parent and Leo Child Compatibility:
Is there Leo and Capricorn compatibility when it comes to family? Leo parents are born for being parents, Capricorn. Yes, they are bossy, but they are also warm, loving and always so proud of you. they make you feel really loved, Capricorn, even if you have your power struggles.
Your Leo child is a drama queen, and you just have to accept it, Capricorn. They have their own powerful will and will rebel very much against you, pushing and fighting every step of the way. But, at the end of the day, you'll have a child that is loving, as sparkling and hugely talented!
Capricorn and Leo Sibling Compatibility:
How do Capricorn and Leo siblings match up in the family environment? You will compete rather hard, which can raise a few eyebrows, to put it mildly! The two of you like to get your own way, and nothing can stop you two from trying to both be the boss!
So, what happens when you have two bossy siblings? War, that's what! You will try and temper your grandiose Leo sibling and get frustrated with their drama, yet you just can't resist their loving warmth, can you, Capricorn? No one is as loyal to you as your Leo sibling, and you will grow to appreciate that!
Capricorn and Leo Pet and Human Astrology Compatibility:
Will a Capricorn human and a Leo pet get along? Everyone loves a Leo pet, but everyone also knows that Leo pets are the boss of the household! You'll be running around catering to their every whim and need, Capricorn, so just accept that!
In return, you'll have a pet that will love and adore you completely, offering you their utmost loyalty and sweetness, and cuddle you half to death!
Capricorn and Virgo Compatibility
Capricorn and Libra Compatibility
Capricorn and Scorpio Compatibility
Capricorn and Sagittarius Compatibility
Capricorn and Capricorn Compatibility
Capricorn and Aquarius Compatibility
Capricorn and Pisces Compatibility
Capricorn and Aries Compatibility
Capricorn and Taurus Compatibility
Capricorn and Gemini Compatibility
Capricorn and Cancer Compatibility
Capricorn and Leo Compatibility