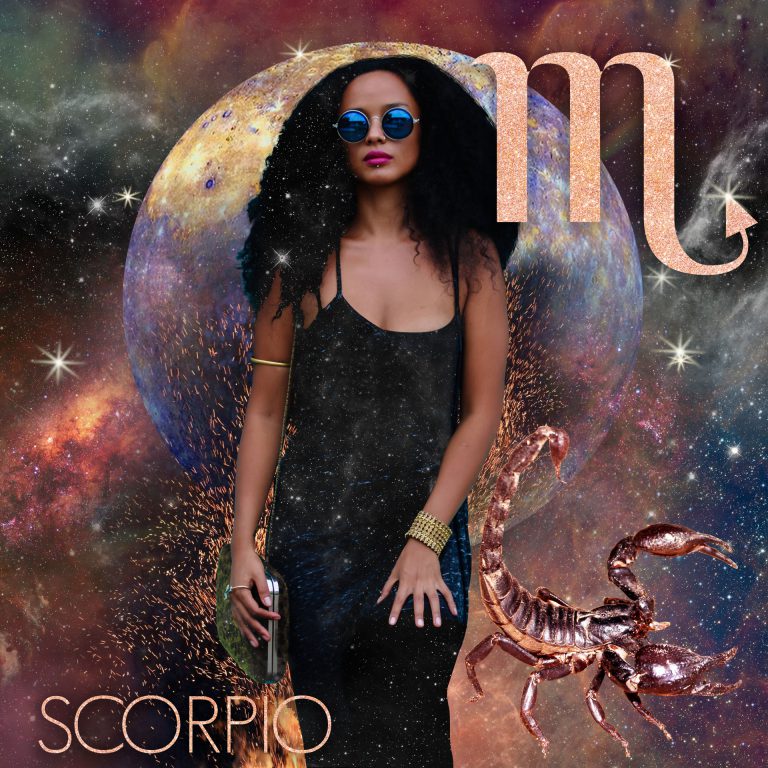 Scorpio is the eighth sign of the zodiac and one with a somewhat undeserved dark and dangerous reputation. In fact, planets in Scorpio express their energy in a very resourceful manner, but with considerable intensity and passion. Scorpio planets can be magnetic and exciting – as can the Scorpio personality when Scorpio is the Sun sign.
Key Facts About Scorpio
Symbols: Scorpion and Phoenix Rising from the Ashes
Element: Water
Quality: Fixed
Ruling Planet: Pluto and ancient ruler: Mars
Traditional Color: Deep red
Traditional Gemstone: Opal
Energy Expression Keywords: resourceful, passionate, intense, forceful, intuitive, compulsive, obsessive, secretive, resentful, obstinate
Scorpio Sun Sign Personality Traits
Scorpio Sun sign people are deep – what you see is often not what you get. This zodiac sign is very emotional and prone to tumultuous feelings, but they are also secretive, private and difficult to get to know. Scorpio's magnetic charisma can be hard to resist, but this sign can be a powerful enemy as well as a passionate lover.
For Scorpio people, resourcefulness is second nature. They can dig deep into their psyche to withstand just about anything, and this determined zodiac sign usually gets what they want in the end. Focused and somewhat obsessive, they will pursue a goal – or a person – for as long as it takes. This is not a zodiac sign which does anything by halves.
Scorpio Sun sign people are the detectives of the zodiac, able to see right through people and to uncover what lies beneath. Strong in research and analytical skills, they have an uncanny knack of understanding your motives perhaps better than you do, which can be at once exciting and scary.
Scorpio is also the sorcerer of the zodiac, able to take wild emotions and turn them into something powerful – for better or for worse. Highly sexual, possessive and sometimes rather emotionally manipulative, jealousy is a key Scorpio trait and this zodiac sign can be quite spiteful and scornful when wronged.
Fascinated with the darker aspects of life such as death, the paranormal and depth psychology, Scorpio likes to frequent the edges of what society deems acceptable – Sun sign Scorpios quite like to shock.
Scorpio in Love
The Scorpio Sun sign in love is exceptionally passionate and puts body, heart and soul into a relationship with an all-or-nothing attitude. However, this zodiac sign is suspicious by nature, and sometimes finds it hard to trust a partner. Jealousy and emotional possessiveness are common issues in Scorpio relationships, and Scorpio can sometimes have a cruel or controlling streak too, if the emotions are not well channeled.
When dating, Scorpio can be very intense, but there's no denying that a Scorpio in seductive mode can be highly intoxicating and alluring. If the dating Scorpio doesn't get a good reaction, they can sometimes become obsessed with a potential partner, and this can be an issue if Scorpio doesn't realize that they're crossing a line.
In a committed relationship, Scorpio loves strongly and with their whole being, but can be very possessive of their partner. If wronged, this is a vengeful sign and one which will neither forgive nor forget.
Best Scorpio Compatibility
Scorpio love compatibility is strong with the other two water signs, Cancer and Pisces. The three earth signs, Taurus, Virgo and Capricorn are also surprisingly good matches for this passionate zodiac sign. The earth signs provide a stable base for Scorpio's seething emotions and in return, Scorpio inspires and mystifies the earth signs in equal measure.
However, Scorpio compatibility is not always easy, especially with Aries and Gemini. Aries is a match for Scorpio power, passion and forcefulness, but the heat is simply too much for this relationship to endure. With Gemini, the air sign's sociable vibe is at odds with Scorpio's water sign solitary instincts, and Gemini's airy nature is no match for Scorpio's intense sensuality.
There's much more to love compatibility than astrological Sun signs, however, so don't take this as definitive; relationships between any and all signs can and do work out.
Scorpio at Work
Scorpio people positively demand emotional fulfilment from their career. So long as they feel emotionally rewarded, they can turn their hand to most things. Their strong research skills are a career asset, as is their resourcefulness and determination. However, Scorpio as a fixed sign is not a big fan of change, so they do prefer a relatively stable work environment.
As a boss, Scorpio is demanding but inspirational. Not very forgiving when an employee's personal life interferes with work, the Scorpio boss can be difficult to work with at times, but they do acknowledge and reward genuine passion and flair. As an employee, Scorpio works well under pressure and can be relied upon to come up with results where others might fail.
Great career choices for Scorpio people include anything related to mining or underground work, or indeed undercover work in law enforcement or intelligence agencies. Scorpios also make good engineers and powerful corporate executives. Although not motivated by money as such, their sense of purpose is strong and if directed towards finances, the Scorpio personality can accumulate great wealth.
A Scorpio in the Family
Scorpio Children
Scorpio children are highly emotional but may find it hard to talk through their feelings, probably suffering from tummy upsets and vague headaches when something is bothering them. Young Scorpio kids need help in developing their fascinations into rewarding hobbies – and once a Scorpio has settled on a hobby, it will probably stay with them for life.
At school, Scorpio kids are notable for their focus and ability to get results even in subjects they dislike. They are also quite magnetic and may quickly build up a crowd of followers – but it's very important that Scorpio kids learn kindness and are not allowed to manipulate or bully others.
Scorpio Parent
As a parent, the Scorpio personality can be quite intense and demanding, perhaps setting strict rules for the family or having very high academic expectations for their children. Scorpio parents sometimes also struggle with respecting their children's privacy and may want to know every detail of their lives.
On the other hand, Scorpio parents are committed, genuinely interested in their children and deeply invested in their happiness, not just their success.
Scorpio Health
Traditionally, Scorpio as a zodiac sign rules the sexual organs, reproductive and elimination systems, which is perhaps where some of their reputation comes from. In fact, physical health issues for a Scorpio personality are more likely to come from burnout, because this zodiac sign tends to take things too far, not getting enough rest and putting themselves under too much physical and emotional pressure.
For Scorpio's mental health, it helps to have an outlet for all those intense feelings. This can be in the form of a diary or journal, or simply a best friend who is great at listening – but the Scorpio personality likes to keep things secret, so may need encouraging to spill the contents of their head.
Scorpios traditionally enjoy exercise, although again they may take this too far, developing an obsession with a particular kind of exercise or pushing themselves beyond their physical limits. Marital arts, boxing, weight-training, wrestling and heavy contact sports like rugby appeal to Scorpio's strengths. As a water sign, diving also appeals to this sign's love of the depths.
A creative outlet is also important for the Scorpio personality, and this often takes the form of interior decorating or design. Other popular Scorpio hobbies include antiques, winemaking, beekeeping and taxidermy.