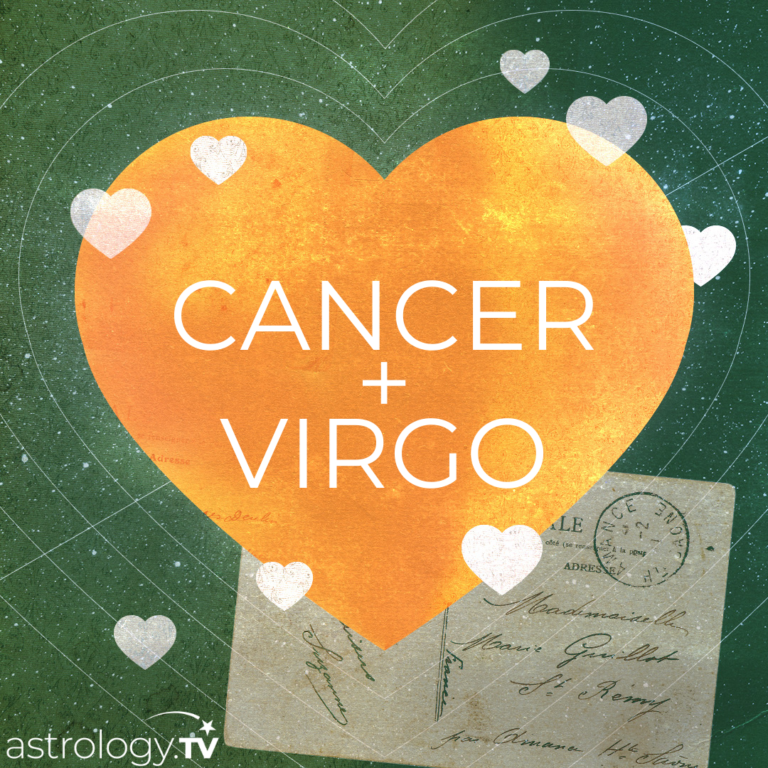 Cancer and Virgo Compatibility (Cancer dates: June 21 – July 21; Virgo Dates: August 23 - September 22)
Are Cancer and Virgo astrological signs likely to be a good love match? The two of you make one of the most caring couples in the zodiac! For once, Cancer, you'll finally feel as if you have met someone who is as willing as you are to nourish, nurture and look after you, just as you always look after others.
Being a water and an earth sign equals security in astrology. Virgo holds you tight, Cancer, and goes out of their way to make every detail is taken care of. Seldom will you feel as cherished and seen to than with this kind-hearted sign! You feel safe with them – and for you, that's all you need!
And, with you being dubbed the "mother" of the zodiac signs, Cancer, Virgo is unlikely to feel as if their acts of service aren't returned. You'll go out of your way to make them comfortable, and also to soften their harsher, more critical, anxious edges. This can be very sweet!
Dating & Romance Compatibility:
Cancer and Virgo Dating Compatibility -
Are Cancer and Virgo Soulmates? Your souls do connect in this caring connection. There's a gentleness to your bond, and an overriding desire to make sure each other's needs and emotions are looked after. For you, Cancer, this will definitely feel as if someone is looking out for your soul's happiness.
It's also very easy to find a day-to-day groove in this relationship. You both contain and nourish each other, and you have the same goal when it comes to love – finding security. You're both adaptable enough to instigate and cope with change when it comes up, so you'll seldom get stuck in a rut.
This is very important for you, Cancer, as you go through a million different phases in life and need someone who is flexible as well as a rock for you to lean on – and Virgo is exactly that.
Cancer and Virgo Marriage Compatibility:
Can Cancer and Virgo marry? It would be quite surprising if you didn't hear wedding bells going not that long into your relationship!
You're both seeking someone to make a life with, to nest with, and to even start a family with. This goal will motivate you to make it official, and there'll be no awkwardness around talking about all the adult things together!
Your marriage should be very comfortable and easy – the greatest danger to your long-term bond is becoming overly worried or anxious about one another, which can lead to fussing and smothering. Be careful each of you gives one another space to breath, and try not to let your worries and anxieties spur each other on!
Generally speaking, you'll both just love the daily humdrum of life with each other, and you'll find so much meaning in the small things you do together – which is what happy marriages are made of!
Cancer and Virgo Compatibility in Bed:
Are Cancer and Virgo sexually compatible? Here's a secret, Cancer – Virgo's appear all reserved and shy on the outside, but when you've got them alone, they are absolute wildcats! These sensual, sexy, primal side will make you weak in the knees and wanting more – guaranteed!
The best thing about a Virgo lover is that they are there to take care of your every need. They are patient, gentle, and want to get things "just right". From the warm-up to the main act and the curtain close, Virgo is all about making you happy. Doesn't that sound just delicious?
They'll need your help sometimes to get out of their heads, and out of analyzing everything – that's where your empathy, intuition, and gentle tenderness can contribute towards a deeper sexual connection.
When Cancer and Virgo Relationship Breakups:
How does a Cancer-Virgo couple move on after a breakup? Well, Cancer, as you know, as a zodiac sign, you don't cope all that well with breakups. You do tend to hold on for quite a while. And even when things are ended for a long time, you'll always hold your ex in high esteem (and maybe even long for them).
Virgo, being an earth sign, also doesn't let go all that easy. They usually put in so much work into your relationship, that if and when it ends, they can fight for it and seek to overanalyze it (just as they do everything else). Though you're both adaptable, it'll be a challenge to let your bond go.
Business Compatibility:
Cancer and Virgo in Compatibility in Business:
Is there Cancer and Virgo compatibility when it comes to business? This can be an extremely successful business partnership! One of you has the emotional intelligence - that's you, Cancer – and the other the analytical perfectionist – that's Virgo, of course.
When you team up, you can make real waves in the business world. As colleagues, you should get along well, and get where each other is coming from. Virgo may be a touch critical at times, which could rub you the wrong way, or get you feeling very emotional. This is perhaps the greats sticking point, but once they see it affects you, they should draw back and their natural kind-heartedness will show.
Since both of you are very security-orientated, you should both be quite driven towards creating more financial security of yourself, which is precisely the reason why you can both work so hard. Both of you also seek the rewards beyond money that make your hearts full and happy to do the jobs you do.
Friendship Compatibility:
Cancer and Virgo Compatibility in Friendship:
Is there Cancer and Virgo compatibility when it comes to friendship? You'll be very close friends, and often, extremely loyal, too. Virgo is the type of friend that's ways there to help in practical, meaningful and tangible way. They'll listen to your problems, Cancer, but they're more geared to fix them than to cry with you.
This can be annoying at first, since all you want is an ear, but the Virgo practicality is one of those qualities that you'll come to truly appreciate and even need, Cancer. You may just have to let them know to first listen, then fix.
They'll love your ability to empathize, and to help them get out their heads and into their hearts. Being able to both talk and share your emotions makes your bond a very close one indeed! You're also able to have fun together of course – when the mood takes you!
Family Compatibility:
Cancer Parent and Virgo Child Compatibility:
Are Cancer and Virgo compatible when it comes to family? This is a highly compatible relationship, even though you will drive each other crazy – as every family does!
A Virgo parent may seem cold or analytical at times to you, Cancer, but they truly do love you to the moon and back. They show it in the little, daily acts of service and sacrifices they make for you, such as always making sure you're fed, healthy, and educated with the very best. Sure, they can be critical, so you'll have to grow a thicker skin and see beyond that.
A Virgil child just wants to be perfect, Cancer. They are prone to worry and anxiety, so taking time to reassure them will be very important to their wellbeing. Let them know that they can make mistakes, and that it's not a big deal and give them plenty of cuddles and listening time!
Cancer and Virgo Siblings Compatibility:
How do Cancer and Virgo siblings match up in the family environment? You should have a typical sibling relationship – sometimes loving, and sometimes fighting. But, as you grow up, you'll worry and care for each other more than annoy each other, You have far more in common than you think, and you'll realize that over the years! You should be able to make the transition from siblings to friends without too much trouble.
Both of you really do value the idea of family, too, which helps at family gatherings and responsibilities. You take care of each other, no matter what!
Cancer and Virgo Pet and Human Astrology Compatibility:
Will a Cancer human and a Virgo pet get along? Virgo pets need you, Cancer. They tend to be quite high-strung and anxious, and they need a caring companion like you. You also provide them with a feeling of security, which they crave, and being earth signs, they just adore your cuddles!
They're usually very sensitive in terms of their digestion and diet, so it's highly recommended that you give them the best of the best when it comes to their food. Virgo pets also adore nature and being in the forests, also the more you can take them out, the happier and the less anxious they'll be – you can tell the difference! It'll be food for both of your sensitive souls.
These are adaptable, loving, sacrificial, helpful pets. They want to be your very best friend, and they'll do anything for you. They're super clever and can learn just about anything you teach them. These are intuitive animals, just like their human. You should have a powerful, loving bond!
Cancer and Libra Compatibility
Cancer and Scorpio Compatibility
Cancer and Sagittarius Compatibility
Cancer and Capricorn Compatibility
Cancer and Aquarius Compatibility
Cancer and Pisces Compatibility
Cancer and Aries Compatibility
Cancer and Taurus Compatibility
Cancer and Gemini Compatibility
Cancer and Cancer Compatibility
Cancer and Virgo Compatibility