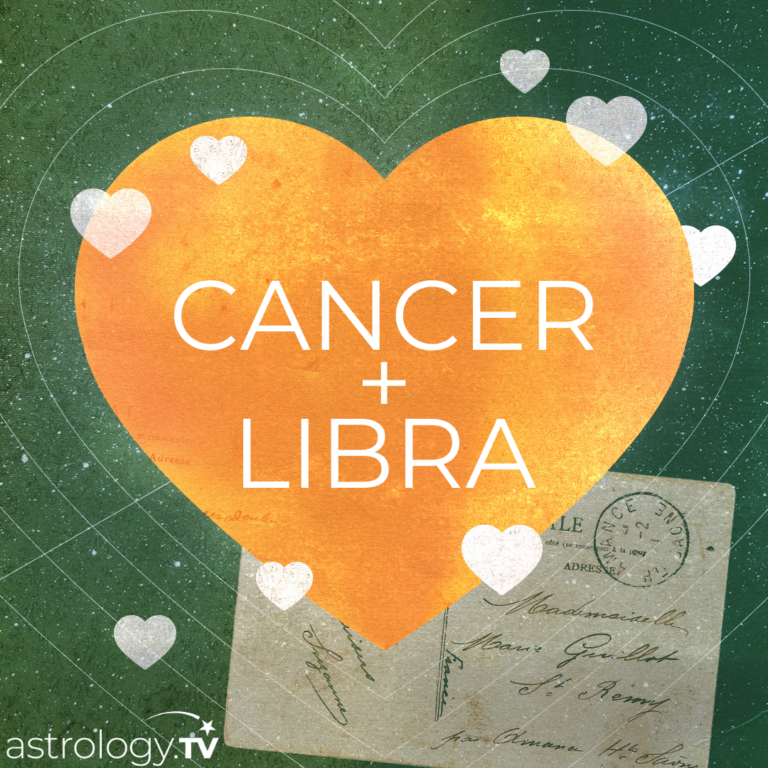 Cancer and Libra Compatibility (Cancer dates: June 21 – July 21; Libra dates: September 23 - October 22)
Are Cancer and Libra astrological signs likely to be a good love match? This can be a match made in heaven – at times. At other times, it may feel as if the two of you are vying for who gets to lead the relationship! Being Cardinal zodiac signs in Astrology, your natural-born initiators who aren't necessarily bossy – but you do like to get your own way!
What you'll share in common is a desire for peace, harmony and a conflict-free relationship. This can make for sweet, sweet moments, but you'll have to beware of sweeping your problems and emotions under the rug. They have a tricky way of rearing their heads when you both least expect it.
With you being the emotional one, Cancer, and your Libra honey being the rational one (they're air signs after all!), you can either find a sweet balance or an uneasy tension. It's often a challenge for you to find the rational when you're in a mood, Cancer, and Libra, though sweet, is not necessarily always going to empathize. If you can see this as a gift instead of a curse, you could do just fine!
Dating & Romance Compatibility:
Cancer and Libra Dating Compatibility:
Are Cancer and Libra Soulmates? Soulmates may be a stretch of the imagination for each of you, but, over time, things can certainly grow that way.
What you'll share is a strong romantic streak, and Cancer, you'll find that Libra is just one of those people who "do" relationships like no one else you've met. They're masters at compromise, always willing to please and will go out of their way to make you happy.
This creates a sense of peace and harmony in your relationship, and over time, your connection feels oh-so-comfortable and loving! Cancer, you'll truly appreciate being with someone who is as willing as you not to engage in conflict and takes your emotions into account so considerately and carefully.
Cancer and Libra Marriage Compatibility:
Can Cancer and Libra marry? Both of you are the type of people who dream of the day you'll walk down the aisle! Libra, in particular, Cancer, is seeking that type of long-term, blissful commitment. This goes a long way to allaying any insecurities you have about being hurt or betrayed!
However, one thing you'll need to keep in mind, Cancer, is that, even when committed, Libra is the flirt of the zodiac. They are the love sign, after all, and they're all about giving and getting attention. This is the social butterfly of the signs, and they'll have plenty of "acquaintances".
This will trigger insecurity for you - even in a committed partnership. You'll have to watch that it doesn't erode your trust. Remember, Cancer, Libra has chosen you as their number one human, and just because they like attention, doesn't mean they're straying.
Besides this slightly irritating issue, the two of you should have a very sweet, tender and always-romantic relationship where you can balance each other out.
Cancer and Libra Compatibility in Bed:
Are Cancer and Libra sexually compatible? In Astrology, Libra is the type of zodiac sign that's open to anything. They just want to make sure you're happy, Cancer, and they'll do whatever they can to please you and satisfy you. This is not a selfish sign, that's for sure!
Remember that for a Libra, sexual attraction starts in the mind - they love words, conversation and debate, and they get turned on by intelligence. They also need harmony in the relationship in order to engage sexually, otherwise they won't feel it. In this way, the two of you are very similar. When you're not in the mood, you're just not there and nothing anyone can do can get you to change!
With your emotional energy, Cancer, and Libra's sweet, seductive charms, you can have encounters that feel sublime! You may feel sometimes that for Libra, it's all a head game, whereas for you, it's a heart game. You'll need to find the sweet spot between the two.
When Cancer and Libra Relationship Breakup:
How does a Cancer-Libra couple move on after a breakup? It's never easy for you, Cancer. Being such a sentimental sign, you hold onto the past – even when the past wasn't all that good. This is your big life lesson – to let go of people and things not meant for you.
Libra may also struggle to let go, mainly because they love the idea of being in love, sometimes more than the person they are with. They are so relationship-focused that the idea of a breakup seems just too painful.
However, being the love sign, you'll have to be ready and prepared for your Libra ex to find someone new fast, Cancer. This will sting – a lot – but at least you know what you're in for.
Business Compatibility:
Cancer and Libra in Compatibility in Business:
Is there Cancer and Libra compatibility when it comes to business? Libra is one of the most easy-going employees, colleagues and bosses, Cancer. They're natural leaders, though they do it with a sense that they're not bossing you around. They're easy to talk to about anything and are always open to negotiation and compromise.
Libra will also be quite understanding of your changing moods and phases, Cancer. They may not always relate empathetically, but they'll try. They have a very creative way about them that you'll enjoy, and together you could make strides in the world! You'll have to figure out who's the leader here so that neither of you is stepping on each other's toes!
Libra is also the work socialite of the zodiac, whereas you're the one that everyone comes to for a cup of tea and a kind ear. In this way, you'll both be very liked by others in a work environment. You strive to maintain harmony and value peace in the day-to-day.
Friendship Compatibility:
Cancer and Libra Compatibility in Friendship:
Are Cancer and Libra good friends? Cancer, you're one of the best friends that anyone could ask for! You're always there, always sensitive, always empathetic. You can be the party animal as well as the homebody, depending on the mood, and your friends will be able to enjoy both sides of you!
As a friend, Libra is also wonderful. They love spending one-on-one time with you that makes you feel special and loved – but they also have lots of other one-on-one friends, so you'll have to learn to share. If they have a romantic partner, you may not see as much of them as you'd like, because that's the most important relationship in their lives!
You're also the emotional one in this friendship, Cancer, and your Libra buddy is the one that helps you to sort through your feelings in a rational, balanced and calm way. This may not always be the approach you're looking for, but it is a valuable one, so treasure it!
Family Compatibility:
Cancer Parent and Libra Child Compatibility:
Are Cancer and Libra compatible when it comes to family? Libra parents are the sweetest. They're always looking out for you, and they bring a lot of balance and harmony into your life! They can be stabling for your more emotional approach, and although they won't sit and cry with you, they'll always find a way to make you feel better.
A Libra child is a dream. They live to please you, and although you may suspect them of not always being authentic with you, you'll be the one to see right through them. Your Libra child may try and placate your moods or misunderstand them at times, so it's good if you can communicate to them how you're feeling instead of letting them get stressed by being unable to help you.
Cancer and Libra Sibling Compatibility:
How do Cancer and Libra siblings match up in the family environment? There can be a little bit of competition here, but nothing too serious. Being Cardinal signs, you both do like to lead and be daddy or mommy's darling, but there really is no competition between you! You're both lovely children and it'll be impossible for your parents to choose a "favorite".
As you grow older, Cancer, you'll probably despair of your Libra sibling's seemingly insatiable desire to please, and they'll have annoyances with your moods. But these are typical sibling issues that shouldn't erode your relationship too much!
Cancer and Libra Pet and Human Astrology Compatibility:
Will a Cancer human and a Libra pet get along? Libra pets are the most beautiful of them all! They're always willing to please, sweet, charming and easy-going. They are social pets, Cancer, so it's best if they have a mate, sister, brother or friend that they can play with or else they may get despondent.
Whilst you're a cuddle-seeker, Libra pets are more the types that respond to talking and communication rather than a squeeze. They'll tolerate it, and give you their full love and attention, but they will also need their space.
Remember, these pets need the best of the best. They'll turn their noses up at below-average food or pet treats. They have impeccable taste and high standards. They also expect plenty of grooming and being told how lovely they are – this is when they shine!
Cancer and Scorpio Compatibility
Cancer and Sagittarius Compatibility
Cancer and Capricorn Compatibility
Cancer and Aquarius Compatibility
Cancer and Pisces Compatibility
Cancer and Aries Compatibility
Cancer and Taurus Compatibility
Cancer and Gemini Compatibility
Cancer and Cancer Compatibility
Cancer and Virgo Compatibility
Cancer and Libra Compatibility