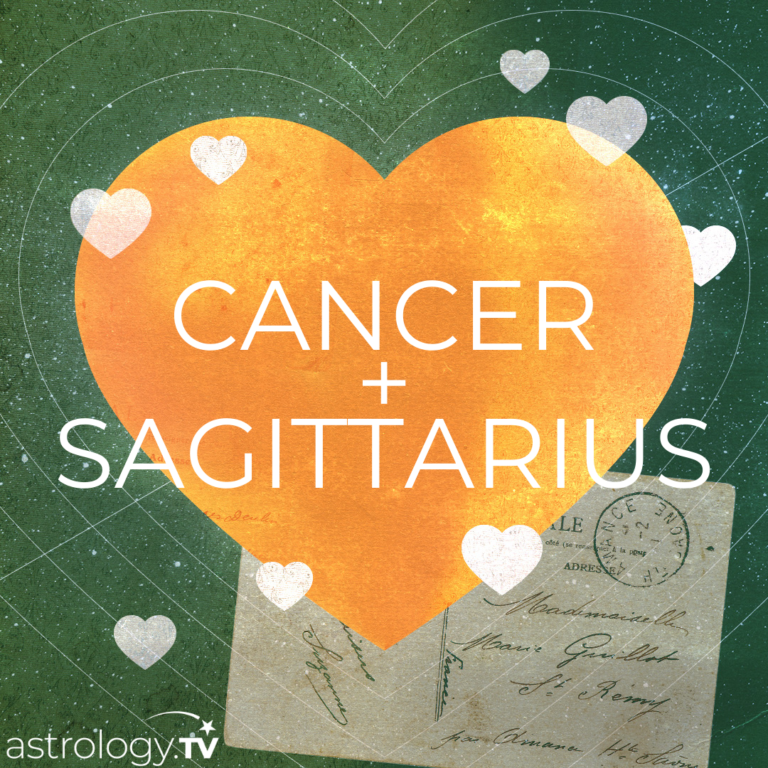 Cancer and Sagittarius Compatibility (Cancer dates: June 21 – July 21; Sagittarius dates: November 22 - December 20)
Are Cancer and Sagittarius astrological signs likely to be a good love match? Well, when it comes to Astrology, it's ideal for compatible zodiac sign elements to be together. With you being a water sign, Cancer, and Sagittarius being a fire sign, your relationship can be passionate – but volatile, too.
Water and fire relationships are vibrant and exciting, and there really is never a dull moment! But, as in nature, water can sometimes douse fire. You'll find Sagittarius to be a free-spirited and non-committal partner, Cancer, which can sometimes trigger your insecurity. You need to be cherished and reassured of your partner's love, not left to do your own thing.
This can present the single most difficult challenge in your relationship. It's not the end of the world, though – you just have to find each other's groove. Do your very best not to cling onto Sagittarius, because the more you do, the more they'll run, Cancer. And they also need to know that commitment, for you, is a non-negotiable.
Dating & Romance Compatibility:
Cancer and Sagittarius Dating Compatibility -
Are Cancer and Sagittarius Soulmates? Both of you definitely believe in the concept of soulmates, but both of you may also acknowledge that people may have more than one person whom their soul is joined to.
For example, Cancer, you might feel as if all your past partners are your soulmates! Sagittarius won't get jealous at this, but will have a philosophical, understanding perspective.
One thing that will make you both feel as if you have found your soulmate is the sense of adventure and optimism you have with each other. You may both have a real love for travel – and yes, Cancer, that includes you. You do need a home to call your own, but you really enjoy being on the move and exploring what the world has to offer. This can be a point of real connection for the two of you!
Cancer and Sagittarius Marriage Compatibility:
Can Cancer and Sagittarius marry? Sagittarius is generally a sign that shuns marriage or feels a little uncomfortable when presented with the idea at first. However, once they're committed, a Sagittarius will approach marriage with the same passion as they approach everything else!
On the other hand, as a sensitive and emotional water sign, you love the idea of the safety of commitment, Cancer. You, too, may take your time to make sure that you're not going to get hurt. But once you're sure, then you're really sure!
In your marriage, balancing freedom and security is paramount. Sagittarius is a wanderer with itchy feet, and while you'll join in sometimes, you need roots beneath your feet, Cancer. You'll need to understand this about each other and make a lot of room for what each other needs.
There'll be plenty of emotional passion in your marriage, sometimes for the good, and sometimes tough. You'll need to be careful not to hurt each other's feelings, or turn a molehill into a mountain!
Cancer and Sagittarius Compatibility in Bed:
Are Cancer and Sagittarius sexually compatible? Sagittarius is one of the most physically passionate signs in the zodiac! Their libido runs hot all the time, and they need a lot of sexual passion to make them happy.
Sagittarius people also treat sexual connection as fun and spontaneous – they're not particularly cuddly, nor do they prize emotional connection as a prerequisite they way that you do, Cancer. They can literally get going within a few moments, and just as easily, forget that anything happened.
Hence, you may need to strike a balance between the pure physical act and the emotional side of sexuality between you. You can have a very passionate sex life, once you learn what each other needs and likes most. As with most things in your relationship, compromise is important!
When Cancer and Sagittarius Relationship Breakups:
How does a Cancer-Sagittarius couple move on after a breakup? It may sting to know that the typical Sagittarius moves on very fast after a breakup, Cancer. They may get really, really angry for some time, but after that, they'll see it all as a lesson and move on. Sagittarius people don't hold on the way that you do, Cancer, and this can be hard for you to accept.
It's not a great idea to try again with Sagittarius, either. Once they're done, they are done, and they are happy to be friends, but nothing more. The breakup itself may be very emotional, with you being the weepy one, and Sagittarius being possibly hurtful. They don't mean to, Cancer. Sagittarius just says it like it is, and they expect everyone to be able to handle the truth the way that they do.
It's best for you to try and close down, Cancer, move on with your life and look for someone better suited to your emotional needs.
Business Compatibility:
Cancer and Sagittarius in Compatibility in Business:
Do Cancer and Sagittarius have compatibility when it comes to business? It can be both inspiring and frustrating to work with ever-optimistic, gambling, risk-taking Sagittarius, Cancer! One moment they're doing this, and the next, something else entirely. They juggle hundreds of balls, probably dropping more than a few along the way.
However, Sagittarians are generally a whole lot of fun to work with! They'll be the ones arranging the office parties and keeping everyone's spirits up – nothing gets them down! This is good for you, Cancer, as you can be prone to up-and-down moods. When you're good, you and the Sagittarius will have the best time together! When you're not in a good space, they need to stay out of your way!
It's best if you have your own things to work on, and the irritation levels here can sometimes run a little high, even if you get along most times. You have a creative energy together, which can make your working relationship rich and full of possibility.
Friendship Compatibility:
Cancer and Sagittarius Compatibility in Friendship:
Are Cancer and Sagittarius good friends? You two can have the absolute best friendship, especially when you're both in the mood to have a good time! You can wear each other out on a dancefloor, and on a particularly good night or day, you'll create unforgettable memories!
You'll have to be prepared for your Sagittarius buddy to tell it like it is, however, Cancer. They're not going to pussyfoot around you and they don't possess a smidgeon of tact. This will hurt your feelings more than once, and you can get rather grumpy and crabby! Your fights will be intense, but you really do care about each other, so you'll make it up.
Your friendship will largely be based on fun and adventure, Cancer, so if you need emotional support, look to your other friends to give you that. Sagittarius is the one that will lift you up and inspire you, but they won't mollycoddle you.
Family Compatibility:
Cancer Parent and Sagittarius Child Compatibility:
Are Cancer and Sagittarius compatible when it comes to family? Sagittarius parents aren't exactly the type of parent to nurture you the way you need, Cancer. Instead, they'll push you out of your comfort zone and make you grow a thicker skin. They're honest – to a fault, and they don't really consider your feelings. But, they're always happy, very protective and ever-optimistic!
You Sagittarius child, too, won't appreciate you being clingy or protective. They need a lot of room to explore the world and run around, free as anything. That will probably want to go travel as soon as they can, and they will develop a strong sense of independence - try not to worry about them too much!
Cancer and Sagittarius Siblings Compatibility:
How do Cancer and Sagittarius siblings match up in the family environment? Well, you're very different, that's for sure! However, at some stage, you'll be the best of friends as you both take off and explore the world together. Traveling with each other will bring out your very best, and this is where you'll really connect.
Generally speaking, though, you may find your Sagittarius sibling irresponsible and happy-go-lucky, as well as totally all over the place! They change at least as much as you do, Cancer, so you get that, but you may get annoyed by their "no filter" policy. That'll hurt your tender feelings often, and you'll lash out passive-aggressively when confronted in this way. Your showdowns can be intense, but you do care about each other – a lot!
Cancer and Sagittarius Pet and Human Astrology Compatibility:
Will a Cancer human and a Sagittarius pet get along? Sagittarius pets are their own bosses, Cancer. They want freedom and fun, and they won't stick around long for cuddles (even though they can be very loving and affectionate).
A Sagittarius pet will love traveling with you everywhere, and will usually be great with all kinds of people. Make sure that they have a harness – cat or dog – and take them out! Give them plenty of adventure to be happy – they are not homebodies! If you try to confine them, they'll go crazy!
Sagittarius pets will make you endlessly happy, as they are goofy and funny, but they're not necessarily the most empathetic animals. Let them be, and just enjoy them for who they are!
Cancer and Capricorn Compatibility
Cancer and Aquarius Compatibility
Cancer and Pisces Compatibility
Cancer and Aries Compatibility
Cancer and Taurus Compatibility
Cancer and Gemini Compatibility
Cancer and Cancer Compatibility
Cancer and Virgo Compatibility
Cancer and Libra Compatibility
Cancer and Scorpio Compatibility
Cancer and Sagittarius Compatibility