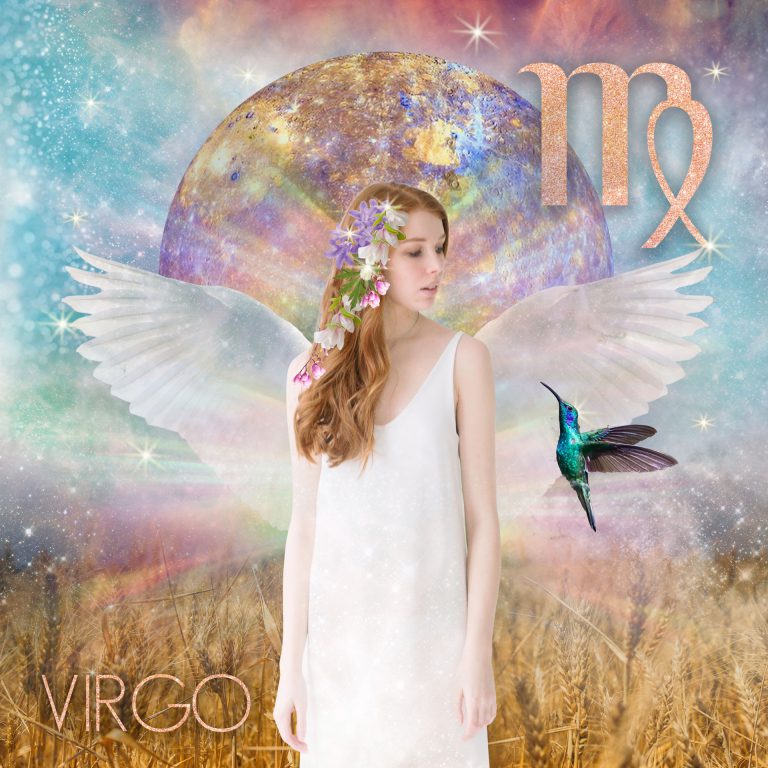 Virgo is the sixth sign of the zodiac and one of the most misunderstood zodiac signs. Despite a reputation for being uptight and fussy, planets in Virgo express their energy in an intelligent, practical, analytical manner. Virgo planets can, however, be harshly critical in their expression – as can the Virgo personality when Virgo is the Sun sign.
Key Facts About Virgo
Symbol: The Maiden
Element: Earth
Quality: Mutable
Ruling Planet: Mercury
Traditional Color: Dark blue, dark green
Traditional Gemstone: Sardonyx
Energy Expression Keywords: analytical, intelligent, practical, diligent, modest, reliable, fussy, sarcastic, critical, perfectionist
Virgo Sun Sign Personality Traits
Virgo Sun sign people are highly analytical, able to uncover patterns and trends that most of us miss. Detail-oriented and meticulously careful, perfectionism is a strong Virgo trait. The desire to have everything exactly right is a great Virgo strength, but it can also become a weakness when Virgo fails to live up to their own high standards. The Virgo Sun sign does over-analyze at times, especially their own behavior.
As a zodiac sign, Virgo wants to help and to be of service. The Virgo personality is often to be found in a power-behind-the-throne scenario, happy to do the hard work while someone else takes the credit. Sometimes a little shy, Virgo people don't like to draw attention to themselves; as a result, their talents can sometimes be overlooked or dismissed. They are the healers of the zodiac in many ways, with an intuitive understanding of health.
Virgo Sun sign people are very communicative, being ruled by Mercury, but they often prefer to put their ideas in writing so that there can be no misunderstandings. Highly intelligent, they are more than capable of winning an argument, but tend to shy away from direct conflict where possible, preferring to back down and then complain in the background. Passive-aggressiveness can be a very Virgo trait at times.
Full of nervous tension, Virgo people are worriers and have a tendency to fret. However, their inner need to strive for perfection means that they are usually able to fix whatever it is they're worrying about – but not before they've lost sleep over it. As well as being passionate about self-improvement, Virgo people want to 'help' everyone else improve too – this where the Virgo reputation for nagging comes from. When their help is not accepted, sarcasm is another strong Virgo trait.
Virgo in Love
Far from its image and symbol, the Virgin, the Virgo Sun sign in love is actually highly sensual – this is an earth sign, after all. However, they are very private people and not demonstrative in public, saving their expressions of love for behind closed doors.
The Virgo personality on the dating scene can suffer from a lack of self-confidence. Their modesty and self-effacing personality can be charming and intriguing, so there can be an air of mystery around the Virgo person which is very attractive.
Once in an established relationship, the Virgo personality in love is tender, kind and earthy, but a tendency to criticize their partner can lead to tension in a relationship. To love a Virgo, you need to understand that their criticism is coming from a place of love – they're just as hard on themselves as they are on anyone else.
Best Virgo Compatibility
Virgo love compatibility is often strong with the other two earth signs, Taurus and Capricorn. The water signs, Cancer, Scorpio and Pisces are also good matches for Virgo. Virgo's grounded nature provides stability for the emotionally adrift water signs, while the water signs in turn offer Virgo a safe way to express deeply held emotions.
However, Virgo may struggle in a relationship with Aquarius or Aries. Both Aquarius and Virgo can be emotionally aloof, so the distance and coldness in that relationship can be hard to bridge. Meanwhile Virgo finds the full-on Aries personality distasteful and intimidating, while Aries hates to be criticized and won't tolerate that from Virgo.
This is a very simplified guide, however – in real life, people fall in love for all kinds of reasons, regardless of their Sun signs.
Virgo at Work
Virgo people are hard-workers, very focused and methodical. With a keen eye for detail and a determination to get things right, the Virgo personality does well in jobs where nothing can be left to chance. They are natural administrators and accountants, and also have promise in scientific and technical fields. An understanding of health is a key Virgo trait, so Virgo people can also do well in the medical profession.
As a boss, Virgo is unassuming and perhaps a little easily pushed around. Their desire for perfection can make them very critical of employees, but they do ensure that a business is run as well as it possibly can be. As an employee, Virgo takes direction well, but tends to criticize their seniors relentlessly.
The Virgo personality is not motivated by money or indeed by ambition and success. What truly motivates a Virgo is the opportunity to help, to be of service to make a difference. Great career choices for Virgo people include publishing or literary work, medicine, writing, retail, alternative therapies and veterinary care.
A Virgo in the Family
Virgo Children
Virgo children are very tidy and often extremely well-behaved – to the point of appearing overly inhibited or stifled. Often rather shy and retiring, Virgo kids need encouragement to mix socially, and they may be anxious about a new situation and new people. Giving a Virgo child some responsibility at home will help to grow their self-esteem – for example, they excel in looking after pets.
At school, Virgo kids are diligent, methodical students who take pride in doing their work well. Their perfectionist approach often earns high grades. They can quickly become upset and demotivated if they don't do well in a subject, however, and need to learn the lesson of perseverance. Virgo children have natural talents in English and foreign languages, but they also do well with science.
Virgo Parent
As a parent, Virgo people can be big worriers. Care needs to be taken to ensure that the worry and anxiety isn't passed onto the children. Virgo parents often fret about keeping their home clean and tidy enough but should learn to relax more and enjoy spending time with the kids instead. One area where Virgo parents do excel is in teaching their children the value of responsibility and diligence.
Virgo Health
Traditionally, Virgo as a zodiac sign rules the nervous system and the stomach, and the Virgo tendency to worry often manifests as digestive upsets. This zodiac sign has an instinctive understanding of health, however, and will be keen to embrace natural or alternative healing methods, often in preference to mainstream medicine.
Hypochondria can be a Virgo trait, however, and Virgo people need to guard against becoming obsessed with their health. A fastidious approach to cleanliness, coupled with the perfectionist Virgo traits, can also sometimes lead to Virgo being diagnosed with obsessive-compulsive disorder or similar.
The typical Virgo personality spends a lot of time and care over their diet, and may well choose to embrace vegetarianism or veganism, whether for health or ethical reasons.
Virgo mental health can be greatly improved by spending time connecting with nature – this is an earth sign, after all. Keeping busy with plenty of hobbies will also reduce the amount of time a Virgo person spends fretting about things which are beyond their control.
Creative hobbies may include detailed drawing or design, intricate crafts or miniature work in some way, which again appeals to the perfectionism and detailed focus which are such typical Virgo traits.