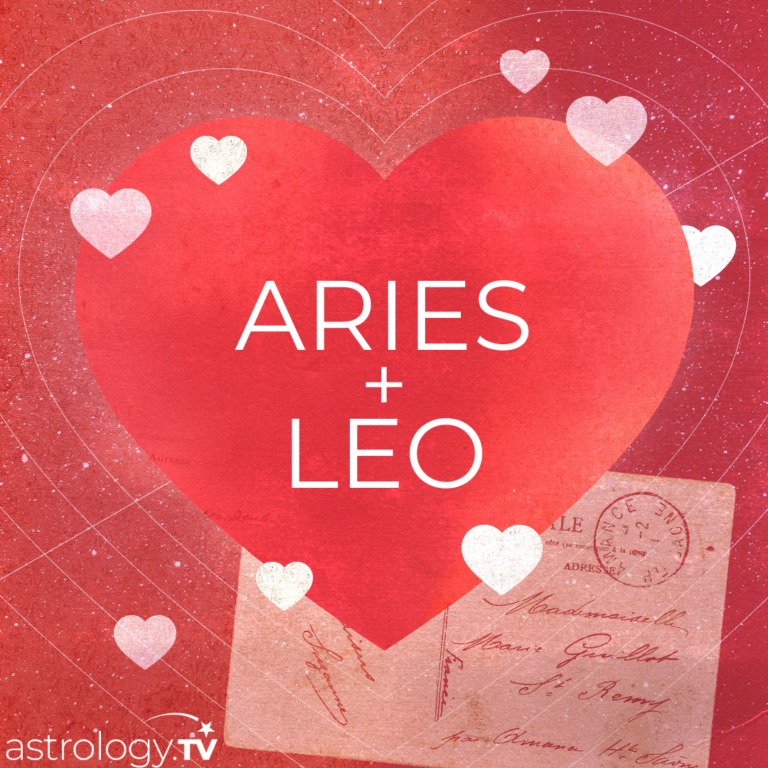 Aries and Leo Zodiac Compatibility (Aries dates: March 20 - April 19) & (Leo dates: July 22 - August 22):
In astrology, are Aries and Leo compatible in relationships? Honestly, it doesn't get much better than this combination, baby! Aries and Leo are both fire signs in the zodiac, and when fire meets fire, the flames burn high and hot! You'll have a natural, easy understanding of each other that goes beyond the ego — it's like you just "get" each other. You share a natural positivity, optimism, and courage, and neither of you ever backs down from a challenge — which is what you find so darn sexy about each other! You're achievers, and your willingness to be spontaneous, have adventures, and grab life by the horns makes you perfect for each other! There is a catch though. Aries, you like a lot of attention, and you need your needs to be a priority. Your Leo lover is exactly the same, and the challenge might be for both of you to put yourselves aside for long enough to let each other stand in the limelight. However, Aries, if you find your Leo is a good enough leader, you'll be happy to fall in line and follow them to the end of the earth. They'll be your quintessential queen or king, and in return, Leo will lavish their loving generosity, so that you'll never go a day without feeling totally adored!
Dating & Romance Compatibility:
Aries Compatibility with Leo in Dating:
Are Aries and Leo zodiac signs compatible as soulmates? All evidence points to yes, yes, yes! You flow in relaxed harmony with each other, and the dating phase can feel effortless and oh-so-much fun! You both love to party, are extraverted and playful, and together, you create memories filled with excitement, giggles, and passion. Passion is practically what you both live for, and the dating phase can feel like a breathless, long moment in time where you pour yourselves impulsively and wholeheartedly into your connection. You'll never go a day without that passion driving your relationship, which is what makes your bond so very special! Together, you feel like you can take on the world, and the loyalty between you is unparalleled!
Aries and Leo Compatibility in Marriage:
Are Aries and Leo compatible in marriage? Without a shadow of a doubt! Aries, your Leo brings a certain stability and consistency to an otherwise potentially volatile connection. In general, a Leo sweetheart is in for the long haul, and they play for keeps, whereas you, Aries, intend to, but sometimes miss the mark! You can all too easily get swept away by passion, idealism, and the idea of "perfect romance," and though your Leo delivers all of that and more, they also bring much-needed grounding to your world. Leo will fight for you until their last breath. Whatever life throws at you, you'll take it on together, as a team! You both know the value of loyalty, and seldom will you ever turn your back on each other. If the passion dies, however, you'll both be tempted to roam, but the chances are excellent that you'll simply work on bringing it right back!
Aries and Leo Sexual Compatibility:
Are Aries and Leo sexually compatible? Yes, their compatibility goes without saying! If people knew what went on behind closed doors (or on an airplane, in the forest, at a party, on the kitchen table — you get the idea), they'd simply die with envy! Your libidos are so perfectly matched that it's going to be a challenge to keep your hungry paws off each other! You both like to be dominant, so in this, you'll have to share the power and switch up who gets to be on top! Leo is a generous lover, Aries, but they also love to be worshipped, so you had better brush up on your adoration skills and make your Leo lover feel like the royalty they are! If you do, they'll give you the same back, and so much more than you bargained for!
Aries and Leo in Relationship Breakups:
In astrology, how do Aries and Leo move on after a breakup? Oh dear. If you do ever break up, this can be hard for both of you. Aries, you'll move on a lot faster, falling in love with the next honey that comes your way and ticks all the boxes. Your Leo ex, on the other hand, will pine for you, long for you, and fight for you — and they can find it impossible to let go. In fact, Leo can be quite dramatic and over the top in general, and so when a breakup happens, Aries, best you be prepared for their inner prima donna to come out! Leo is such a committed sign, that when they're in, they're in for life — like the Lion that represents them, they're fiercely loyal, protective, and defensive of their "pride," both their proud spirit as well as their lovers! Leo will hate being rejected, and so do you, Aries. Rejection can bring out the worst in both of you, and tempers can fly! You'll eventually get over it, but harsh words and actions can be exchanged before things quieten down.
Work Compatibility:
Aries and Leo Compatibility in Business:
Do Aries and Leo have compatibility at work? Simply put, no — not unless the Leo in your office inspires you so much as a leader that you, Aries, realize that they are the right one to follow. In that case, you'll follow your Leo boss or colleague wherever they decide to lead, and you'll always have their back! If your Leo colleague or boss is arrogant, prideful, dominating, forceful and dramatic — all the darker side of Leo — you'll take them on and battle them until your last breath. When an Aries and Leo are on opposite sides of the table, things can get extremely heated, and you'll go as far as to search for another department or even another job to avoid each other. You could either see each other as completely egoistical, or as inspiring and passionate. It's all or nothing with you two!
Friendship Compatibility:
Aries and Leo Compatibility as Best Friends:
Do Aries and Leo have compatibility as close friends? Totally, you're compatible! You have so much in common, and even if your interests diverge one day, your loyalty and protectiveness for each other lasts until your very last breath! You both have immense integrity, are open and honest, adventurous, spontaneous, and loving, and you'll be openly affectionate with one another. You're likely the best of buds, and although you will have your fights — often — you're always quick to forgive and forget, despite your shared hard-headed stubbornness! The fact that you can air out your issues makes your friendship a solid and authentic one, and there's enormous respect for each other here! What you share is a deep sense of integrity, which is one of the strongest qualities about your special, warm, and loving friendship. You both have a strong backbone, which you admire the most about each other.
Family Compatibility:
Aries Parent Compatibility with Leo Child:
Are Aries and Leo compatible when it comes to family relationships? Leo makes one of the most loving parents and will always think the best of you, Aries, and defend you with their entire heart and soul. A Leo parent will give you everything, believe in you, and be stable and consistent — what more could you want! A Leo parent, though, can be demanding of your time and energy, Aries, and if you don't give them that energy, they can become petulant and aggressive! Aries, your Leo child will be loving, loud, expressive, and creative. They are strong fighters, independent, and affectionate, and they can be as stubborn as the mountains, so don't even try and change them! Instead, accept and validate them, and watch your child bloom and blossom.
Aries and Leo Compatibility as Siblings:
How does Aries and Leo sibling compatibility match up in the family environment? Early in life, you can be the most dramatic and competitive pair and your poor parents will be tempted to ship you each to different continents! You can both be very competitive; both of you crave attention and validation and can be a little self-absorbed — just a little! Your Leo sibling is possibly more generous than you, Aries, and though you don't mean it, you can be the sibling that tends to keep everything for yourself! Sharing is a big lesson in your bond, but when you grow up, you'll find your relationship shifting to one of loyalty, protectiveness, and warmth. You'll always be loving and affectionate toward each other, and you'll see so much of yourself in one another — even though you may not always like what you see!
Aries and Leo Pet Compatibility:
Will an Aries human and a Leo pet be compatible? You will get along swimmingly! This can be such a cuddly, warm, loving bond — one that speaks to adventure, affection, and a deep cherishing! The Aries or Leo pet can be totally loyal, and in return they ask for nothing but your absolute, undivided attention when they ask for it. An Aries or Leo pet is demanding, and they won't care if it's your sleep time, or whether you're tired — when they want you, they want you right now, and they can test your patience! However, your love far outweighs your annoyance, and you 'll both enjoy an active, energetic life together — forever! Most Aries and Leo pets don't stray, and when they make you yours, they will be yours for life.
Aries and Scorpio Compatibility
Aries and Sagittarius Compatibility
Aries and Capricorn Compatibility
Aries and Aquarius Compatibility
Aries and Pisces Compatibility
Aries and Taurus Compatibility
Aries and Gemini Compatibility
Aries and Cancer Compatibility