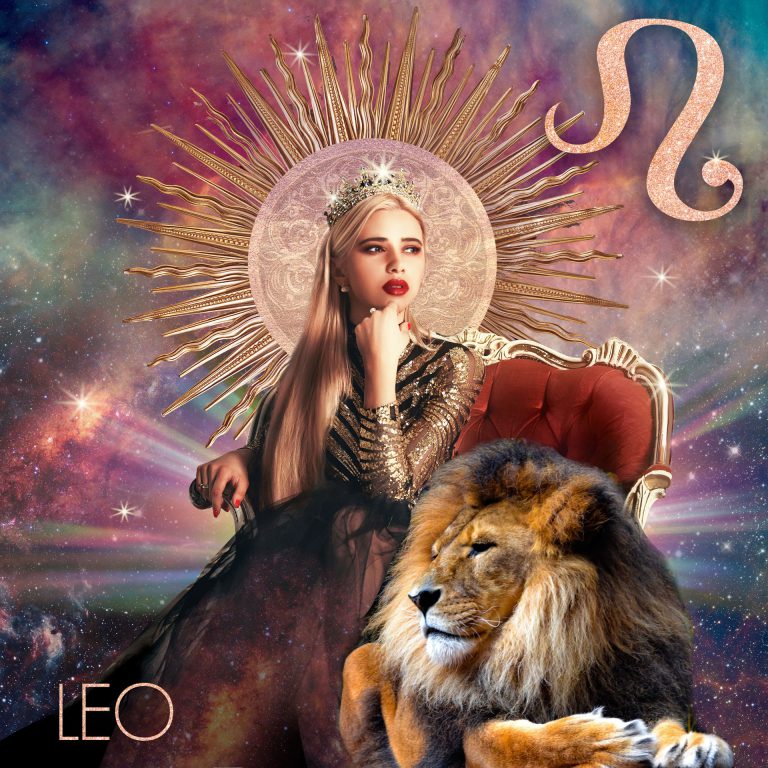 Leo is the fifth sign of the zodiac and the only zodiac sign ruled by the Sun. Planets in Leo express their energy with all the power, force and warmth of the Sun – that is to say generously, creatively and enthusiastically. Leo planets can also be quite overly dramatic, however – as can the Leo personality when the Sun sign is Leo!
Key Facts About Leo
Symbol: The Lion
Element: Fire
Quality: Fixed
Ruling Planet: The Sun
Traditional Color: Red, yellow, orange – sun colors
Traditional Gemstone: Ruby
Energy Expression Keywords: creative, warm, pompous, bossy, powerful, dogmatic, dramatic, enthusiastic, impressive, patronizing, proud
Leo Sun Sign Personality Traits
Just as its symbol, the lion, is king of the jungle, so Leo Sun sign people tend to consider themselves the kings and queens of the zodiac. Typically impressive and charismatic individuals, Leo people adore attention and are showbiz through and through. Generous to others, warm-hearted and loving, Leos are great fun to be around, with an infectious joie de vivre which really does brighten up the day.
Creativity is a key urge for this zodiac sign, so Leo people tend to love the arts and they're often very talented in this field. Acting and drama are also second nature to the Leo personality. Basically, there is a drive here to live life to the full and to embrace every experience. Exuberance is a key Leo trait. The extravagant and flamboyant Leo Sun sign likes the best of everything but is just as keen to spoil others as to indulge themselves.
However, it's not good manners to argue with a royal, and the Leo personality can be proud, arrogant and dogmatic at times. This is fixed sign, so opinions can be entrenched and no amount of persuasion is going to get a Leo to change their mind. Because they think they're always right, Leo personality traits also include bossiness and a tendency to patronize others.
Perhaps surprisingly, Leo is one of the most organized signs of the zodiac, so this fire sign is capable of finishing things as well as initiating them. Whatever they choose to do, however, is always accompanied with dramatic flair. Overall, the royal of the zodiac is definitely a force to be reckoned with.
Leo in Love
The Leo Sun sign in love is passionate, expressive, creative and more than a little bit over the top. Grand romantic gestures are the Leo's go-to dating strategy, which can be a bit alarming for some other signs. The dating Leo can also be rather full-on, but it's very hard not to be charmed by a Leo who wants you to like them!
In a settled relationship, the Leo personality is highly faithful and loyal – this is a fixed sign, after all. They love to keep the magic of romance alive through special gifts, treats and surprises, and will always be demonstrative and affectionate to a lover.
However, the overall Leo need to be adored can sometimes cause issues in a love relationship. If the other partner doesn't put Leo's needs first, second and last, Leo can easily become upset. Leo dogmatism can also be a problem at times, so the Leo Sun sign needs a partner who doesn't mind dealing with stubborn and obstinate opinions.
Best Leo Compatibility
Leo love compatibility is strong with the other two fire signs, Aries and Sagittarius. The air signs, Gemini, Libra and Aquarius are also good matches for Leo. Fire needs air to burn brightly, and the air signs are happy to give Leo the attention they need. In return, Leo is happy to fit in with the air signs' sense of fun and friendship.
Leo compatibility is not necessarily all that good with Capricorn and Pisces, however. Extravagant, flamboyant Leo is turned off by serious, sober Capricorn, while Capricorn in turn finds Leo's attention-seeking demands simply ridiculous. With Pisces, Leo doesn't get the adoration they want because Pisces is too wrapped up in their own issues. Likewise, Pisces finds Leo simply too loud and too dramatic for their tastes.
We humans are complex creatures, though, so don't base your relationship choices on Sun signs alone!
Leo at Work
The Leo personality needs emotional fulfilment from work and likes to be able to indulge their creativity in their daily work life. Their talent for organization and leadership makes them natural executives or managers. A key thing for the Leo at work is their need for recognition and praise – this is not a zodiac sign which does well in a backroom job, unseen and unthanked.
As a boss, Leo is generous, inspirational and visionary, if somewhat autocratic. Woe betide the employee who tries to steal the boss' thunder though – if there's any credit to be taken, you can bet that Leo's taking it. As an employee, Leo may clash with authority if they feel they aren't being noticed enough. Nonetheless, they take pride in a job well done and definitely offer commitment and loyalty.
Great career choices for Leo personality traits include the theater, movies and the arts, showbiz, fashion, modeling and glamor. These days, Leo often also finds success in social media or as an influencer.
A Leo in the Family
Leo Children
Leo children have an inherently aristocratic bearing – they just know they're something special! Leo kids are usually happy-go-lucky but quick to act out if they don't get the attention they think they deserve. Very creative, Leo children love to experiment with different kinds of art and crafts.
At school, the Leo child is likely to be bossy but kind. They will develop fixed opinions quite early in life, however, and will need encouragement to be more open-minded and to value what others have to say.
Leo children like to be kept busy, so giving them some early responsibility at home can often work well – especially if they have younger siblings and can therefore be 'in charge' in some way!
Leo Parent
As a parent, the Leo Sun sign is warm, expressive and loving. They do well at encouraging their children to shine but should be aware that not all kids have the same talents. Sometimes a Leo parent may struggle with a child who is much quieter than they are, or who would prefer to stay behind the scenes. Leo parents want their children to do well, but this can mean lots of pressure, especially for teens facing exams.
Leo Health
Traditionally, Leo as a zodiac sign rules the heart and the back, so lots of exercise is important throughout a lifetime. Exercise which encourages flexibility in the spine is especially good for the Leo personality, who will enjoy adding a creative tough to any kind of exercise regime.
Overall, however, an excellent vitality and a strong constitution are Leo traits, and this zodiac sign typically enjoys good physical health.
Mental health is also typically robust for Leos, as they instinctively embrace optimism and the brighter side of life. An inner need to succeed and to be seen to succeed can however lead to a great deal of self-pressure, so the Leo personality must be careful not to burn themselves out too quickly. By using their organizational skills, Leos can create a lively and fulfilling events calendar for themselves, which should keep them happy and satisfied throughout their lives.