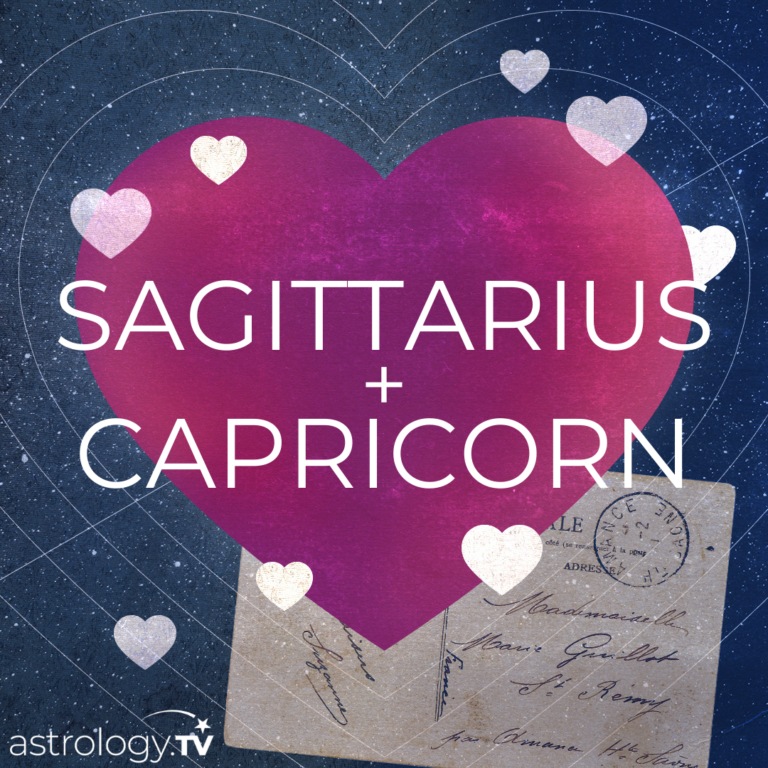 Sagittarius and Capricorn Compatibility (Sagittarius dates: November 22 - December 20; Capricorn dates: December 21 - January 19)
Do Sagittarius and Capricorn make a good match? All signs right next to each other on the wheel of the zodiac have quite a bit to teach each other! It's never totally easy – there's a lot of adjustment that has to happen, after all! It's as if you struggle to totally "see" each other, yet at the same time, you know you have growth to do.
Usually, the sign ahead – that's Capricorn, Sagittarius – is the one teaching the sign behind (as much as you hate it!). You see, Sagittarius, the sign ahead has already, in a soul way, "learned" what it is that you are all about. They have integrated the wisdom and freedom and now have to somehow contribute to society – that's what Capricorn is all about!
Capricorn has as much wisdom as you, Sagittarius – they just manage to make it material. They are usually very successful in the traditional sense, and require structure across all of their lives, including their relationships. At times, it may feel like they are a strict parent, telling you what to do (which you hate!).
Yet, you have to admit, Sagittarius, that they do ground you and help you to live in the "real world". Capricorns are pragmatic and realistic, which is different to your sunny optimism, and they can balance you out, just as you teach them to just chill!
Because you are so much fun and so positive, Capricorn's more cynical and pessimistic moods can be lifted up, even against their own will. And don't get them wrong, Sagittarius – this zodiac sign can out-party you - because they have endurance.
However, they are the types that will only play when they have done the work, so don't try and get them to run from their responsibilities the way that you do! They'll likely get irritated when you push them, so just tread carefully, Sagittarius.
Both of you do also tend to think you know best, so it's often a question of "who's the boss". The truth is, they are, Sagittarius. You just have to get used to it and maybe start to enjoy the fact that there's someone around you that loves to take on so much responsibility. It has its perks, this relationship!
Dating & Romance Compatibility:
Sagittarius and Capricorn Dating Compatibility:
Are Sagittarius and Capricorn Soulmates? Perhaps in some ways, you could be. But it'll take some time. Capricorn never just leaps into a relationship right away – like with everything else in life, they are cautious and ultra-careful. They'll wait and see if you are really someone that they can trust, Sagittarius.
And, as impatient as you are to get going and jump in, it's better to go slow, Sagittarius. Because you are well-known for being the type to say "let's just have fun and see where things go". This is not the phrase Capricorns want to hear, even if they are acting all cool and detached. Inside, they are very vulnerable and the types of people who wish to completely dedicate themselves to a relationship.
Your different approaches may not be seen at first, but they will unfold over time. Try and meet in the middle, with both your enthusiasm and their caution playing a part. You'll have to decide at some stage, Sagittarius, whether or not to commit, or else you will lose your Capricorn!
Your dates themselves, if planned by a Capricorn, will be well-thought-out, classy, and expensive. They love nature and good food and are usually very sensual. They're not the type to really enjoy shooters and dancing on top of the tabs (like you do) on the first night. Although, this has been known to happen!
Sagittarius and Capricorn Marriage Compatibility:
Can Sagittarius and Capricorn marry? See, Sagittarius – Capricorn is definitely the type of zodiac sign to want to settle down, if not at first, then soon(is). They love the structure of what marriage can provide, and feel safe and secure once they know you are committed, too.
You, on the other hand, may resist the topic for some time, until you feel really ready. Marriage may seem outdated to you, and you are scared of losing your sense of freedom. However, the best marriages do give that, and so much more! Capricorn people generally will let you do your thing, as long as you honor your responsibility in the relationship, too.
So, Sagittarius, don't run away just yet! Capricorns make wonderful partners – they are loyal, dedicated and true. They'll always have your back – just like you have theirs – and they will fight for you.
Plus, they work so much that you will have plenty of time to travel, see your friends, go to parties, exercise and do all the solo things you love doing. This can be a win-win, situation, one that gets you past the hurdle of fear. And yes, Capricorns might be a little bit boring at times, but that's what you're there for – to bring some much-needed spice into their lives!
Sagittarius and Capricorn Compatibility in Bed:
Are Sagittarius and Capricorn sexually compatible? You'll be happily surprised to learn, Sagittarius, that Capricorn is as sensual and primal as you are! They have very high libidos, and they can be rather wild in the bedroom! Whereas you treat sex as fun, they take it quite seriously and need it regularly.
It's not that you don't like regular sex, Sagittarius – it's just that you are more spontaneous and playful about it. You each bring something fresh and new to the bedroom and you can very much keep up with their desires – and even exceed them sometimes!
When Sagittarius and Capricorn Relationship Breaks up:
How does Sagittarius and Capricorn move on after a breakup? Capricorns tend to go very, very cold, Sagittarius. They shut down and stop letting you in, becoming distant and even cruel. This is usually just because they are so deeply hurt and don't know how to process those feelings.
You, on other hand, tend to see breakups as a part of life, as something to just "get over" and move on from. If it's not working, it's not working for you, and you try and grow from the experience. This may seem flighty and uncaring to the Capricorn, and they can get quite ugly with you because of that. It's not easy here, Sagittarius!
Business Compatibility:
Sagittarius and Capricorn Compatibility in Business:
Do Sagittarius and Capricorn have compatibility when it comes to business? Well, no. Capricorns are the career sign of the zodiac, after all, and they love to climb the career ladder! They are responsible, dedicated hard workers who put in the extra hours at the office to be the best.
You, on the other hand, have a way more "happy go lucky" approach to work. You tend to get lucky, too, which can make the Capricorn jealous. They may also see you as totally irresponsible and reckless, even as a child who needs to be disciplined – and that never sits well with you, Sagittarius!
Friendship Compatibility:
Sagittarius and Capricorn Compatibility in Friendship:
Are Sagittarius and Capricorn good friends? You can be amazing party friends when the mood strikes the Capricorn! Once they are all done with work, your Capricorn will throw down and outlast you every time, Sagittarius!
They'll also be your wisest friend, and with your philosophical nature, you'll have many an interesting, spiritual discussions. However, your Capricorn buddy may find that your loyalty is lacking, Sagittarius. They need you to be more committed - and you struggle with being on time for your own family! This may cause a few issues here and there.
Family Compatibility:
Sagittarius Parent and Capricorn Child Compatibility:
Are Sagittarius and Capricorn compatible when it comes to family? Having a Capricorn parent is tough on anyone! Whilst responsible and dedicated, they are somewhat cold and reserved, too. They find it hard to spontaneously express themselves the way that you do, Sagittarius, which may make you feel as if they don't love you a lot. But they do – they just aren't the type to always show it.
Your Capricorn child is very serious and studious, Sagittarius – they are old before their time, just as you are eternally young! They like rules, structure and order, so that spontaneous side of yours? It's going to stress them out.
Sagittarius and Capricorn Sibling Compatibility:
How do Sagittarius and Capricorn siblings match up in the family environment? Your Capricorn sibling is probably going to act like the older one, no matter what age they are, Sagittarius! You'll just have to get used to it, and you may even grow to love their protective and responsible ways – even if they are as boring as can be in your eyes!
Because you are easy-going, your fights shouldn't let too long, and you mostly just annoy each other, as siblings do!
Sagittarius and Capricorn Pet and Human Astrology Compatibility:
Will a Sagittarius human and a Capricorn pet get along? Capricorn pets like structure, order and routine, Sagittarius. This makes their whole world go around, whereas you shudder at those very words!
The truth is, you're not a perfect match, because you need spontaneity, Sagittarius. But,if you can find a way to make it work, Capricorn pets are grounding and may force you – in a good way - to take life much more responsibility.
Sagittarius and Aquarius Compatibility
Sagittarius and Pisces Compatibility
Sagittarius and Aries Compatibility
Sagittarius and Taurus Compatibility
Sagittarius and Gemini Compatibility
Sagittarius and Cancer Compatibility
Sagittarius and Leo Compatibility
Sagittarius and Virgo Compatibility
Sagittarius and Libra Compatibility
Sagittarius and Scorpio Compatibility
Sagittarius and Sagittarius Compatibility
Sagittarius and Capricorn Compatibility